Ah, Red Velvet Cake. Is there a better cake to end the week with? Well, yes. But I had a bottle of red food coloring, a cup of soon-to-go buttermilk, some butter extract and ½ cup of Crisco shortening to use up.  So I went with red velvet! Besides, a few months ago I'd promised I'd try the authentic Waldorf Astoria Original Red Velvet Cake with cooked icing, so I can now cross that off my list.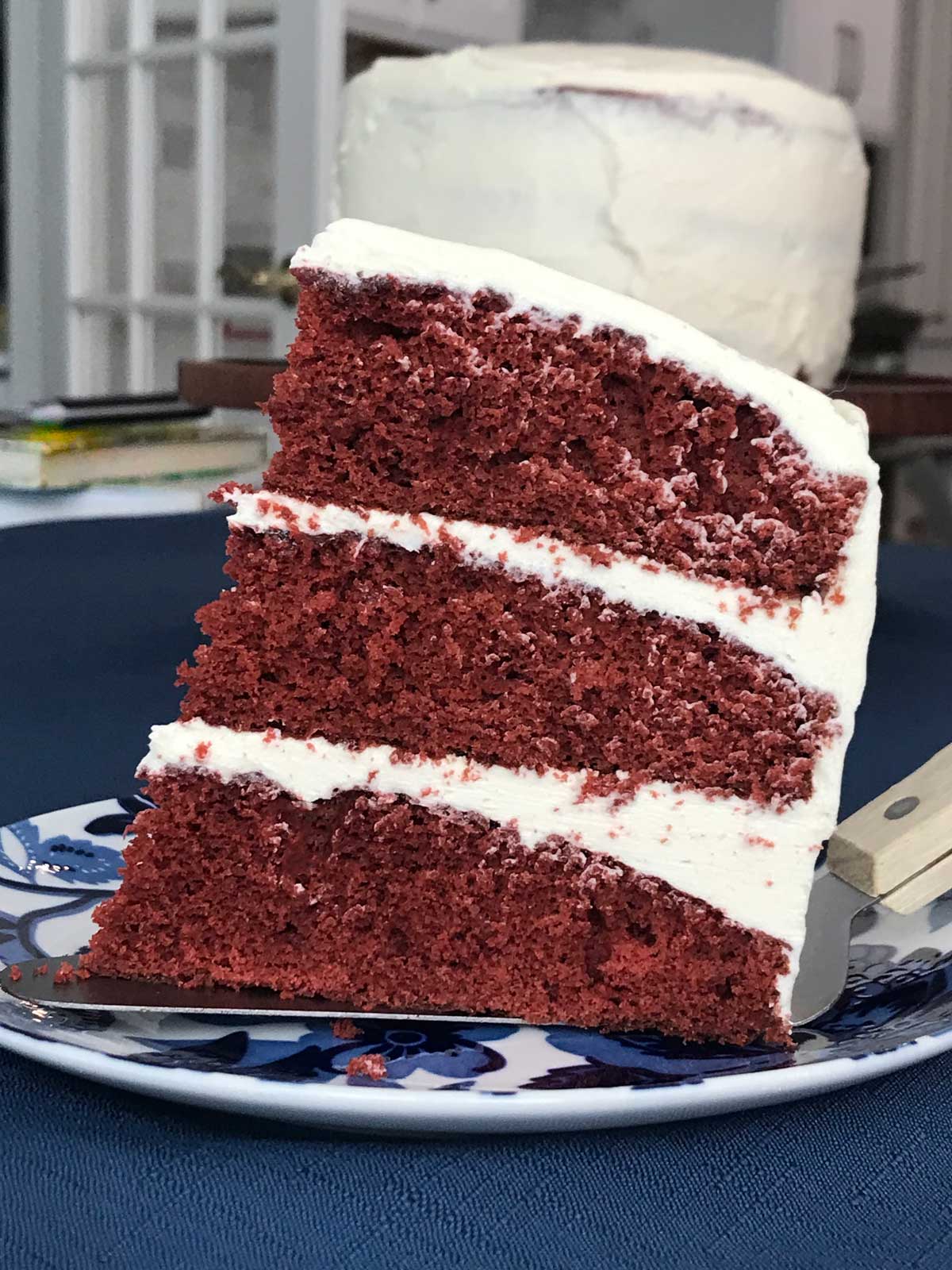 Shortening Red Velvet Cake
Since posting this I've acquired so many red velvet recipe. Some are better, but this one is still good if you make it correctly. Plus it calls for shortening. Shortening is not a healthy ingredient, but that train left the station when we decided to bake red velvet cake. The advantage to shortening is that it is less expensive and in many cases, gives cakes a better texture. The downside is that it doesn't add flavor, but in this recipe the other ingredients take care of that. And remember, you can weigh it so you don't have to worry about smashing shortening into a measuring cup!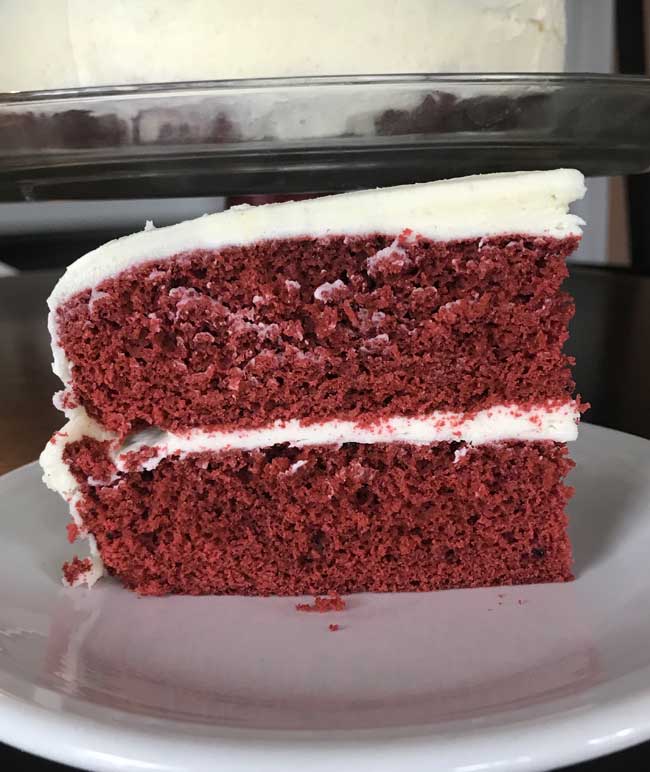 Icing Tastes Like Twinkies Filling
I grew up eating red velvet cake with cream cheese icing, but the older recipes for this cake often call for a cooked icing. I first learned of this cooked icing as "boiled icing" and have been calling it that for years, but really it's a cooked icing or cooked frosting. It calls for flour, milk, butter and granulated sugar. It doesn't sound great on paper, but it's slick and fluffy and makes the cake taste like a big red Twinkie.
Ermine Icing
Thanks to a not-so-polite comment from a reader who absolutely did not like this cake, I learned that the cooked icing that goes with the Waldorf cake is also called Ermine Icing. That sounds so much fancier than boiled icing! I googled it and the first one that came up was in The New York Times. It's pretty much the same as this one but with more flour. Also, I did try the NYT version of the cooked icing and have to say, I liked this one better. It's less flour-y tasting. I'm sticking with it for now.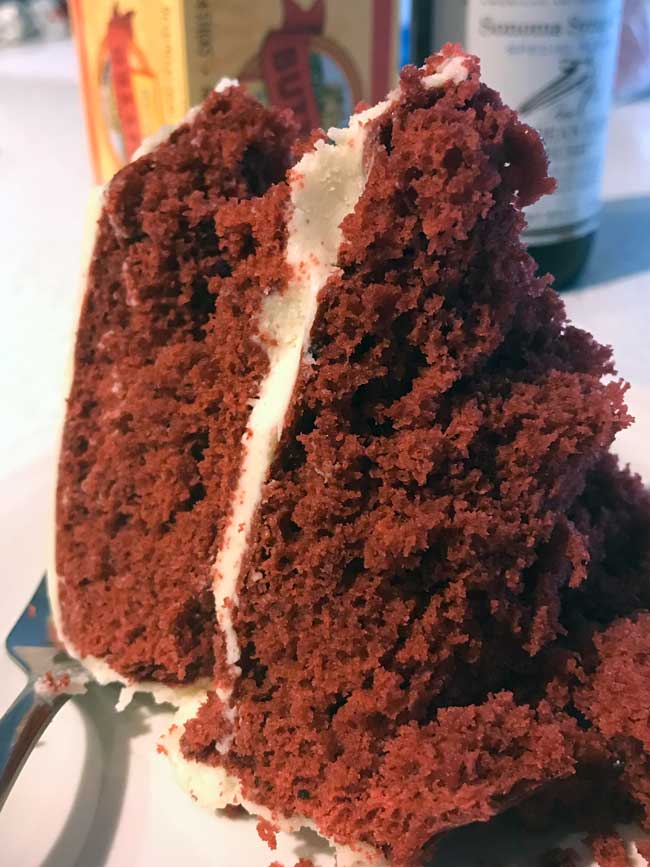 Waldorf Astoria Original Red Velvet Cake Tips
Before you read the tips, keep in mind this is an old recipe adapted from one that appeared in newspapers in 1959. It's not my favorite red velvet cake. It's a good one for sure, but there are more modern recipes out there. This is not one you just throw together. You have to be mindful, measure everything out ahead of time and go slowly. If you would like to bail out now, here's a link to one of my favorite red velvet cake(s) which is similar to Waldorf Astoria Original, but a little easier. Here's one that starts with cake mix that is a lot easier. But if you are determined to make this old style version, here are some tips.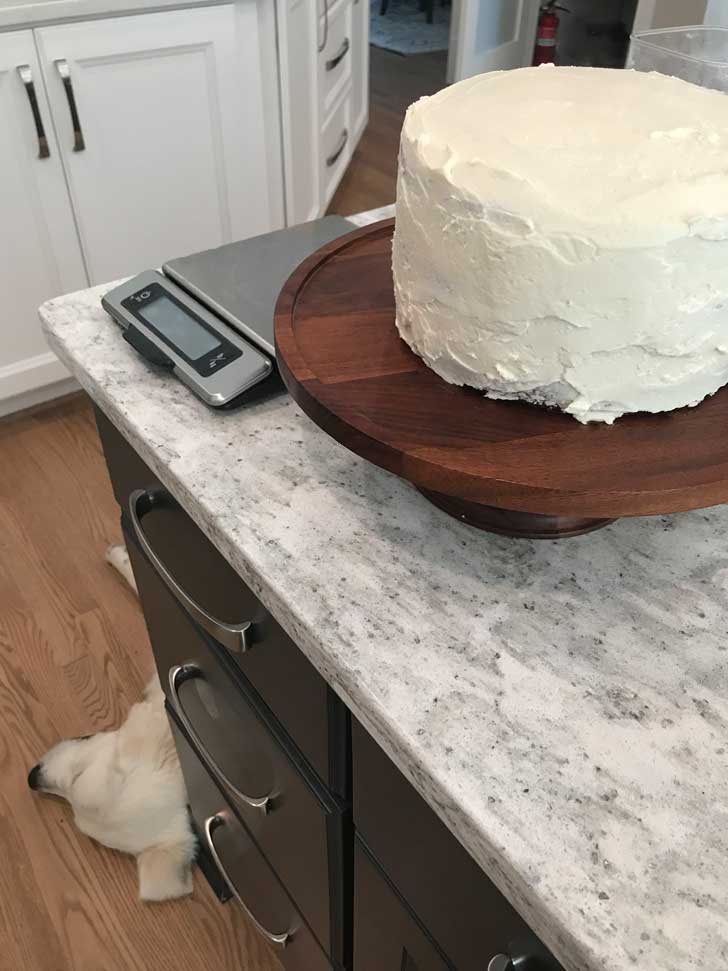 Equipment Tips
Have ready some Dawn dish spray. It gets red dye off all different types of kitchen surfaces. Ask me how I know! Also have a lot of towels, paper or cloth, to clean up red batter spills.
It really helps to have a stand mixer. You can use a handheld mixer, but icing requires quite a bit of beating.
For pans, you can use 8-inch or 9-inch.
Don't use butter in place of shortening here or the cake will be dry and less fluffy. If you don't like shortening, go with the other recipe I mentioned earlier.
Eggs -- You can use large eggs or extra-large eggs. I recently tested with extra-large eggs (total weight of 110 grams vs. 100 grams without shell) and the cake was still very good. Not sure 10 to 12 extra grams of egg makes much difference in the scheme of things, but if you buy extra-large (FOI, friends-of-Ina) it's okay.
Cake Tips
Butter extract or butter flavoring. This is a weird ingredient, and I was almost tempted to leave it out the first time. Oddly enough, when mixed with the vanilla and other ingredients it really improves the flavor of the cake. And this is coming from someone who doesn't (usually) like the flavor or smell of butter extract. Update: I found one I like! Happy Home brand butter flavoring. The link is in the recipe card.
You can use 1 ½ teaspoons of Wilton Christmas Red paste instead of food coloring. The color will be more of a brick red. My personal favorite thing for red velvet cake making is Americolor Super Red. When using a gel or something more dense like Super Red, you won't need the full 1 ½ oz or 3 tablespoons.
If you'd rather not have dry cake, weigh the cake flour. If you don't have a scale yet, sift it before you measure it. 2 ½ cups sifted cake flour weighs about 240 grams which is somewhere between 2 and 2 ¼ cups un-sifted. This is why it's best to just weigh flour.
If you absolutely have to you can use 240 grams of all-purpose. The volume of 240 grams of all-purpose will be more like 1 ¾ cups. But it's best to use cake flour for a softer crumb.
Ermine Icing Tips
If making an 8-inch 3 layer cake, you might want to make 1 ½ times the icing recipe. so you can be more generous with it.
Be sure not to overcook the milk and flour mixture or it will be lumpy. Also, press a piece of greased wax paper or plastic wrap over it so that a skin will not form while it cools.
As mentioned, this icing is best suited for a stand mixer with a whisk attachment. You can use a handheld mixer, but it will take a while to dissolve the sugar.
It seems to help if the icing is cut into small chunks and slightly cool, especially if you are using a powerful stand mixer with a whisk attachment. This gives the sugar more time to dissolve as the butter warms slightly from the friction of the mixer.
I'm re-reading this and it sounds so bossy, but the truth is I've made my share of dry red velvet cakes and the dryness was due to making substitutions.
New! Instant Pot Red Velvet
I've been testing all my cake recipes in a 6 quart Instant Pot, and this recipe works very well. I've put the instructions for how to do it in the notes.
Related...
Recipe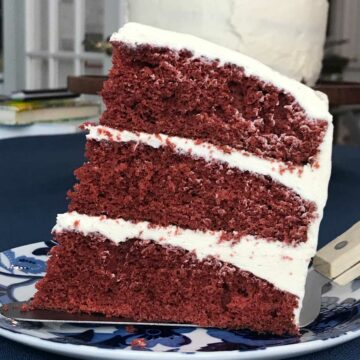 Waldorf Astoria Original Red Velvet Cake with Cooked Icing
This recipe is supposed to be similar to the original Waldorf Astoria Red Velvet Cake. If you want to use butter instead of shortening, pick a different cake because this one needs the shortening. Do not use anything other than cake flour and make sure to sift it or weigh it. Using too much flour makes red velvet cake dry.
Ingredients 
½

cup

shortening

(96 grams)

1 ½

cups

granulated sugar

(285 grams)

2

large

eggs

room temperature

1

teaspoon

vanilla extract

1

teaspoon

butter extract

1 ½

ounces

red food coloring (liquid type, such as McCormick)

3

tablespoons

natural unsweetened natural cocoa powder, sifted

(15 grams)

1

teaspoon

salt

I use Morton Kosher

2 ½

cups

sifted cake flour, this means sifted before measuring if using volume, or just weigh

(240 grams), make sure to weigh**

1

cup

buttermilk

room temperature

1

teaspoon

baking soda

1

tablespoon

vinegar
Cooked Icing aka Ermine Icing
3

tablespoons

flour

(23 grams)

1

cup

whole milk

(230 grams)

½

teaspoon

salt

omit if using salted butter

2

sticks

unsalted butter, cut into chunks and at cool room temp.

(230 grams)

1

cup

granulated sugar

(200 grams)

2

teaspoons

vanilla extract
Instructions 
Preheat the oven to 350 degrees F. Spray three 8-inch or 9-inch round cake pans with flour-added cooking spray. For a higher ratio of cake to frosting, use two 9x2 inch pans. If you use three 8-inch or go with two 9-inch, you will probably need to tack on about 4 minutes to the cook time due to the batter being deeper.

Using high speed of electric mixer, beat shortening and sugar until creamy. Beat in eggs, vanilla extract and butter extract, scraping sides of bowl occasionally.

Make a paste of red food coloring and cocoa powder, then stir that in. Or, do what I do and just stir the red food coloring and cocoa in, then beat. When the batter turns red, stir in the salt and beat so that it's very well mixed.

Starting and ending with flour, add the flour and buttermilk alternately to batter, stirring so that flour gets absorbed.

Place the baking soda in a little cup. Add the vinegar to the baking soda, then stir the fizzy vinegar mixture into the cake batter to lighten it.

Now, empty the cake batter into the pans, dividing evenly. I weighed my last batch and got about 318 grams per pan (for 3 layers).

Bake for 20 minutes or until a wooden skewer inserted in the center comes out with moist crumbs. Let cakes cool in pans on a rack for 10 minutes. Flip out of pans and cool completely.

If your cake domes, you can trim off the domes and crumble them for garnish.
Icing Directions
In a small, heavy saucepan, not yet over heat, whisk together flour and milk until smooth. Set over medium heat and cook, whisking constantly, until mixture is thick and creamy. Be careful not to overcook or cook it over too high of a heat or you'll get lumps. Scrape into a clean bowl, cover with plastic wrap to prevent a skin from forming, and let cool completely.

Using your electric mixer, preferably a stand mixer with a whisk attachment, beat butter and granulated sugar until fluffy. Beat in the vanilla. Beat in the thoroughly cooled flour mixture. Beat until the icing is fluffy and no longer grainy. With a stand mixer and whisk this should take about 5 minutes. The icing will look very curdled at first, but should lose some of the curdled look as the sugar dissolves.

Cover cake with frosting.
Notes
Cake flour weighs about 114 grams per cup, and sifted cake flour weighs 100 grams per cup.  This is why the 2 ½ cups of flour in this recipe weighs around 240-250 grams.
All-purpose flour weighs up to 140 grams per cup, so if you scoop out 2 ½ cups of all-purpose flour in place of sifted cake you are adding a lot more flour to the recipe -- almost 100 grams.   If you don't have cake flour and you really want to make the cake, you can use all-purpose, but at a lesser volume amount.  That is, weigh out 240-250 grams of all-purpose.  The volume amount should be somewhere around 1 ¾ cup (maybe a little more).  The important thing is the weight.
Instant Pot Red Velvet:  Follow directions above, but use HALF of all the ingredients and pour batter into a 7 inch leak-proof springform with sides that are at least 3 inches high.  Cover pan with foil.  Boil 1 ½ cups of water in the microwave and pour it in the Instant Pot.  Set the cake on the trivet and lower into the water.  Close Instant Pot, set the valve to the center and set the time to 32 minutes.  Pressure cook for 32 minutes.  Wait 10 to 12 minutes before releasing valve, then remove top and very carefully lift cake from pan.  Remove foil, let cool slightly, then remove sides.