Yesterday, I made a double batch of tart pastry but wasn't exactly sure how to fill it.  This morning, I settled on an apple & frangipane combo based on a recipe from Once Upon a Tart.
The tart requires a bit of work, but it can be done in phases. I made the pastry yesterday, did the apple peeling and slicing this afternoon, then took Fuzz on a play date while the apples sat in the sugar. Once those steps were out of the way, the rest was simple.  What makes this tart so special is the frangipane, which is an almond filling. In this case, it's buried under a layer of diced apples, cinnamon & raisins then topped with a final layer of very thinly sliced apples.  I baked it for 70 minutes and some of the apples got a little singed.  Despite that, it was still very, very tasty.  Next time I might shield the apples after the first 40 mintues of cooking.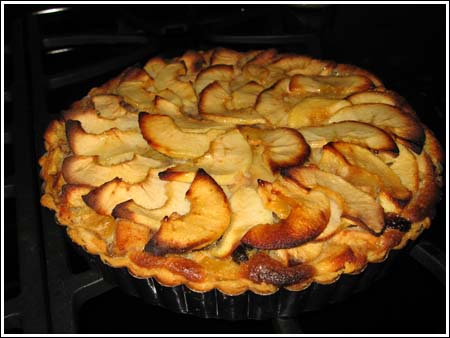 Apple Walnut Raisin Tart with Frangipane
Tart Pastry
2 ½ cups all purpose unbleached flour (11 ½ oz)
1 teaspoon salt
1 tablespoon sugar
12 tablespoons cold unsalted butter, sliced into small chunks
5 tablespoons shortening
About ¼ to ⅓ cup ice water
Filling
7 Granny Smith apple or other tart cooking apple, peeled, cored and cut in half
⅓ cup plus 2 tablespoons granulated sugar
½ teaspoon cinnamon
½ cup raisins
2 teaspoon fresh lemon juice
⅓ cup walnut pieces, toasted
Frangipane
4 tablespoons butter, softened
¼ cup granulated sugar
2 ounces almond paste (cut from a 7 ounce roll)
1 large egg
½ teaspoon vanilla extract
2 Tablespoons flour
⅛ teaspoon salt
Optional Glaze: apricot, pineapple preserves or some sort of apple jelly mixed with a splash of amaretto or Grand Marnier
Prepare Crust: Chill all ingredients except water and put in food processor. Pulse until mixture resembles coarse crumbs. Pour crumbly mixture into a bowl. Add a few tablespoons of water and mix with hands or spoon until dough comes together. Keep adding water until the mixture holds together. Divide in half and shape into 2 discs. Wrap in plastic wrap and chill for 30 minutes or until ready to use. You will only use one crust, so save the other one for something else.
Prepare Filling: Cut 4 of the apples into a ½ inch dice. Toss diced apples with ⅓ cup of sugar. Mix In raisins and lemon juice and let sit in refrigerator for an hour. Slice remaining apples into thin wedges and toss with remaining 2 tablespoons sugar. Let sit in refrigerator for an hour. Set the walnuts aside – you will mix them with the apples later.
Prepare Frangipane. With paddle attachment of a stand mixer, beat together butter and sugar until fluffy. Add almond paste and beat until well mixed. Beat in egg and vanilla. By hand or using lowest speed of mixer, stir in the flour and salt.
Preheat oven to 375 degrees F. Roll one of the discs into a large (10 inch) circle and press into and up sides of a 9 inch round removable bottom tart pan. Spread the frangipane over the crust.
Toss the diced apple mixture with toasted walnuts and spread over frangipane. Arrange the sliced apple wedges decorative over the diced apples so they cover the top. Bake on center rack of oven for 70 minutes. Note: put a liner on bottom rack of oven to catch any drips from tart pan.
When you take the tart out of the oven, the apples might look pretty dry. If you want, you can glaze them with melted preserves. I used melted pineapple preserves mixed with amaretto. You can skip the glaze entirely if you wish, but it makes the tart look nicer. Let the tart cool or serve it warm. Remove sides of pan and cut into wedges.
Makes 8 servings