This may be one of the best recipes I've ever posted on Cookie Madness. Or maybe it just feels that way because up until now, I never really thought about making a plum tart. But I can see making this Cardamom Plum Tart over and over for the rest of my life. It's simple, has so much flavor, and is kind of pretty. Plus it has cardamom, which is my family's favorite spice.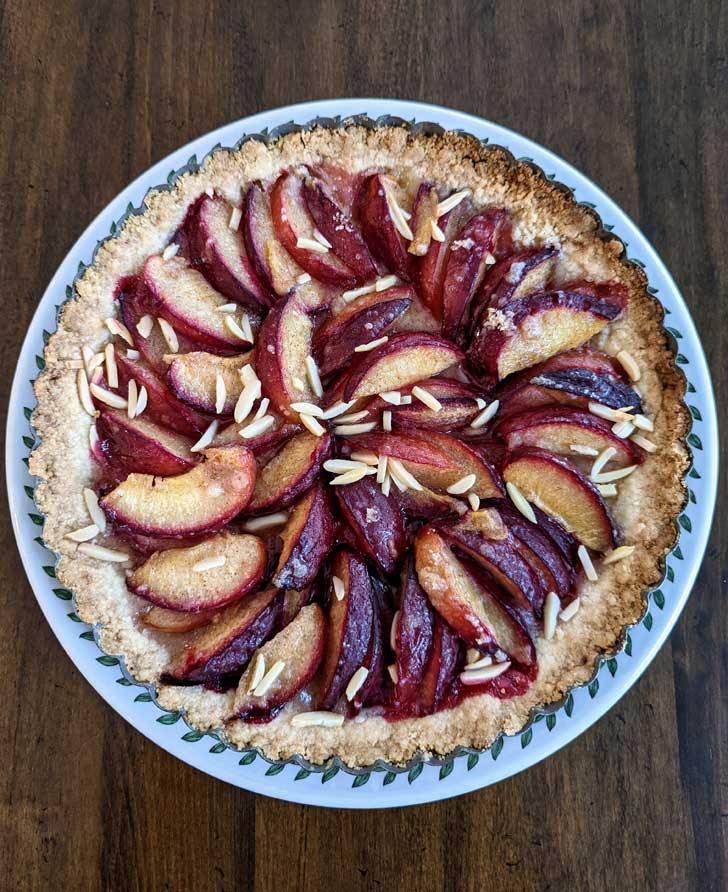 9-Inch Removable Bottom Tart Pan
This is a super easy recipe, but it does call for a 9-inch removable bottom tart pan. If you have one you can use it. Otherwise, you can grease and flour a 9-inch round springform or cake pan. If you want to lift the tart out of the cake pan, line it with foil before you grease and flour.
Firm and Sweet Plums
It seems a little early for plum season, but a lot of the grocery stores have them on sale now, so we bought a big bag yesterday. They were firm but still sweet -- perfect for tart making. Pitting and slicing was a breeze, and it was nice using a fruit you don't have to peel. The baked plums did not get mushy and they tasted great with the cardamom, cinnamon and sugar.
Buttery Shortbread Crust
The buttery shortbread was also delicious. I've been using Land o' Lakes brand salted butter in baking lately (though I usually use unsalted) and didn't regret it here. In this recipe the butter is softened and then added to the dry ingredients. There's no special equipment required, but a stand mixer with a paddle makes the job easier. You just mix until crumbly, then press it into the pan and add the filling.
Almonds or Other Nuts
This tart gets sprinkled with almonds before going in the oven. I thought they might get too brown, but they stayed oddly pale. They added some crunch which was pleasant, but I think sliced rather than slivered almonds or even pecans might be better here. Or you could leave the nuts out entirely.
If you have the time to make this Cardamom Plum Tart, it's worth it! And if you aren't in the mood for or don't love cardamom, feel free to leave it out. The orignal version of this from an old Good Housekeeping did not have cardamom -- only cinnamon.
Recipe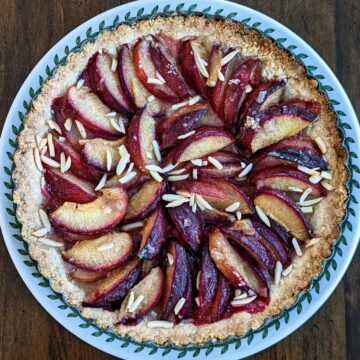 Cardamom Plum Tart
A thin, Italian style fruit tart with a cardamom spiced fresh plum filling.
Ingredients 
Dough
1 ¼

cups

all-purpose flour

(160 grams)

¼

cup

sugar

(50 grams)

⅛

teaspoon

salt or use ¼ teaspoon if using unsalted butter

¼

teaspoon

cinnamon

7

tablespoons

salted butter, softened

(100 grams)
Filling
⅓

cup

sugar

(65 grams)

1

tablespoon

(slightly rounded) all-purpose flour

¼

teaspoon

cinnamon

¼

teaspoon

cardamom

1 ¼

pounds

plums, pitted and sliced

¼

cup

slivered almonds
Instructions 
Preheat oven to 375 degrees F. Grease a 9-inch removable bottom tart pan (a cake pan will do if you don't have a tart pan) and have ready a foil-lined rimmed baking pan to catch drips.

In a mixing bowl, stir together 1 ¼ cups flour, ¼ cup of sugar, salt and cinnamon. Add the softened butter and stir by hand or with the paddle attachment of a stand mixer until coarse and butter is evenly dispersed.

Empty crumb mixture into tart pan and press the mixture into the greased tart pan and press into bottom and up sides of pan. If using a cake pan, try to go about an inch up the sides.

In the same mixing bowl you used for the crust (no need to rinse), mix together ⅓ cup of sugar with the generous tablespoon of flour and ¼ teaspoon cinnamon and the cardamom. Add plums and toss to coat. Arrange the plum slices neatly in the tart shell. Sprinkle with slivered almonds.

Set the tart on the foil-lined baking sheet and bake for about 45 minutes or until pastry is golden and plums are tender.