Inspired by a Strawberry Rhubarb Galette I saw in the Wegman's grocery store bakery, I came up with this recipe using frozen rhubarb and strawberries. While I am not sure how it compares to the Wegman's pastry, we all loved this one and I plan on making it again.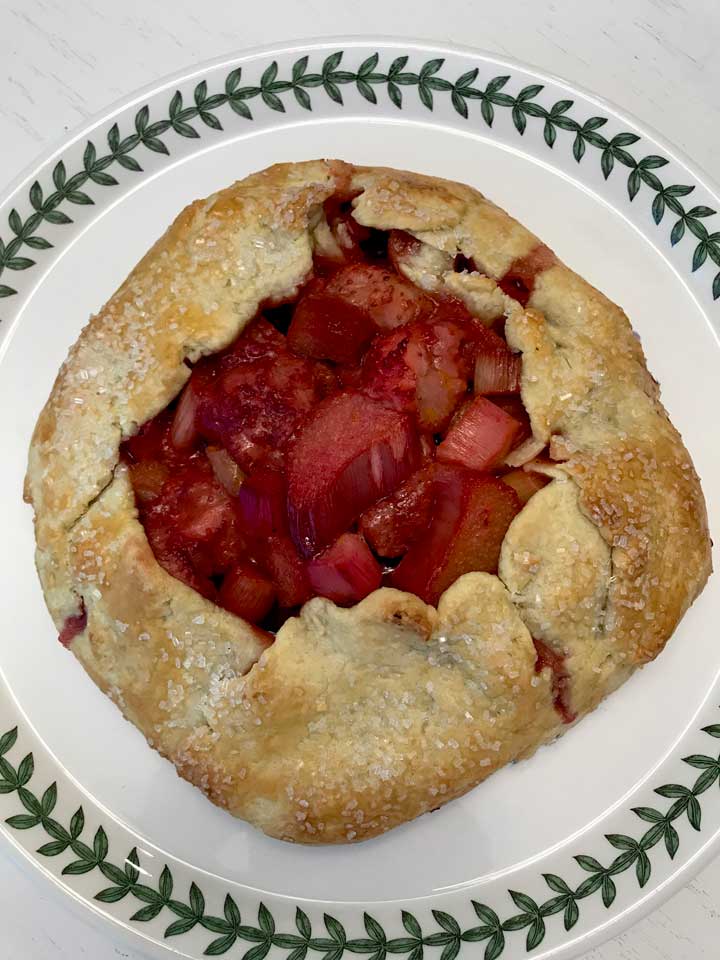 Good crust is key with a galette, so I used one of my favorite recipes which is the one from the Rustic Blueberry Tart and used European style butter. European style butter is not absolutely necessary, but I think it makes this crust a little better. Plugra is probably my favorite European style butter for baking purposes, but I also like KerryGold and a brand called Truly Grass Fed. Honestly, there's not a European style that I do not like!
Strawberry Rhubarb Galette Filling
As for the strawberry-rhubarb filling, it's one where you quick-thaw the frozen rhubarb, macerate and render the liquid, then thicken with cornstarch before baking. It's the same method I use for peach pie, and it really helps make the galette less runny.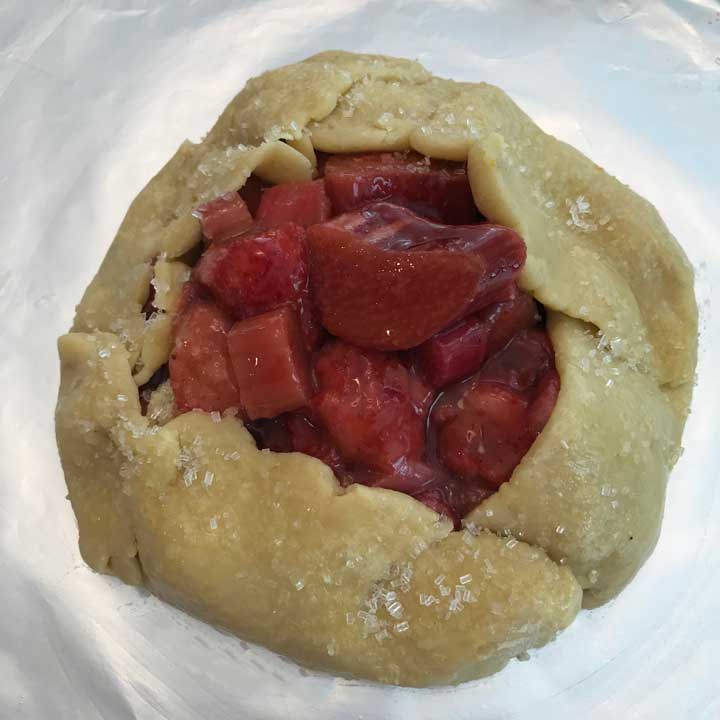 So here's the Strawberry Rhubarb Galette recipe, which I'll update when I make it again. Next time I'm I'll probably take time to cut the fruit into smaller chunks and will remember to add the chunks of butter at the end.
Recipe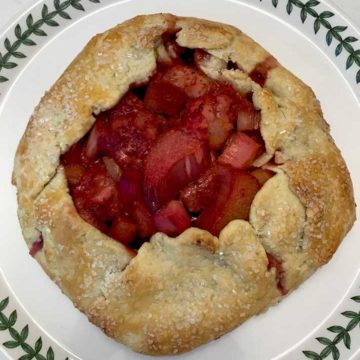 Strawberry Rhubarb Galette
A free form pie made with frozen rhubarb and strawberries
Ingredients 
Pastry
1 ¼

cups

all-purpose flour

(160 grams)

2

teaspoons

granulated sugar

(8 grams)

½

teaspoon

salt,

8

tablespoons

very cold unsalted butter

(114 grams)

4-6

tablespoons

cold water

plus more as needed
Filling
½

pound

frozen rhubarb

(240 grams)

½

pound

frozen strawberries

(240 grams)

6

tablespoons

sugar

(75 grams)

⅛

teaspoon

each -- nutmeg, ginger and allspice

½ to 1

teaspoon

orange zest

1

tablespoon

cornstarch

½

tablespoon

of butter

(7 grams)

beaten egg for brushing pastry and extra sugar
Instructions 
Mix the flour, sugar and salt very well in a large mixing bowl. Cut the butter into small bits and scatter over the flour mixture. Alternatively, use a grater and grate the cold butter in, tossing occasionally to mix. Stir until coarse.

Add about 3 tablespoons of water and mix with a spoon or heavy-duty scraper. Keep adding water until flour mixture holds together when you pinch it with your fingers.

Dump the mixture onto a pastry mat and press it all together. It shouldn't crumble at this point.

Wrap in plastic wrap and let it rest in the refrigerator for at least 30 minutes. For best results, let it chill for a few hours.

About an hour or so before you plan to assemble, bring dough to room temperature.

Prepare the rhubarb and strawberry filling. Quick thaw your frozen rhubarb and strawberries by putting them in a mixing bowl and pouring 2 cups of boiling water over the fruit. Let stand for 5 minutes, then drain. Toss the now-mostly-thawed rhubarb and strawberries with sugar and orange zest and allow mixture to stand for about 30 minutes. Drain and measure so that you have between ⅔ and 1 cup of liquid. If you don't have at least ⅔ cup let stand for another 15 minutes or so.

Preheat oven to 425 degrees F.

Pour the reserved ⅔ to 1 cup rhubarb/strawberry juice mixture into a saucepan and whisk or stir in 1 tablespoon of cornstarch. Turn heat to medium and begin whisking or stirring until mixture becomes thick and translucent. Remove from heat. Let cool slightly while you prepare the dough.

On a well-floured surface, roll dough into a large (about 12 inches) circle.

Line a large rimmed baking sheet (make sure it's rimmed to catch any leaks) with nonstick foil or parchment. Transfer your dough circle to the baking sheet. The best way to do this is by using a bench scraping, folding it in quarters, then unfolding onto the foil lined baking sheet.

Mix the thickened fruit juice mixture with strawberries and rhubarb, then spoon the fruit mixture into the center of the dough leaving about a 2 ½ inch border. At this point you may dot with bits of butter if using. Fold border up and around the fruit, leaving the middle part open to the fruit filling is exposed.

Brush the crust with lightly beaten egg and sprinkle with coarse sugar.

Bake for about 25 minutes or until golden brown. Let cool to room temperature before serving.