I love today's recipe! It's an easy pear tart made with only 5 ingredients – pears, cinnamon, sugar, cream cheese and puff pastry. Here's a photo of the finished product.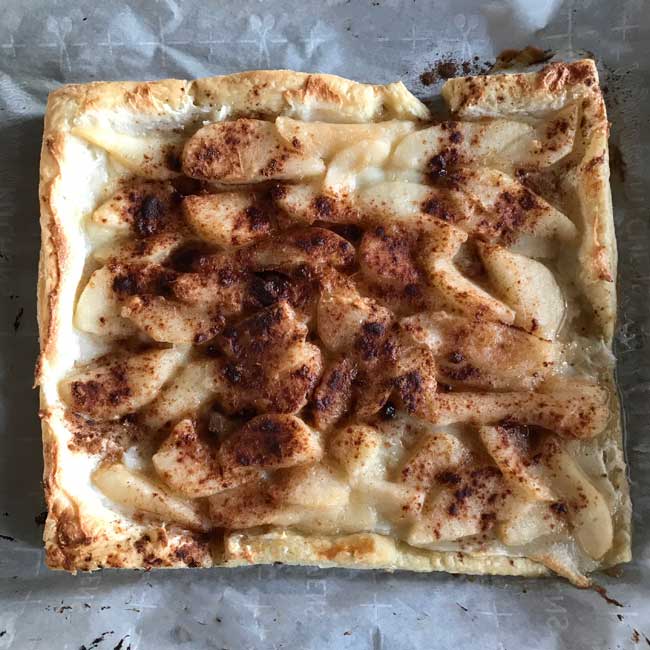 5-Ingredient Recipes
The recipe is from my friend Lisa Grant's new book, Super Easy Cookbook for Beginners: 5-Ingredient Recipes and Essential Techniques to Get You Started in the Kitchen. It's designed for beginner cooks and covers everything from stocking the pantry to using a knife. However, what I really like about the book is that recipes have short ingredient lists. Even when a recipe is supposedly easy, a long ingredient list can be overwhelming for cooks at any level.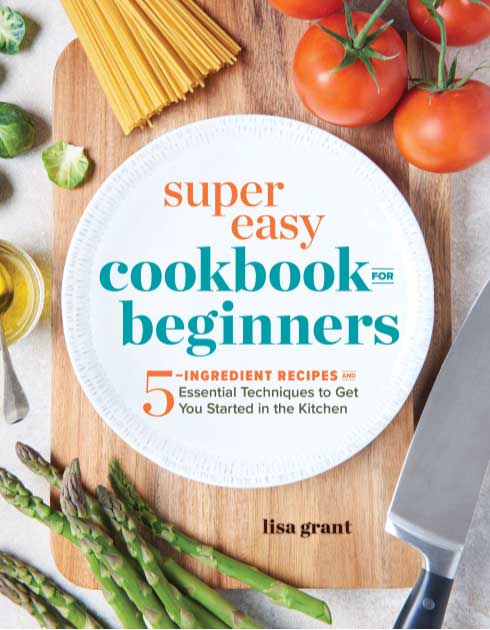 This a book I'd be happy to buy for my daughter before she heads off to college. She'll be eating in a dining hall for a while, but I still want her to have a basic foundation in cooking and a collection of "easy-but-awesome" recipes. Of course it's always nice to try before buying, so to "test drive" the book I let Fuzz make the Cinnamon Pear Cream Cheese Tart on her own. I put the ingredients on the counter and left the house so she could do her thing without me hovering.
Usually when I leave Fuzz alone with a recipe I get a few texts asking for clarification, but for this recipe the only one was "Mom, where is the rolling pin?". When I got home the house smelled like a bake shop and there was a beautiful tart sitting on the counter. What's funny is at the bottom of the recipe there's something called "Technique Tutorial" and the one on the Cinnamon Pear Cream Cheese Tart talks about what to use if you don't have a rolling pin. I guess Fuzz didn't want to use a drinking glass or wine bottle.
More Recipes From the 5 Ingredient Book
If you make the tart, let me know what you think! And definitely consider the book. Along with this recipe there are so many other recipes that are classic and designed for beginners. Some others on the list are Creamy Tomato Basil Soup, Roasted Balsamic Brussels Sprout, Pan Fried Steaks, Sweet Chili Soy Baked Salmon, and Balsamic Rosemary Lamb Chops. For dessert you have this tart, but there are also Best Brownies, Key Lime Pie, Apple Bread Pudding and others.
More Pear Recipes
Recipe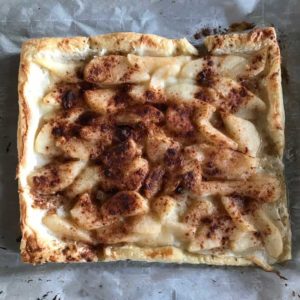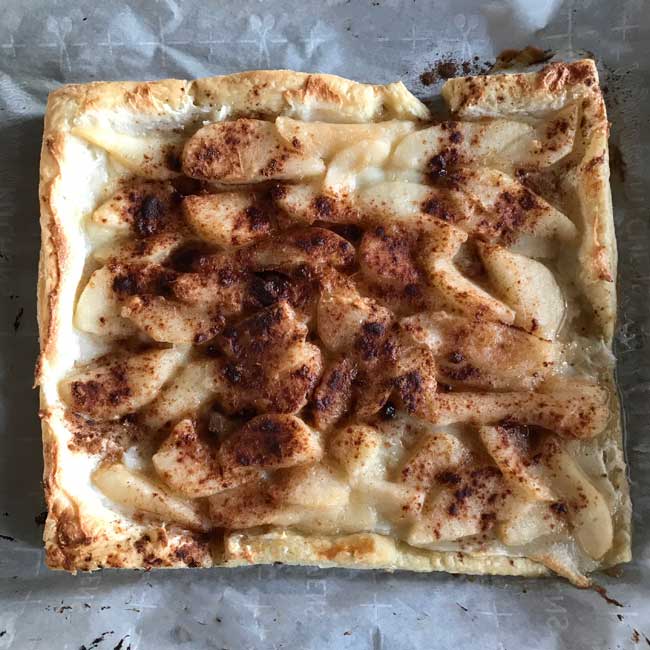 Cinnamon Pear Cream Cheese Tart
Cinnamon Pear Cream Cheese Tart is an easy dessert made with puff pastry. The recipe is from Lisa Grant's Super Easy Cookbook for Beginners.
Ingredients 
2

large

pears, peeled, cored and cut into long, thin slices

½

cup

plus 2 tablespoons sugar, divided use

1

large

sheet of puff pastry

4

ounces

cream cheese, softened

½

teaspoon

cinnamon
Instructions 
Mix the pears with the 2 tablespoons of sugar in a medium bowl. Set aside for 30 minutes while the puff pastry is defrosting on the counter.

Preheat the oven to 400 degrees F. Line a large rimmed baking sheet with parchment paper.

Unfold the pastry sheet and place it on the prepared baking sheet. Roll it out so that it's a few inches bigger all around.

In a small bowl, beat together the cream cheese and ½ cup sugar either by hand or using an electric hand mixer. Gently spread the cream cheese mixture on the pastry dough.

Drain any liquid from the pears and place the slices on top of the cream cheese in neat, overlapping rows, leaving ½ inch all around the outer edges of the pastry sheet.  Sprinkle with cinnamon.

Bake the tart for 16 to 20 minutes or until the edges of the pastry are golden brown.

Cool for at least 15 minutes before serving.

Technique Tutorial:  The best way to roll out pastry dough is usually a rolling pin.  If you don't have one, a tall drinking glass or wine bottle will do the trick.