As I mentioned earlier, I found the new Kraft Caramel Bits this weekend at Super Target. This morning I took the conservative approach and used them in a recipe straight off the Kraft web site – Kraft Caramel Crunch Bars.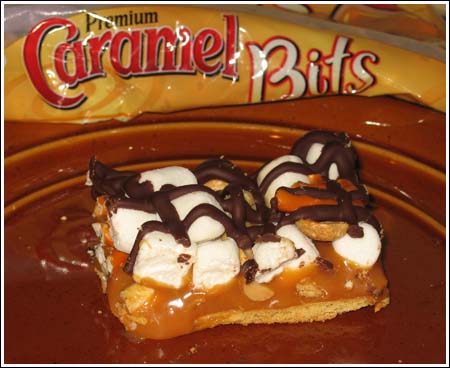 These were easy to make and very tasty. The crust is made with plain old honey graham crackers laid end to end on the bottom of a foil lined pan. Next time, I might try making the crust with Lorna Doone cookies or some other square shortbread. But the graham crackers were good and stayed crunchy so I can see why they started with graham crackers.
Again, here's the recipe, but I do have a few suggestions to add based on my experience.
Use non-stick foil because the recipe is sticky. If you use cooking spray or butter, use a lot of it.
If you want more control over how you drizzle the melted chocolate, melt it in a microwave as usual, then spoon the melted chocolate in a little zipper bag. Snip a very tiny hole in the bottom corner of the bag and squeeze the melted chocolate out of the bag. It's really fun.