Years ago my friend Shirley sent me a letter, and along with the letter she enclosed a coupon for a new product -- Kraft Caramel Bits, unwrapped caramels for baking. I was pretty excited because one task I do not enjoy is unwrapping 30 or so caramels for a recipe. So the Kraft Caramel Bits were a welcome new product, and I still use them.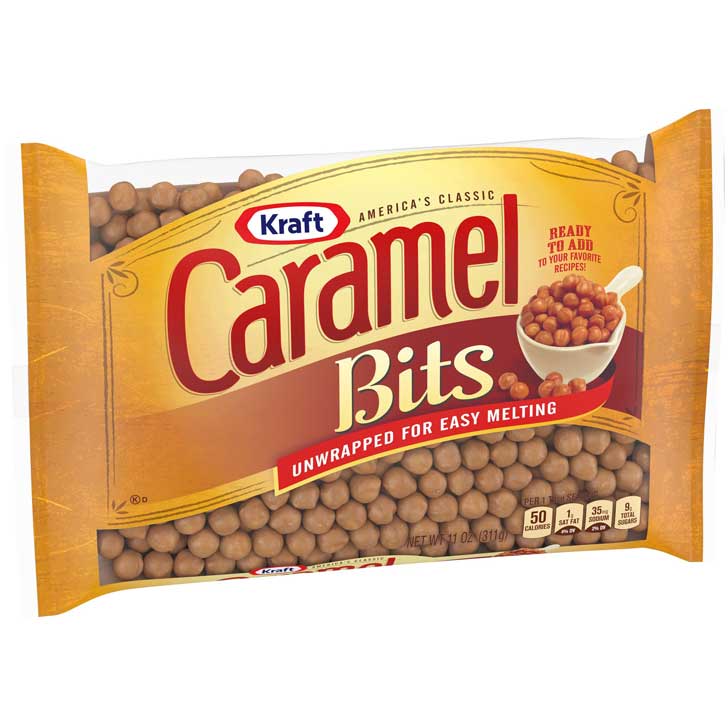 These days I usually find them on the baking aisle at Target. They're also on Amazon, and reasonably priced in my opinion.
Substitute Caramel Bits of Kraft Caramels
You can use this information to substitute unwrapped caramel bits for Kraft caramels.
1 cup of caramel bits is equal to about 25 Kraft caramels.  25 Kraft caramels weigh about 5.5 ounces, therefore 1 cup of unwrapped caramel bits weighs about 5.5 ounces.  If a recipe calls for 14 ounces of unwrapped caramels, you will need about 2 ½ cups of caramel bits.
Of course if you own a kitchen scale, you won't have to worry about the math, you can just weigh out the equivalent caramel bits.
More Recipes with Caramel Bits