Biscotti seemed like the perfect cookie for today so I did a search and found a great recipe – Double Almond Biscotti by Pam Simmons. The intro to this recipe, which I found on Recipe Goldmine, says that Pam developed it in her test kitchen and it became the most popular biscotti in her office. With an endorsement like that plus the fact it called for almond paste, I knew it would be good.
If you use a food processor, this recipe comes together very quickly. Also, if you your oven runs hot, you might want to cover your cut biscotti with foil so it won't brown too much.  Mine were delicious, but the were a little too golden.
These aren't hard and crunchy like some biscotti, but rather crispy and crunchy. The flavor is outstanding.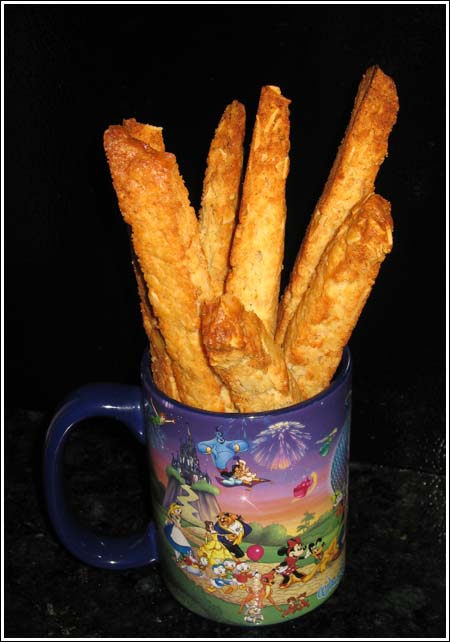 Double Almond Biscotti
1 3/4 cups all-purpose flour
1 teaspoon baking powder
1/4 teaspoon salt
1 (7 ounce) package almond paste
1/2 cup granulated sugar
1/2 cup (1 stick) cold butter, cut into small pieces
4 large egg whites
1/2 teaspoon vanilla
1 cup slivered or sliced almonds (toasted)*
Preheat oven to 325 degrees F. Adjust rack to center.
Take 2 large cookie sheets and stack one inside the other. This helps prevent burning. Line top cookie sheet with parchment paper, or lightly grease.
Combine flour, baking powder and salt and stir well so that salt and baking powder are evenly distributed. Set aside.
Grate almond paste on large-hole side of grater or grate with grating blade in food processor. Fit food processor with metal blade. Add grated almond paste, sugar, flour mixture, and butter. Pulse until mixture has texture of small crumbs.
In a large bowl beat egg whites with vanilla extract until frothy. Add food processor mixture, plus the slivered almonds to the beaten egg whites. Mix with a large spoon until dough holds together. Turn out on a lightly floured counter and shape into two 2-inch thick by 10 inch long logs. Flatten each log gently with hands until 1/2 to 3/4 inch thick.
Using spatula, transfer flattened dough logs to cookie sheet and set them about 3 inches apart on sheet. Bake 35 minutes until golden and firm. Put doubled-up cookie sheets, with biscotti still on them, on wire rack to cool (about 1 hour).
When completely cool, slice 3/4-inch diagonal pieces, using a serrated knife. Return the pieces to cookie sheets, cut side down (you may need to do this in two batches). Bake for 25 minutes at 325 degrees F, or until slightly golden. (For softer textured biscotti bake 2 or 3 minutes less; for drier biscotti bake 2 or 3 minutes more).
Cool completely. Store in airtight container.
Makes 22 biscotti.