This morning I made Grace Parisi's Granola With Maple Glazed Walnuts from the December issue of Food & Wine. I was a little hesitant because the granola cooks at 375 F and I usually bake granola at much lower temperatures, but the technique for this recipe is slightly different so I figured I'd give it a try. To be safe, I cut the recipe down to a quarter of the original and cooked it in a 13x9 inch pan. I also laid a sheet of foil over the top to prevent over-browning.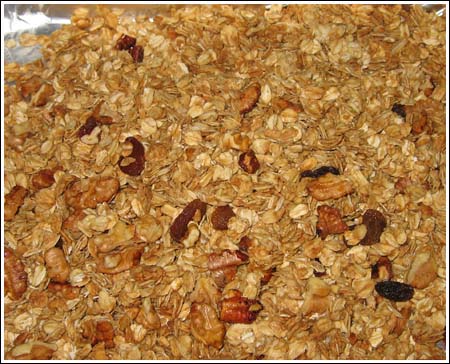 After 30 minutes, it started to smell and I could tell it was almost done. Total cook-time for the quarter batch was about 38 minutes. It had the perfect sweetness and was both crispy and crunchy. In this recipe, the walnuts are cooked separately from the granola. I held off on making the candied walnuts until I was sure the granola worked out. It did, so I cooked the walnuts at 350 for 10 minutes. The recipe says 375 for 20 minutes, stirring often, but I did that first and the nuts burned.
This is probably the best granola I've ever made. The packaging it not fancy, but at least I know it will stay fresh in this tin-tie bag. I'll probably make more and package it in big jars with cute tags.