As of yesterday, the Carrot Cake Granola I stashed in the freezer last week has a new friend — Nutty Chocolate Granola! I am so happy with how it turned out, and not sure why I resisted making a cocoa powder granola for so long. It's a great snack or (depending on how much chocolate you add) dessert.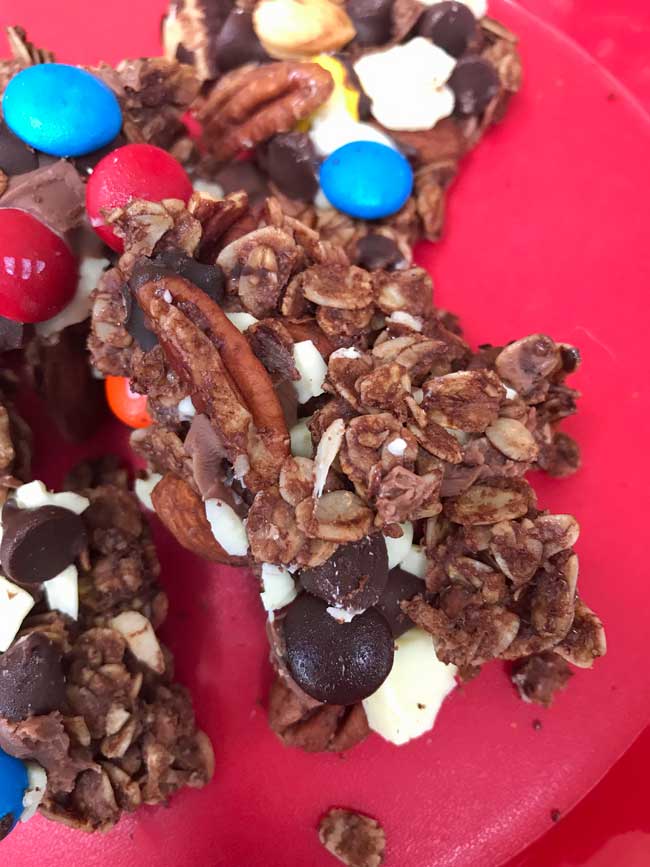 This recipe is based on one from Bobby Flay who uses coconut and coconut extract for Coconut Chocolate Granola. I used that recipe to start, but made changes. I reduced the oven temp to 250 so there'd be no chance of burning. I used maple syrup instead of honey, omitted the coconut and coconut extract, used a little extra vanilla, doubled the nuts, added three kinds of chocolate along with some M&Ms. I also ignored the advice to use fancy cocoa powder and just used some from Aldi. Great results!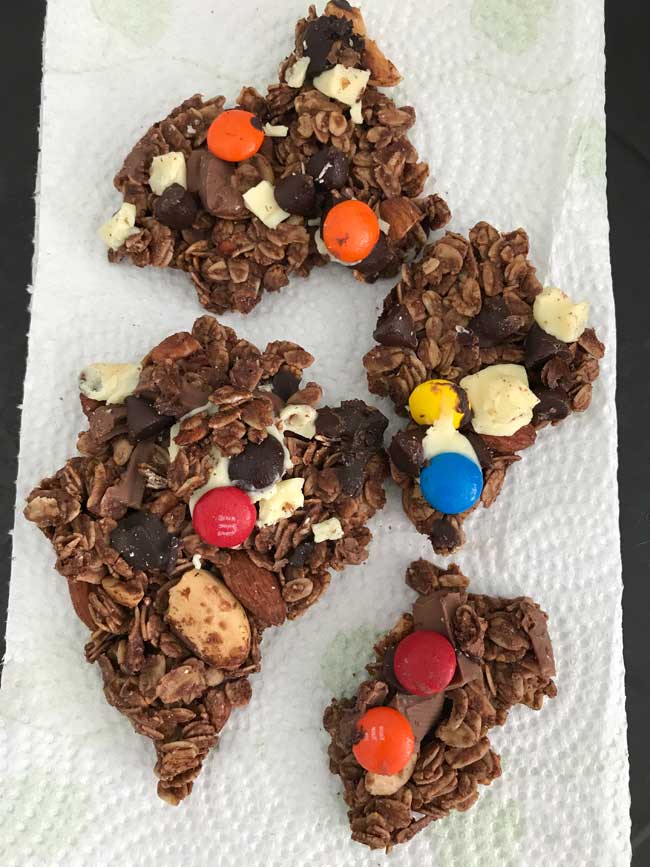 I don't think there's any recipe you can custom tailor to suit your personal tastes more than granola, so if you make this you can have fun changing it up with your favorite nuts and candies. My next batch is going to have mini peanut butter cups, peanuts and dried banana chips, and then one of these days I'll almond extract and dried cherries and do a Black Forest version. On Cinco de Mayo I'll add cinnamon and call it Mexican, and on Halloween anything goes.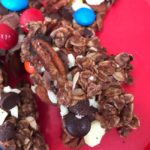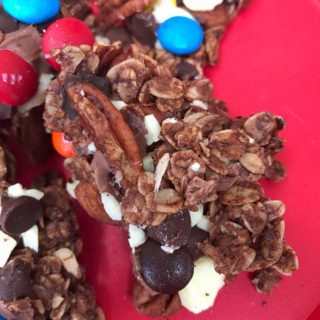 Print Recipe
Nutty Chocolate Granola
Nutty Chocolate Granola made with cocoa powder, maple syrup and three kinds of chocolate.
Ingredients
5

tablespoons

coconut oil

1/4

cup

maple syrup

1/4

cup

granulated cane sugar

Pinch

of salt

1/3

cup

cocoa powder

1/4

teaspoon

pure vanilla extract

2 1/2

cups

old fashioned oats

1

cup

of mixed raw nuts

I use pecans, cashews, almonds, Brazil nuts

2/3

cup

chopped chocolate

I use milk, dark and white

1/2

cup

dried cherries or M&Ms

optional
Instructions
Preheat the oven to 250 degrees F. Grease a large rimmed baking sheet with one tablespoon of the coconut oil.

Heat the remaining 1/4 cup coconut oil over medium heat in a large (3 quart) saucepan.

Remove from heat and stir in the sugar and maple syrup.

Return to heat and cook, stirring constantly for about a minute or until it just begins to bubble around edges and sugar starts to dissolve. Remove from heat and add the cocoa powder and salt, then stir until smooth.

Add the oats and nuts to the saucepan and stir until coated with chocolate mixture.

Transfer the mixture to the prepared sheet pan and press into an even layer. Bake for 45 minutes. Turn off the oven and let sit in the warm oven for 15 minutes longer. Add the chocolate to the warm granola. Allow it to cool for 15 more minutes in the off oven.

Remove to a baking rack and let cool completely. Break into pieces and add M&Ms, dried fruit or whatever you like.

Microwave version: Heat coconut oil in microwave-safe bowl just until melted (about 20 seconds). Add sugar and maple syrup and stir well, then microwave for 30 seconds or until mixture boils. Stir well to dissolve the sugar, then add cocoa powder, salt and vanilla and stir until smooth. Mix with the oats and nuts.

Proceed with step 6 and on.
Notes
This should give you around 4 cups of granola, but the volume will vary based on how big you make the chunks and how much extra chocolate you use.