I made Peeps Brownies on a whim last year, but Easter had passed so I figured I'd wait until this year to post this seasonal delight. It's a pretty good excuse to buy Peeps, which seem to be everywhere this year. And now they come in all these crazy flavors. For these, you just need a few different colors of Peeps. They can be bunnies or chicks. Cadbury Mini Eggs are optional, but you might want to buy some to see if they taste as good as when you were a kid. I don't think they do.
Peeps on Top Last
There's not much to this recipe. Basically, you prepare a box of your favorite brownie mix and then put chopped Peeps on top of it during the last 5 minutes of cooking. That's the key. The Peeps go a few minutes before the brownies are done, otherwise they'll get rubbery or perhaps bake into the brownies, which is actually a good thing in some marshmallow brownie recipes. But here, you want the Peeps on top. They melt into pastel puddles of chewy marshmallow.
This is just a fun way to liven up a box of plain brownie mix brownies, but of course you can make your brownies from scratch. Below are a few easy scratch brownies that would also work well.
Scratch Brownies
Best Fudge Brownies Ever (or at least they were back then), Circus Animal Brownies (you'd use Peeps), Tapioca Flour Brownies (gluten-free, as are Peeps) , One Bowl Brownies, and maybe Loaf Pan Brownies if you have a limited supply or just need a small batch.
Recipe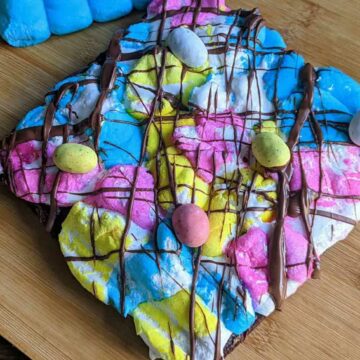 Peeps Brownies
Brownies made with Peeps and brownie mix.
Ingredients 
1

box

fudge brownie mix, designed for a 13x9 inch pan

2

large

eggs or how many the box calls for

¼

cup

water or how much the box calls for

⅔

cup

neutral oil or as directed on box

⅔

cup

chocolate chips, but measure with your heart

15

or so

Peeps in different colors

¼ cup chopped chocolate for melting (optional)
Instructions 
Preheat oven to whatever heat is listed on your brownie mix. It's usually 350 degrees F.

Grease a 13x9 inch pan and line with parchment paper. Grease again. If you don't have parchment paper you can use foil, but be sure to use plenty of shortening, butter or cooking spray because melted Peeps are sticky.

In a large mixing bowl, follow directions given on brownie mix to prepare brownies. I used the amounts listed, but always use the amounts listed on your box of brownie mix, as it varies by brand.

Add chocolate chips to the brownie batter and spread evenly in the pan. Bake for 25 to 30 minutes or use the bake time given on the brownie mix.

Now here's the important step. While the brownies bake, cut about 15 Peeps into large chunks. About 5 minutes before the brownies are ready, pull from oven and scatter chopped Peeps over the top evenly. Return to the oven and bake just until the peeps start to melt. Gently (but barely) spread the melted marshmallow Peeps to cover.

Let cool at room temperature until ready to cut, or speed things up and cool partially in the freezer.

If you'd like a chocolate drizzle, melt some chopped chocolate in the microwave using one of the lower power settings and stirring often. Use a small spoon to gently fling the melted chocolate over the top of the brownies. Chill until firm.