Last week a friend sent me a Peppermint Pig. To eat it, you shove it into a little velvet satchel and whack it apart with a mallet.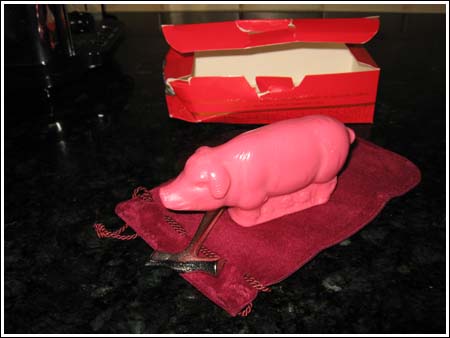 Yesterday, I decided to use the Peppermint Pig in some peppermint snowball cookies. Just as I was about to bring down the mallet, Fuzz came around the corner, saw what I was doing and started to cry. I tried to calm her down by reading the happy little pamphlet that came with the pig. It didn't work. I handed over the pig and she carried it around all morning until she forgot about it and left it lying around somewhere. It's been licked, so it's hers, and I am out of mints again.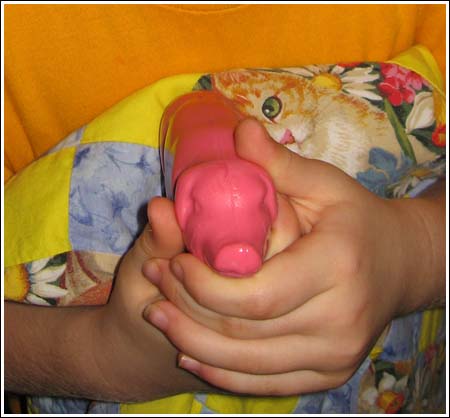 So here's what I was going to make, which is a recipe sent to be by a reader named Shane. Thanks for the recipe! I will let you know when I get more peppermints.
Update 12 Years Later (2019): You can (still) purchase a Peppermint Pig from the Vermont Country Store. Also, Fuzz is in college. I'm not sure if she remembers the Peppermint Pig.
I also have a new recipe for Snowballs that don't include peppermint -- Maple-Pecan Snowballs.
Peppermint Snowballs
1 cup butter (Shane notes that margarine is okay)
¾ cup powdered sugar
1 tsp. vanilla
½ tsp. peppermint extract
¼ tsp. salt
2 ¼ cups flour
½ cup quick cook oats
¼ cup crushed peppermint candy canes, or stars
red food coloring
confectioners sugar for rolling
red sanding sugar for rolling
Mix butter, and sugar till fluffy. Add vanilla, peppermint extract, salt and red food coloring. (Shane uses about 7 drops).
Add flour, oats and peppermint candy
Roll into small balls and bake 15 minutes at 350*. Remove from oven and immediately roll in confectioners sugar mixed with red sanding sugar (Shane used two teaspoons per ½ cup of confectioners sugar). Let cool and roll again.
NOTE FROM SHANE: These are simple to make, freeze well (just throw 'em in a bag) and the red sugar and peppermint give them a very festive look. The oats and candy give them a nice little crunch.