Kahlua Crunch Cups is a recipe is from an old Southern Living Christmas book. The original title was Espresso Crunch Cups, but I cut the recipe in half, changed the proportion of sugar to butter and changed the name. If you make them with milk chocolate, they're sweet. That didn't stop me from eating them, though. Next time, I will use dark chocolate to curb the sweetness.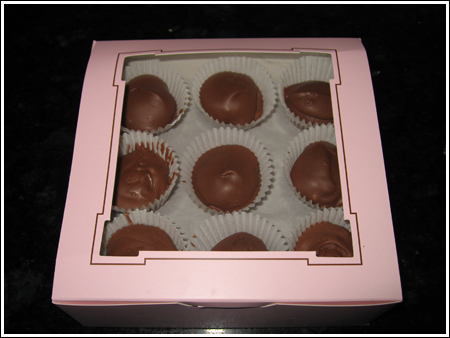 Kahlua Crunch Cups aka Espresso Crunch Cups
3 tablespoons butter, soft
1 cup SIFTED powdered sugar (sift then measure)
1 ½ tablespoons Kahlua
1/16 teaspoon of salt (tiny pinch)
2 ounces crushed chocolate covered espresso beans
10 ounces good dark chocolate (or milk if you like sweet)
1 tablespoon shortening
In a medium size mixing bowl, beat the butter until it is creamy. Stir in the powered sugar and beat until soft. Beat in the Kahlua and salt. Add the crushed espresso beans and stir until mixed. Chill for an hour.
Line 24 mini muffin cups with small (1 ¼ inch) paper liners.
Using your preferred method (microwave or double boiler), melt the chocolate with the shortening. Spoon about ½ teaspoon of melted chocolate into the bottom of each up.
Using a rounded half teaspoon measure, scoop up espresso bean mixture and shape it into 24 balls, each about the size of a really big Peanut M&M's. Flatten each ball a bit so that it is about the shape of a fat Junior Mint. Place one in each cup, setting it on top of the chocolate you already put in. Spoon remaining melted chocolate into cups covering espresso beans.
Cover and chill until firm.
Makes 24