This cookie is a tribute to the famous Viennese dessert, the Sacher-Torte. It's perfect for when you don't have time to a) travel to Vienna b) make an actual Sacher-Torte or c) find a good bakery that sells them. It's cheaper too. That said, I'd rather go to Vienna but in all practicality….
This is a popular recipe and many web sites credit it to the Wellesley Cookie Exchange book (1988). While it does appear in that book, it first hit the scene at the 1982 Pillsbury Bake-Off Contest as the entry of Phyllis Wolf. There are a few very minor differences. Ms. Wolf used a 3.9 ounce box of pudding mix and suggested using apricot and/or cherry preserves. She also did not call for almond extract.I used the original amount of pudding (3.9 oz) and added the almond extract because I like it.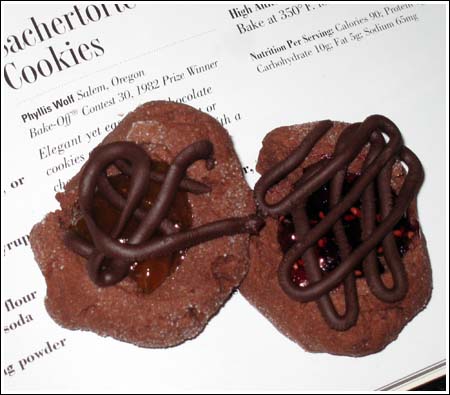 Sacher-Torte Cookies (aka Sachertorte cookies or Sacher Torte cookies)
8 ounces butter, room temp (I used salted)
1 package (3.9 oz) package instant chocolate pudding mix (¾ cup dry)
1 large egg
1 teaspoon almond extract (optional)
2 cups all purpose flour (spoon and sweep)
3 tablespoons sugar (for rolling)
½ cup apricot apricot preserves (or cherry)
½ cup semisweet chocolate chips
3 tablespoons melted butter
Preheat oven to 325° F.
In a large mixing bowl, combine butter and pudding mix; cream together until fluffy. Beat in egg and almond extract. Gradually add flour, beating at low speed with mixer until dough forms.
Shape into 1-inch balls. Roll balls in sugar. Place 2 inches apart on ungreased cookie sheets. With your thumb, make an indentation in the center of each cookie. Bake for 15 minutes or until cookies are firm. Remove from cookie sheets immediately. Cool.
Fill each indentation with about a ½ teaspoon of preserves. In a small saucepan, blend the chips and butter over low heat until chocolate melts, stirring constantly. You may also do this in the microwave.
Drizzle ½ teaspoon of chocolate over each cookie in a random pattern.
Makes about 3 dozen cookies.