The original version of this recipe was developed by the California Dried Plum Board. I would link you to it, but I can't find it on-line…..not even on the California Dried Plum Board web site. I'll keep looking.
This version is a one-bowl, half-batch recipe with an easy to make microwave filling. The ingredient list is kind of long – but don't worry, because they are mostly simple "around the house" type things….except for the espresso powder, which some people seem to have a hard time finding. If you can't find it, omit it and use strong coffee in place of the water.
If you don't want to deal with fudge filling, you can also make these cookies as drop cookies. Make dough as directed, but add ¼ cup toasted chopped walnuts and ⅓ cup semi-sweet chocolate chips. I made a few of them this way and they were great.
If you do decide to try the filling, my advice is to have all the filling ingredients ready to go, then prepare it in the microwave while the cookies bake. I've only made this recipe one time, so I'll be interested to hear how these work out for others. They were much better than I expected - -definitely good for a low fat cookie.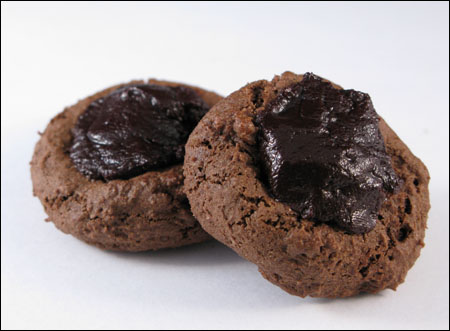 Low Fat Chocolate Fudge Cake Cookies
½ cup granulated sugar
2 tablespoons prune baby food
1 egg white
1 tablespoon water
½ teaspoon espresso powder
½ teaspoon vanilla
¼ cup unsweetened cocoa powder, natural
½ teaspoon baking soda
¼ teaspoon salt
¾ cup plus 2 tablespoons all purpose flour (I used white whole wheat) (3 ½ oz)
Filling:
1 ounce unsweetened chocolate, cut into chunks
1 tablespoon granulated sugar
2 teaspoons corn syrup
¼ teaspoon cornstarch dissolved in 1 ½ tablespoons water
¼ teaspoon vanilla
Preheat oven to 350 degrees F. Line a large cookie sheet with parchment or a Silpat.
In a medium size (2 quart) mixing bowl, using a mixing spoon, mix together sugar and prune baby food. Stir in egg white, water, espresso powder and vanilla. Add cocoa powder and stir until well mixed. Add baking soda and salt and beat with the mixing spoon, taking care that baking soda is well-distributed through mixture (no lumps). Add the flour and stir to make dough.
Shape dough into 14 neat balls about ¾ inch in diamter. Place on ookie sheet, spacing as well as possible to fit all 14 (these don't spread much) and bake for 10-11 minutes or until cookies appear set.
Remove cookies from oven and immediately press a deep indentation into the center. Spoon filling into indentations, dividing evenly among cookies.
While cookies bake, prepare the filling in microwave.
Microwave Filling:
In a small (1 quart or so) microwave-safe bowl, melt the chocolate in microwave. When chocolate is melted, stir in sugar, corn syrup and dissolved cornstarch/water mixture. Stir well and return to microwave. Microwave for about 40 seconds or until mixture starts to boil. Remove from microwave and stir well. Stir in vanilla.
Makes 14 cookies