This is an old recipe where I thought I was being really clever by making ribbons of peanut butter with melted peanut butter chips, peanut butter and regular butter. The Peanut Butter Ribbon Fudge Brownies never really caught on (or at least, that I know of), but I've seen people using the peanut butter ribbons for other things. And I believe I've laid them across double chocolate cookies as well, but I can't remember.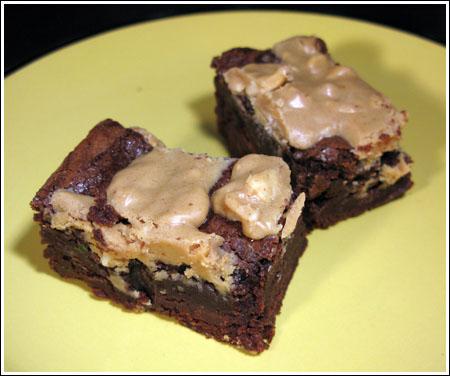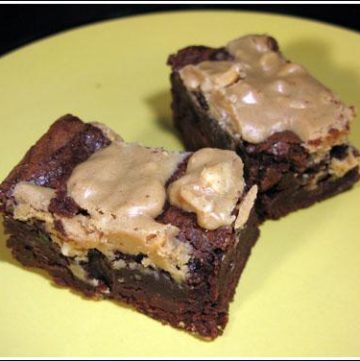 Peanut Butter Ribbon Fudge Brownies
Peanut Butter Ribbon Fudge Brownies
Ingredients 
Peanut Butter Ribbons:
1/4

cup

peanut butter chips

1/4

cup

peanut butter

1

tablespoon

butter
Brownies:
4

oz

unsalted butter –

114 grams

1

cup

plus 2 tablespoons granulated sugar

1/2

cup

plus 2 tablespoons Dutch process cocoa

or Hershey's Dark

1/2

teaspoon

salt

1/2

teaspoon

baking powder

1/2

tablespoon

vanilla extract

9 ml

2

large eggs

3/4

cup

unbleached all purpose flour

96 grams

1/2

cup

chocolate chips

85 grams
Instructions 
Preheat oven to 350 degrees F. (180 C). Line an 8 inch pan with non-stick foil or parchment paper.

Prepare ribbons first. In a microwave safe bowl, combine pb chips, pb and butter. Melt on high 30 seconds. Stir until smooth. Spoon a rectangle (don't worry too much about size, but try to make it at least 6 inches long) onto a plate lined with wax paper. Chill for 30 minutes or until set.

Prepare batter. In a medium-sized microwave-safe bowl, melt the butter on high. When butter is melted, stir in the sugar. Return the mixture to the microwave and heat until mixture is very hot, but not bubbling (1 minute). Stir well to help dissolve some of the sugar.

Stir in the cocoa, salt, baking powder and vanilla. Add the eggs, beating till smooth; then add the flour and chips, stirring until combined. Spoon half of the batter into prepared pan.

Remove peanut butter ribbon mixture from refrigerator and slice into long, thin strips (width & length will vary). Lay half of the strips over the chocolate batter, then spoon remaining chocolate batter over strips.

Bake the brownies for 25-27 minutes, until a cake tester inserted into the center comes out dry. Remove them from the oven and immediately lay remaining strips decoratively over hot brownies — pressing them gently Let cool completely on a cooling rack, then transfer to refrigerator to chill for a few hours. Lift from pan and slice into squares.

Makes 16 or more, depending on how you cut them.