I'm making brownies for a fundraiser, which gave me the perfect excuse to try some old recipes back to back and put them up against a new one.   This is the new one. It's for walnut fudge brownies and it's based on a recipe called Best Friends Forever Brownies. I tested these against the famous Baked Brownies and Nick's Supernatural Brownies.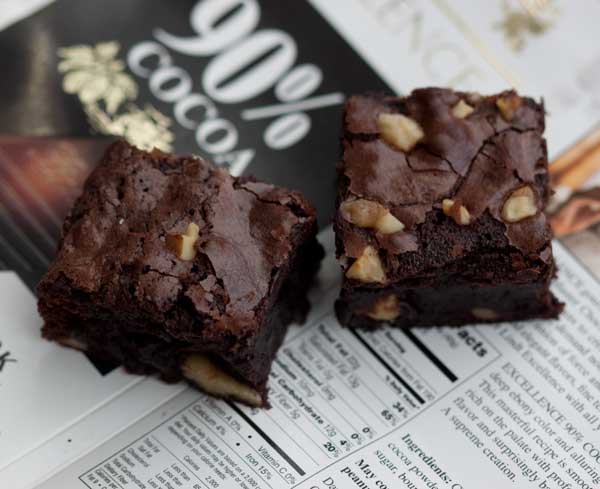 These walnut fudge brownies are as fudgy and rich as Baked and Supernatural, but have a clearer chocolate flavor because there's no brown sugar.  As much as I love brown sugar in brownies, after tasting the Baked and the Supernatural against these, I didn't feel these were lacking with just the granulated.  In fact, they were really fabulous and the texture was a little less homogeneous than the other two.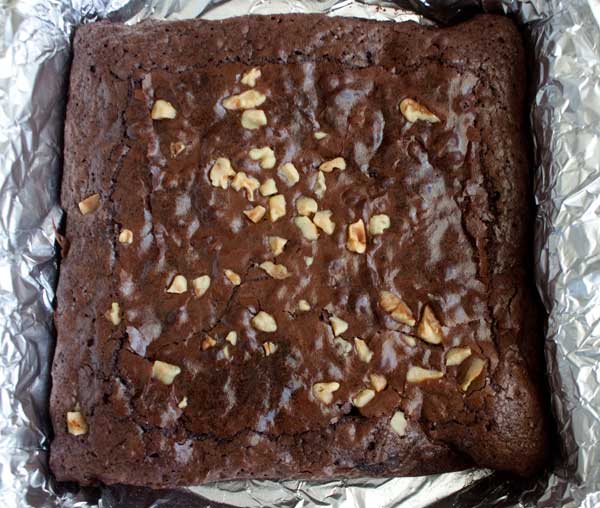 The original recipe introduces the brownies by saying that without walnuts, brownies are just dense pieces of chocolate cake.  That may be true, but I found these to be delicious with or without the nuts, so don't worry if you have to leave them out.  They did come out a little thicker and lighter with the walnuts.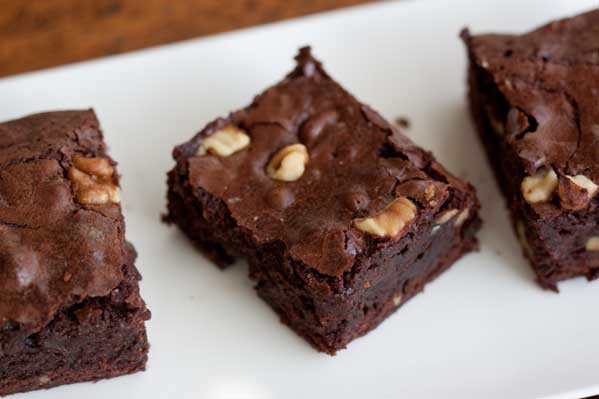 I loved all these brownies, but after tasting some of these fudge monsters, it makes me want to make some of the lighter, less-gooey, brownies such as the Zingermann's clone.
Recipe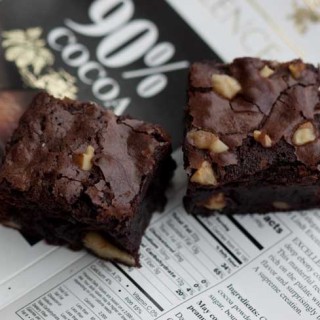 Fudge Walnut Brownies
Walnut Fudge Brownies are made with a mixture of melted unsweetened chocolate and cocoa powder.
Ingredients 
1 ½

sticks

unsalted butter, cut into chunks

(175 grams)

3

ounces

unsweetened chocolate, broken into chunks (Lindt 99%)

(84 grams)

¼

cup

28 grams unsweetened cocoa powder (Valrhona Dutch process)

1 ½

cups

granulated sugar

(295 grams)

3

large

eggs, room temperature

(150 grams)

⅝

teaspoon

salt

1 ½

teaspoons

vanilla

½

cup

flour

70 grams

½

cup

toasted walnuts
Instructions 
Preheat oven to 325 degrees F. Line an 8 inch metal pan with nonstick foil.

Combine the butter and chocolate in a microwave-safe bowl and heat at 50% power, stirring every 40 seconds, until chocolate mixture is melted and smooth. Alternatively, you can do this in a bowl set over water. Add the cocoa powder to the hot chocolate mixture and stir until smooth, then stir in half (¾ cup) of the sugar.

Meanwhile, in a second bowl, gently whisk together eggs, remaining ¾ cup sugar, salt and vanilla. Scrape the sugar/egg mixture into the chocolate mixture and stir until blended, then stir in the ½ cup of flour. Stir in the walnuts, then scrape mixture into the pan.

Bake for 40 minutes or until brownies appear set. If you have a meat thermometer, check to see that they are around 210 to 212 degrees F.

Let the brownies cool at room temperature, then chill for a while before lifting from pan, cutting and serving.