These Colossal Double Chocolate White Chip Cookies are from a little cookbook called Easy Peasy Recipes by Heather and Lucinda Wallace.  It's not a fancy book and there's barely any prose, but it's a good, solid, little recipe collection and I haven't had a failure from the book yet.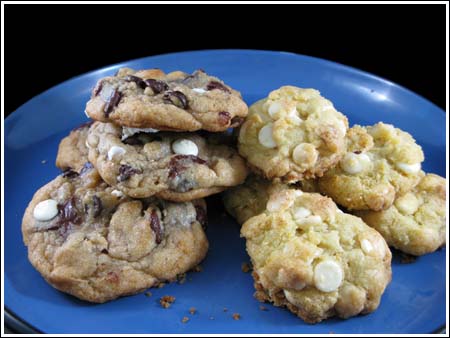 Here's the recipe. If I get a chance I'll post the recipe for the other cookies in the book — White Chip Orange!

Easy Peasy Cookie Recipes
Colossal Double Chocolate White Chip Cookies
Ingredients
4 cups all-purpose flour (530 grams)
1 teaspoon baking powder
1 teaspoon baking soda
Optional 1 1/2 teaspoons salt only if using unsalted butter
1 1/2 cups salted butter or margarine, softened
1 1/4 cups granulated sugar (240 grams)
1 1/4 cups packed brown sugar (240 grams)
2 eggs
1 tablespoon vanilla extract
1 cup milk chocolate chips
1 cup semi-sweet chocolate chips
1/2 cup white chips
1 cup chopped nuts
Instructions
Preheat oven to 350ºF.
In a medium bowl, stir together flour, baking powder, and baking soda (if using unsalted butter, add 1 1/2 teaspoons salt).
In a large bowl, cream together butter, granulated sugar, and brown sugar.
Beat eggs and vanilla extract into butter mixture. Gradually stir in flour mixture. Stir in milk chocolate chips, semi-sweet chocolate chips, white chips, and nuts.
Drop by level ¼-cupfuls, about 2 inches apart, onto ungreased baking sheets. Bake for 12 to 14 minutes or until light golden brown. Allow cookies to cool for 2 minutes on baking sheets, then transfer to wire racks to cool completely.
Notes
For thicker cookies, shape the dough into 24 mounds, put them on a foil lined plate, then cover and chill for several hours.