This biscotti recipe was inspired by a new find in the baking aisle at Albertson's – Nestle Toll House Espresso Morsels. They are dark chocolate chips with a hint of coffee flavor. Okay, maybe more than "a hint". The espresso flavor is pretty strong and the morsels taste a lot like chocolate covered espresso beans. Coffee lovers (my daughter!) will adore these. I find them bit strong, but I'm also not a huge espresso bean fan.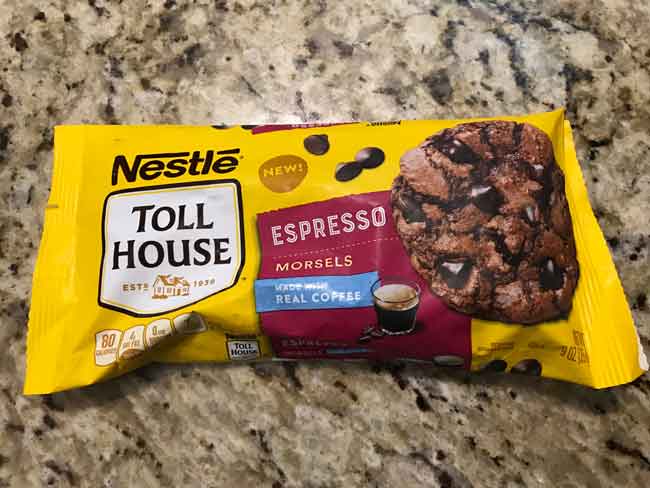 Triple Chocolate Espresso Biscotti is the first thing I've made with the Toll House Espresso Morsels. The recipe is a twist on a Toll House biscotti that calls for melted chocolate chips. I incorporated the espresso morsels and lowered the temperature for the second bake.
I wasn't sure if the melted chocolate chips would give enough chocolate flavor, but they packed a punch and the biscotti didn't need any extra cocoa powder. It's super good and worth a try. My only tip is to make sure you let the biscotti cool for at least 10 minutes before cutting. If it's too hot, the biscotti breaks when cutting. On the other hand, you don't want to let it cool too long or it may be difficult to slice.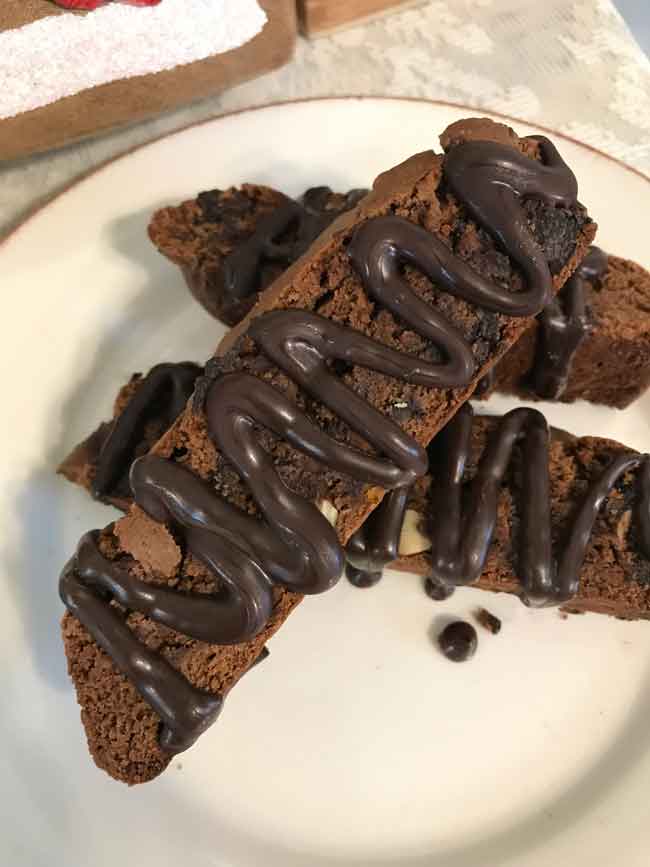 If after reading this you are still on the fence about the recipe or just want to try a biscotti made with cocoa powder, another great recipe is this Double Chocolate Biscotti. It's not quite as sweet as the Triple Chocolate Espresso Powder, but very good. I actually didn't think that the Triple Chocolate Espresso recipe would be as good as the old favorite Double Chocolate Biscotti, but they are both very different and good in their own way.
Update:  The family liked this biscotti so much I made a second batch with a variation.  Here's the variation:  Instead of espresso morsels, use peanut butter chips.  As soon as you pull the biscotti from the oven, set a Reese's Thin or a tiny chocolate chip cookie on top of each hot cookie and let it melt.  When cool, drizzle with chocolate.
Recipe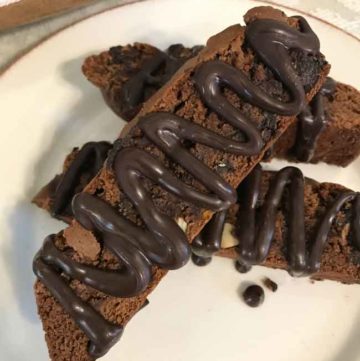 Triple Chocolate Espresso Biscotti
Biscotti made with melted chocolate chips and espresso flavored chocolate chips (aka morsels).
Ingredients 
⅔

cup

114 grams Nestle Toll House Chocolate Morsels

2 ¼

cups

all-purpose flour

290 grams

1

teaspoon

baking powder

½

teaspoon

salt

¾

cup

packed light brown sugar

150 grams

4

tablespoons

butter

softened (56 grams), I used unsalted, but salted okay

2

large eggs

1 ½

teaspoons

vanilla extract

1

cup

slivered or chopped almonds or pecans

toasted

⅔

cup

114 grams. Nestle Toll House Espresso Morsels

About ⅔ cup of either Chocolate or Espresso Morsels for melting on top
Instructions 
Preheat oven to 325º F. Line a baking sheet with parchment

Put ⅔ cup of the chocolate morsels in a microwave-safe bowl and heat on high for 45 seconds. Stir well, then continue microwaving and stirring every 30 seconds until smooth.

Mix the flour, baking powder and salt in small bowl. Set aside.

With an electric mixer, Beat sugar and butter in large bowl until light and fluffy. Add eggs and extract and beat until combined. Stir in melted chocolate. Gradually stir in flour mixture, then stir in nuts and the ⅔ cup of espresso morsels.

With slightly damp hands, shape dough into a 12 x 3-inch log with a rounded top, directly on the baking sheet.

Bake the log at 325 for 40 minutes or until slightly firm to the touch and cracked on top. Let cool on baking sheet for 10 minutes, then slide log onto cutting board and cut into 18 even slices. Return to baking sheet and stand the biscotti on the sheet. If you prefer, you can lay the pieces on their side.

Reduce heat to 300 degrees F. and bake for an additional 20 to 25 minutes. Remove to wire rack to cool completely. It will crisp as it cools.

Put the remaining chocolate (either semisweet morsels or espresso morsels) in a freezer bag and microwave for 30 seconds. Massage bag to help melt the chips, and push the chips toward the bottom corner. Microwave for 10 seconds. Cut a tiny corner from bag and drizzle over cooled biscotti. Let stand until drizzle is set. Store in airtight container at room temperature.