I'm not sure where I first tried tiramisu, but I suspect it was at some place like Macaroni Grill. There've been so many tiramisus at so many places since then, it's all a big blur. And frankly, I've had enough bad tiramisu that I'm leery about ordering it out anymore. I'd much rather make it at home using this tried and true recipe which just so happens to be from Cooking Light. It's called White Russian Tiramisu, and while it's not actually authentic (no marsala, no eggs), it's delicious and much less dangerous to have around the house because everyone knows there's no such thing as "one bite" of tiramisu.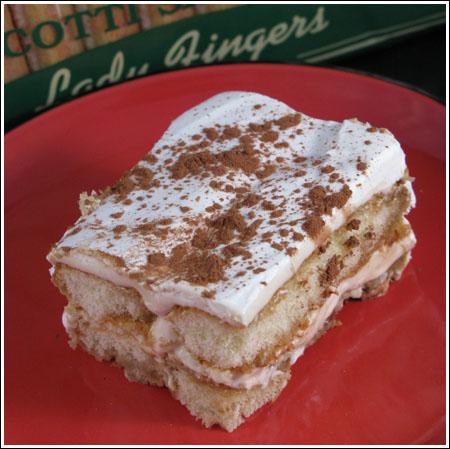 But back to authenticity. Mine is even less so because I put "Cool Whip Lite" on top. If Francis Ford Coppola comes to dinner, I'll take the Cool Whip out, but I like the fluffiness it adds and the calories it takes away. Besides, it kind of dilutes the overall calorie count and makes you think you're getting more than you are. You can even use Fat Free Cool Whip.
Other than that, I follow the Cooking Light recipe as written, but use a .7 oz package of Alessi brand hard-type ladyfingers. They soften up in the refrigerator.