Lemon Berry Icebox Dessert is neither a cookie recipe nor one particularly appropriate for December. It's a springtime dessert, but I'm posting it now because it happens to be lighter and might balance out all the rich holiday foods. This is the kind of dessert you could eat every day.
Lemon Berry Icebox Dessert Shapes
I've made this in many forms. If I'm using soft ladyfingers, I prepare it in a 9 inch round springform pan and stand half the ladyfingers around the sides as in a Charlotte Russe. Sometimes, I use pound cake and make it in a see-through Pyrex dish - a 2 qt 8 inch square or an 11x7 pan. For this version, I used some Weight Watchers Lemon Snack Cakes I bought a few weeks ago. They worked fine, but I wouldn't recommend going out and buying Weight Watchers Lemon Snack Cakes just for this. Ladyfingers are a much better option and definitely more attractive. Pound Cake tastes great, but it will bump up the calories and fat a bit....unless you have some low fat pound cake around.
Recipe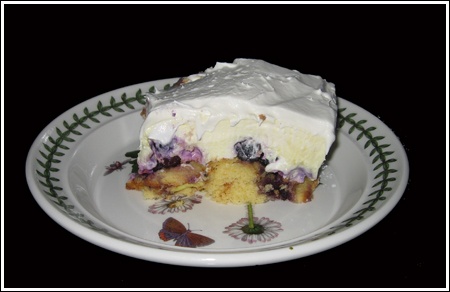 Lemon Berry Ice Box Dessert
Lemon Berry Ice Box Dessert
Ingredients 
⅓

cup

water

1

packet plain gelatin

Two packs

3 oz each of soft Ladyfingers or cubes of pound cake (for oblong pan)

3

cups

frozen or partially thawed frozen blueberries

in their bag, with juice

¾

teaspoon

sugar

1

4 serving size packet Jell-O brand sugar free lemon flavored instant pudding

1 ½

cups

reduced fat milk

½

cup

fat free reduced French Vanilla flavored liquid creamer

1

8 oz tub Cool Whip Lite

Garnish: lemon slices
Instructions 
Place water in a saucepan. Empty gelatin packet into water and let soften for 5 minutes. Heat water to boiling and turn off heat as soon as water boils. Stir to dissolve gelatin. Let gelatin cool for about 5 minutes.

Split ladyfingers and stand them around side of a springform pan. Break up remaining ladyfingers and press them into bottom of pan. If using pound cake, just cut it in slices and lay it across the bottom of an oblong or square 2 qt glass pan.

Pour partially thawed berries in center of cake lined pan. Sprinkle with sugar.

In a large mixing bowl, beat pudding mix, milk and liquid creamer for 2 minutes or until slightly thickened. Add cooled gelatin/water mixture to pudding mixture and stir until smooth. Fold in 2 cups of the whipped topping.

Pour lemon mixture over berries and chill for at least 5 hours or until set. If you are using frozen berries, you will need at least this much time for the berries themselves to thaw. So even if the dish appears set, the berries might not be thawed. When set, spread remaining whipped topping over top. Garnish with lemon slices or something else.