Fuzz is on a school trip to Russia, so in her honor today's recipe is Russian Black Bread. This is one of two loaves I made before she left, so she did get to taste it. Now she can compare this bread to actual black bread served in Russia!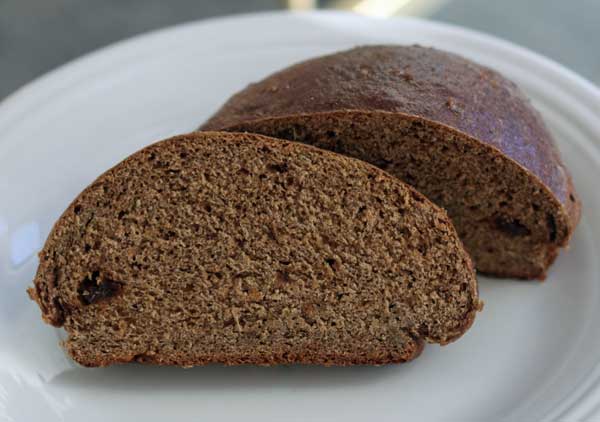 The recipe is from a little bread baking book I bought at a garage sale years ago, and it seems pretty authentic. In fact, there's a very similar version on The Russian Report. This version doesn't have onion, but rather a lot of other good things including chocolate, coffee, ground fennel and caraway. The two flours are all-purpose and dark rye, and there's just enough molasses to give it a hint of sweetness, though it's a perfect accompaniment to a savory meal.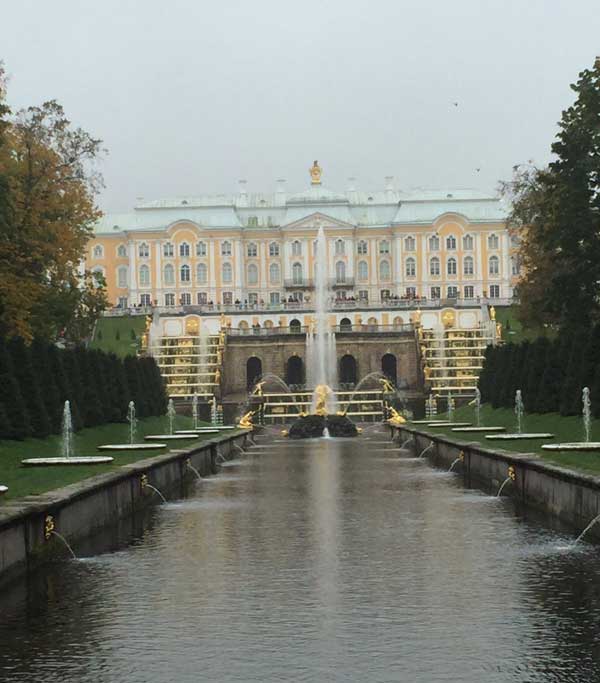 Lastly, the bread has a strange cornstarch glaze. Brushing a loaf of bread with cornstarch was new to me, but it gave the bread a nice shiny finish.

Russian Black Bread
A traditional Russian black bread made with bran cereal, rye flour, instant coffee, unsweetened chocolate, fennel and caraway. I used Raisin Bran and really liked the extra sweetness from the raisins.
Ingredients
1 3/4 cup rye flour, I used Bob's Dark Rye -- 1/2 pound
1 3/4 cup all-purpose flour -- 1/2 pound
1 tablespoon brown sugar
1 teaspoon salt
1 1/2 cups Raisin bran or 1 cup of All Bran
About 1 tablespoon caraway seed, crushed
1/2 teaspoon fennel seed, crushed
A teaspoon of espresso powder
2 1/4 teaspoons (1 packet) quick rising yeast
1 1/4 cups water
2 tablespoons cider vinegar
3 tablespoons dark molasses
1/2 oz unsweetened chocolate
3 tablespoons butter
Cornstarch Glaze
1/4 cup water
1 teaspoon cornstarch dissolved in 1 tablespoon of cold water.
Instructions
Combine the rye and white flours. Put 2 cups of the flour mixture in the bowl of a stand mixer. Add all the remaining dry ingredients and stir well.
In a saucepan, combine water, vinegar, molasses, chocolate and butter and heat until chocolate melts, stirring often. Let the temperature cool down to 125 degrees F , then add to the dry mixture in the bowl. Stir well, then gradually add remaining flour mixture until you have a soft dough. If you weighed the flour, you will probably need all of it.
Put the mixing bowl on the stand, attach the dough hook, and let the machine knead for 10 minutes. Turn dough into an oiled bowl and let rise until doubled in bulk (about an hour).
Cover bowl and let rise in a warm (100 degree F) place. When dough has doubled, punch it down and shape into two balls. Place each ball in a greased 8 inch round pan. Let rise until doubled (about 30 minutes).
Set each loaf in a lightly greased 8 inch cake pan and bake the loaves in a 350 degree oven for about 45 minutes. When the bread is almost done baking, begin making the glaze.
To make the glaze, bring 1/4 cup water to a boil. Add the dissolved cornstarch/cold water mixture and boil until thickened. Brush this over the baked bread.
This recipe makes two loaves of Russian Black Bread.