A couple of months ago on a very cold day, I bought a box of Kashi Go Lean Hot Cereal thinking I'd enjoy it on hot mornings. I ate one packet, then the weather got warmer and I just didn't feel like hot cereal anymore. I needed to use the hot cereal packets in something else, and naturally that turned out to be cookies.
The cookies are moist, cakey and wholesome but not particularly low in fat with the nuts and oil. You might be able to get away with a bit less oil (¼ cup) but I've only tested with ⅓ cup. Leaving out the nuts would cut fat, but fat from nuts is healthy, right?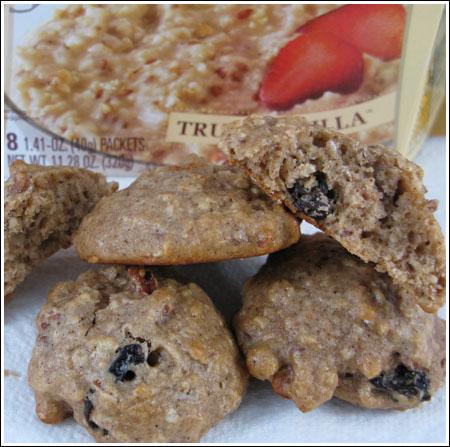 Kashi Cookies
1 cup all-purpose flour or white whole wheat (e.g. Eagle Mills or King Arthur)
¼ teaspoon salt (scant)
½ teaspoon baking soda
4 packets (1.4 oz each) Kashi Go Lean Hot Cereal
¾ teaspoon ground cinnamon
¼ cup brown sugar, lightly packed
⅓ cup canola oil
1 large egg
½ cup unsweetened apple sauce (scant)
⅓ cup raisins (may use more or less)
⅓ cup toasted pecans or walnuts (may use more or less)
Preheat oven to 350 degrees F. Line two cookie sheets with non-stick foil or parchment.
In a medium bowl, stir together flour, salt and baking soda, making sure baking soda is evenly blended. Mix in Kashi packets and brown sugar.
In a second bowl, whisk together vegetable oil, egg, and applesauce. Add egg mixture to flour mixture and stir until mixed. Drop dough by generously rounded teaspoonfuls onto prepared cookie sheets.
Bake cookies for 12-14 minutes. Let cool on cookie sheets for about 3 minutes then transfer to a wire rack.
Makes 24 cookies