Early this week I got an email from someone who loved the carrot cake cookies at Disney World. As usual, I too became interested in carrot cookies and started searching for good carrot cookie recipes. Like carrot cake itself, some versions are buttery and rich and others are more health food oriented. I couldn't settle on which recipe I wanted to make, so I just started throwing things together and after a few tries, ended up with Carrot Cake Breakfast Cookies. They're sweet and delicious enough to where kids will like them, but not so rich and buttery that you'd feel guilty serving them as a snack or breakfast treat.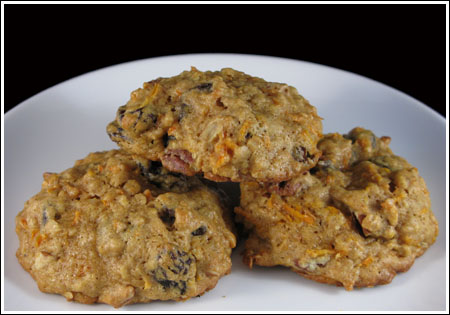 I used white whole wheat flour and don't recommend substituting whole wheat because it has a different consistency. If you substitute it anyway and the cookies turn out great, then let me know and I'll reverse my opinion. So unless you are up for experimenting, I'd say go with white whole wheat or just use all purpose. With all the nuts, carrots and oats, you still have a pretty wholesome cookie.
Carrot Cake Breakfast Cookies
1 cup white whole wheat or all purpose flour (4 ½ oz)
½ teaspoon baking powder
¼ teaspoon salt
½ teaspoon cinnamon
⅓ cup vegetable oil
3 tablespoons granulated sugar
⅓ cup packed dark brown sugar
1 teaspoon vanilla
1 large egg
½ teaspoon grated orange zest
½ cup oats, old fashioned or quick (not instant)
⅔ cup shredded or grated carrots
⅓ to ½ cup raisins
⅓ cup toasted, chopped pecans or walnuts
Preheat oven to 350 degrees F.
In a small bowl, thoroughly mix together the flour, baking powder, salt and cinnamon; set aside
In a large bowl, mix together the oil, granulated sugar, dark brown sugar and vanilla. When well mixed, add the egg and orange zest and beat for another 20-30 seconds. Add the flour mixture to the sugar mixture and stir until flour is absorbed. Stir in oats, carrots, raisins and nuts.
Using a ¼ cup measure, scoop up big mounds of dough – they should be a bit larger than golf balls, but quite smaller than tennis balls.
Place on ungreased or Silpat or parchment-lined cookie sheets and bake for 20 minutes.
Makes 8 big cookies