Rocky Ledge Bars are perfect for bake sales. They are a semi-cakey blonde brownie loaded with white chocolate, butterscotch chips, marshmallows and caramel. Does it get any better than that?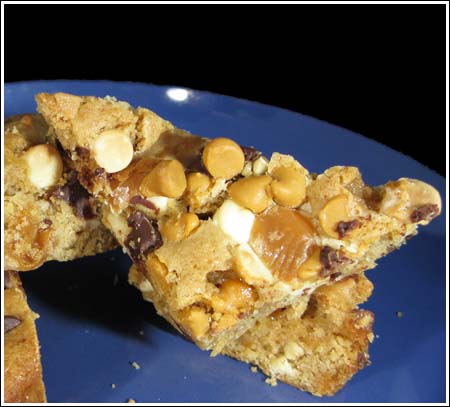 Rocky Ledge Bars
Rocky Ledge Bars are thin blondies loaded with chips and nuts.
Ingredients
8 tablespoons (1 stick) unsalted butter, room temperature, plus more for pan
2 1/4 cups all-purpose flour (10.25 oz)
2 1/4 teaspoons baking powder
1 teaspoon kosher salt (coarse type)
1 1/2 cups packed dark-brown sugar
3 large eggs
1 teaspoon pure vanilla extract
1 cup miniature marshmallows
1 cup semisweet chocolate, coarsely chopped
1 cup white chocolate, coarsely chopped
1 cup butterscotch chips
18 soft caramel-candy cubes, coarsely chopped
Instructions
Preheat oven to 350 degrees. Line a 13x9 inch pan with foil and spray foil with cooking spray.
Mix flour, baking powder, and salt in a bowl.
Cream butter and brown sugar in a large mixing bowl using an electric mixer. When light and fluffy, until add eggs and vanilla; mix until well combined. On lowest speed or by hand, stir in flour mixture until combined. Fold in half of each of the marshmallows, chocolates, butterscotch chips, and caramels.
Spread batter in prepared pan. Scatter remaining marshmallows, chocolates, butterscotch chips, and caramels on top. Bake until top is golden brown and a cake tester inserted into the center comes out clean, about 35 minutes. Let cool on a wire rack. Lift out of pan, and transfer to a baking sheet. Refrigerate until set, at least 30 minutes.
Remove by lifting foil from pan. Set on a cutting board and cut into about 16 triangles. Bars can be stored in an airtight container at room temperature up to 1 week
Notes
Adapted from Martha Stewart.