We're Seattle bound! Not today, but soon; and I'm really excited because Washington is one state I've always wanted to visit but just never did. The thing is, I've been busy and haven't had time to do any research. Normally, I map out our days hour by hour so we can cover as much territory as possible. We never stick to the plan and I never expect that we will, but I like going places with an idea of what we need to see first and where we can get the best food. My friend Lizzie has been helpful, but if you have any other suggestions (best cupcakes in Seattle, maybe? things to do with kids?), I'd really appreciate the input. In return, here's a recipe for Rocky Road Peanut Butter Brownies. It doesn't have anything to do with Seattle, but you can serve it with up with coffee.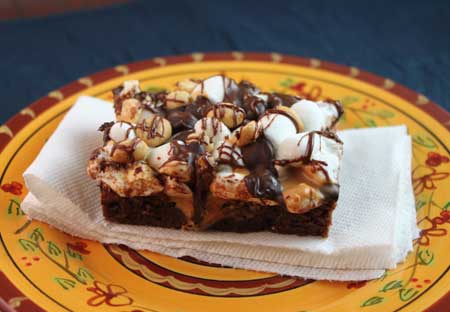 Recipe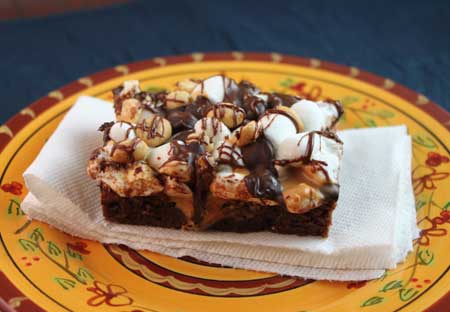 Rocky Road Peanut Butter Brownies
One Bowl Rocky Road Peanut Butter Brownies
Ingredients 
1

stick

4 oz unsalted butter

3

tablespoons

natural unsweetened cocoa powder

1

cup

granulated sugar

¾

cup

all-purpose flour

½

teaspoon

salt

2

large eggs

½

teaspoon

vanilla
Topping
¾

cup

smooth peanut butter

2

cups

miniature marshmallows

⅓

cup

lightly salted peanuts

⅔

cup

semi-sweet chocolate chips

Extra milk or dark chocolate for melting and drizzling.
Instructions 
Preheat oven to 350ºF. Line a 9 inch square pan with non-stick foil.

In a microwave-safe mixing bowl, melt the butter. Stir in the cocoa and let the mixture cool. When cool, stir in the sugar, flour and salt and mix with a wooden spoon. Crack in the eggs, one by one and beat with the spoon, then beat in the vanilla until the mixture is well-blended. Pour into the pan and bake for 20 minutes or until top appears set. Remove from the oven and let cool for about 10 minutes. Warm peanut butter for 10 seconds in the microwave and spread it over the brownies. Sprinkle marshmallows, chocolate chips and peanuts over the peanut butter layer. Return the oven and bake for 3-4 minutes or just until marshmallows puff up. Let cool at room temperature. If desired, melt some milk or dark chocolate in the microwave using 50% power. Drizzle melted chocolate over the rocky road topping. Let cool completely, then put in the refrigerator. When chilled, lift from pan and cut into 16 squares.