I was eating a Rocky Road Brownie last week when it occurred to me I'd never made Rocky Road Candy, a homemade candy modeled after a famous candy bar called Annabelle's Rocky Road.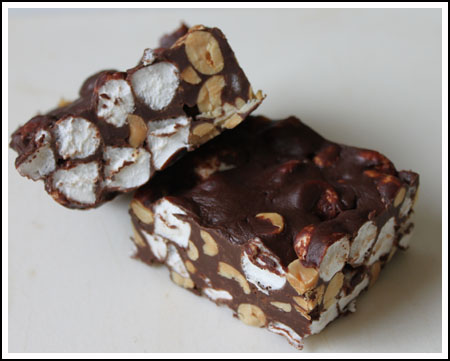 There are several versions of Rocky Road Candy and all of them include either a combination of peanuts or tree nuts and marshmallows mixed together with chocolate then cut into squares or dropped. An early version posted on RecipeCurio, includes the above plus raw eggs and butter. But the most popular modern version is made with condensed milk, which lets you skip the raw eggs.
Since condensed milk Rocky Road candy seemed to be the most popular, I decided to make a half batch of it yesterday. It was easy to prepare and after a two hour stint in the refrigerator, sliced perfectly and looked quite pretty with sharp corners. It satisfied my rocky road craving, but I'd be interested in trying other versions. Do you have a favorite Rocky Road recipe? Otherwise, I will move on to the raw egg version.

Rocky Road Candy
Rocky Road Candy made with condensed milk, chocolate chips and marshmallows.
Ingredients
2 cups semi-sweet chocolate chips (12 oz package)
2 tablespoons butter
1 (14 oz.) can Eagle Brand® Sweetened Condensed Milk
2 cups dry roasted peanuts
7 cups miniature marshmallows
Instructions
Line a 9x13 inch baking pan with non-stick foil.
Combine butter, chocolate chips and sweetened condensed milk in a large saucepan and melt over medium low heat.
Meanwhile, combine peanuts and marshmallows in large bowl. Stir in chocolate mixture. Spread in prepared pan.
Chill 2 hours or until firm. Remove from pan by lifting edges of foil.
Peel off the foil and cut into squares.
Alternatively, you can make the recipe in the microwave. Heat the condensed milk and butter for 1 minute in a microwave-safe bowl. Add the chips and stir well. Microwave for another 30 seconds, stir until chips are melted and smooth. Then stir in peanuts and marshmallows. Press into the lined pan. Let set, then cut