The Neiman Marcus Mocha Cookies recipe is originally from a Neiman Marcus cookbook. In the book they just call them chocolate chip or chocolate chunk cookies, but I put "mocha" in the title as a reminder that this is the recipe with instant espresso powder in the dough and not to be confused with this one, which is the urban myth cookie (ground oats, Hershey Bar, etc). This is the real Neiman Marcus cookie recipe, originally sent to me by Katy G., who added the weights.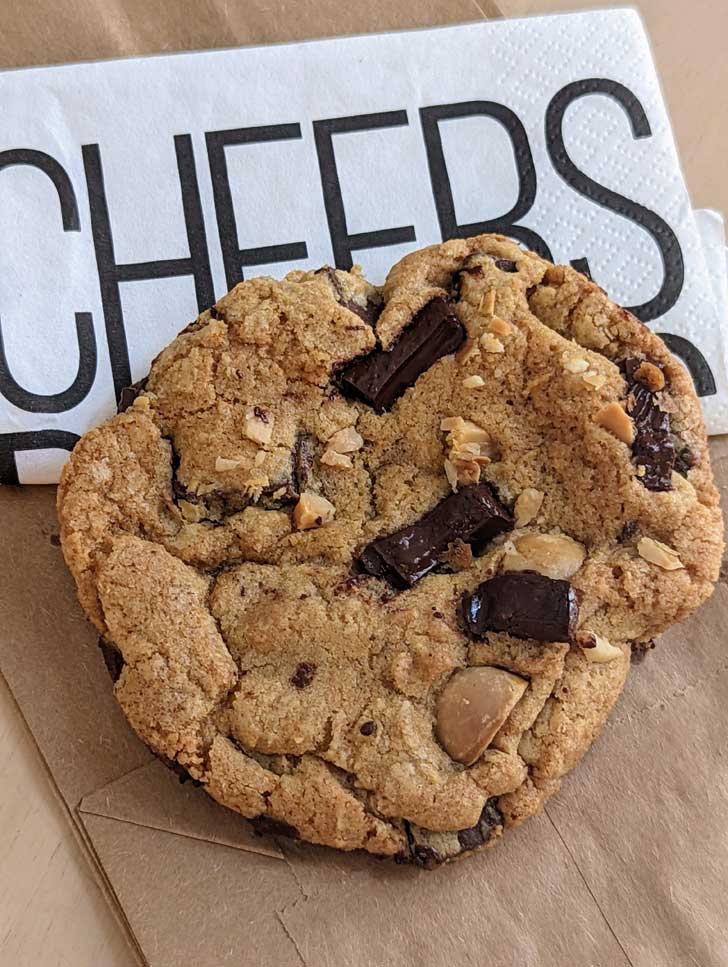 Mocha Cookies Without Espresso
Since first posting this recipe, I've made these with and without the espresso powder. I like them better without it, but since I'm calling them Mocha Cookies, I figured I should start adding it. If you enjoy the flavor of coffee in your baked goods, you will love these! It really adds a kick. My family likes the version with the espresso.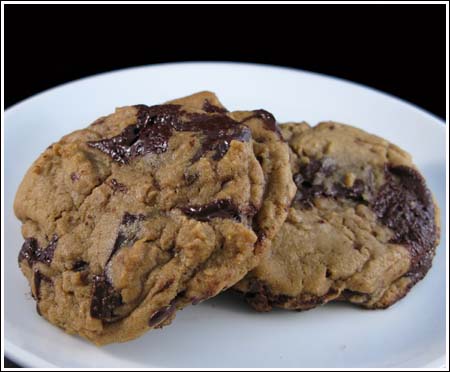 Gluten-Free Neiman Marcus Mocha Cookies
I've also started making these with King Arthur Measure for Measure gluten-free flour blend. It works perfectly and makes the texture a tad bit chewier. The cookie in the photo with the napkin (first one) is gluten-free.
Other Things I've Done to These Cookies
It's a chocolate chip cookie recipe, so of course I've modified it over the years. The recipe card below is how Katy wrote it, but here are the things I've done to make the cookies different.
Butter — This recipe works well with American style butter, Irish butter or Plugra. The big cookie in the first photo was made with KerryGold.
Brown Sugar — The cookies are high in brown sugar, so they're fairly chewy. I've used dark brown sugar instead of light. The dark brown sugar version was good, especially when I left out the espresso. However, I think if you are using the espresso you should stick with the golden brown sugar before trying with dark.
Dove Chocolate or Any Chopped Bar — The Mocha Cookie dough doesn't have a lot of butter, so chopped chocolate bars work well. The dough soaks up any excess fat from the chocolate. I've tested with Dove, Lindt and Ghirardelli.
Cookie Size — The original recipe calls for walnut size balls of dough. If you use walnuts size balls of dough you should get around 24 to 26 cookies. You can also make the cookies double that size using a large cookie scoop or a quarter cup measure. In that case you should get 12 to 13 cookies.
Flour — This isn't a change, but rather a reminder to weigh the flour. The measurement from the book is 1 3/4 cup and 220 grams. If you use the volume measurement, stir the flour well and aerate it before measuring.
Recipe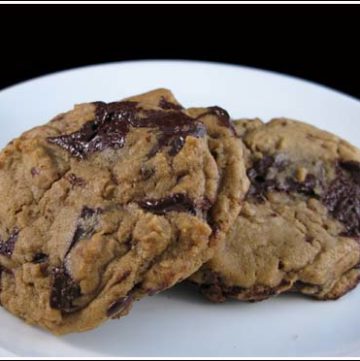 Neiman Marcus Mocha Cookies
Different from the urban myth Neiman Marcus Cookies (the ones with ground oatmeal), this recipe is adapted from a Neiman Marcus cookbook. They are regular chocolate chip cookies flavored with espresso powder. This recipe calls for less butter than most, so make sure to measure the flour with a light hand and use all of the chocolate called for in the recipe.
Ingredients 
1/2

cup

1 stick unsalted butter, cool room temp

(115 grams)

1

cup

very tightly packed golden brown sugar (can use dark or a mixture of both)

(220 grams)

3

tablespoons

granulated sugar

(30 grams)

1 1/2

teaspoons

instant espresso powder

optional

1

large

egg

2

teaspoons

pure vanilla extract

1 1/2 to 1 3/4

cups

all-purpose flour (measure with a light hand or weigh)

(220 grams) — best to weigh!

1/2

teaspoon

baking soda

1/2

teaspoon

baking powder

1/2

teaspoon

sea salt

1 1/2

cups

chocolate chips
Instructions 
Preheat oven to 300 degrees F.

Line baking sheets with parchment.

Cream butter and sugars.

Beat in espresso powder and vanilla.

Add egg and beat until thoroughly smooth.

Add dry ingredients and stir to combine.

Scoop into very large walnut sized balls. Flatten slightly.

Bake for about 20 minutes, until set and very slightly golden around edges.

Alternatively, you can just bake them at 375 for 8 to 10 minutes.