This recipe is based on an urban legend.
It goes something like this: A woman enjoys a cookie at a restaurant and asks the server for the recipe.  The server says the recipe will cost two fifty, so the woman says "Great! put it on my tab."  A few months later she receives her credit card statement and sees that the two fifty was actually $250.  She then calls the store (which is supposed to be Neiman Marcus) and asks them to remove the charge.  They won't, so in retribution the lady shares the recipe with everyone she knows and tells others to do the same.  This story is a well-known urban legend and Neiman Marcus has since released their own recipe.  But all that aside, it's still a good cookie recipe.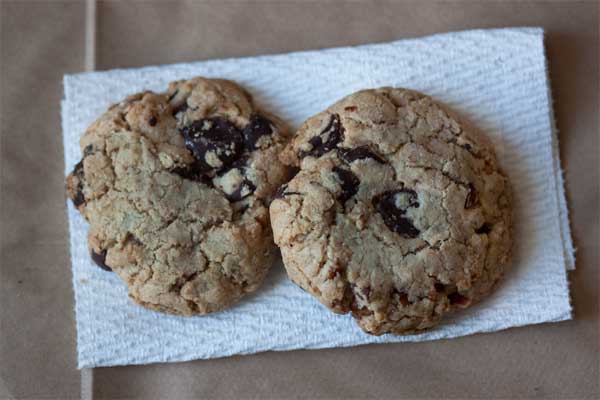 Unusual elements include ground oats and grated Hershey's milk chocolate.  Below is a photo I took a while back when I made the cookies using ground up butterscotch chips instead of milk chocolate.  The picture at the top is what the cookies usually look like when made according to the recipe.  Another fun thing you can do with these cookies is make them as minis.  Check out the updates in the recipe if you're interested in seeing how to make the cookies as minis, normal size cookies or large.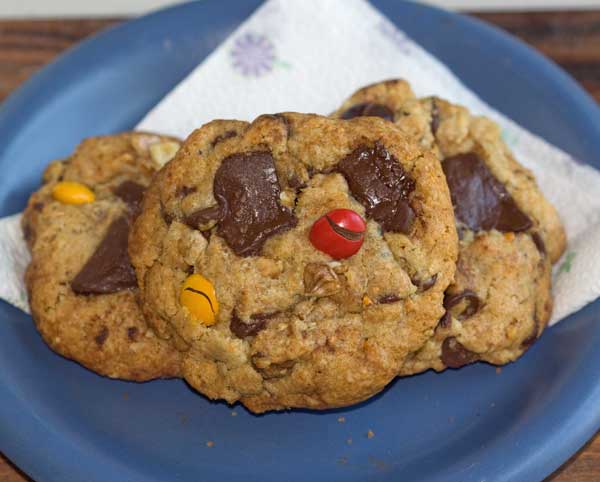 UPDATE:  I have recently updated this recipe to include directions for large size cookies, regular size cookies and "minis".  My personal favorites right now are the minis.  If making the mini version, you may want to halve or even quarter this recipe.  Another thing about these cookies is that they are pretty sweet and really need those nuts.  The nuts balance out the sweetness from the sugar.

Not the Neiman Marcus Cookie
Recipe similar to the old Neiman Marcus urban legend cookie. The actual Neiman Marcus cookie is different than this one, but this is the one associated with the myth.
Ingredients
2 cups all-purpose flour
1 teaspoon baking soda
1 teaspoon baking powder
1/2 teaspoon salt
1 cup salted butter, room temperature
1 cup granulated sugar
1 cup packed light brown sugar
1 teaspoon vanilla
2 large eggs
12 oz semisweet chocolate chips
4 ounces of grated milk chocolate
2 1/2 cups ground oats
1 1/2 cups chopped nuts, pecans or walnuts
Instructions
Preheat the oven to 375 degrees F.
Thoroughly mix together flour, soda, salt and baking powder and set aside.
In the bowl of a stand mixer with the paddle attached, beat the butter and sugars on medium speed until creamy. Beat in the vanilla.
Reduce speed to medium low and beat in the eggs, one at a time.
When completely mixed, add the flour mixture gradually until incorporated. Stir in the ground oats, chopped nuts and Hershey bar and chocolate chips.
Scoop the dough up with a 1/4 cup measure and shape into balls. You should get about 48. For smaller cookies, divide the balls in half to make 96 or just scoop heaping tablespoons of dough. At this point, you can bake the cookies right away, or put the shaped balls into a freezer bag and freeze until ready to use.
For large cookies, arrange about 8 dough balls on a large, ungreased or foil lined cookie sheet. Press down slightly to make circles.
Bake on center rack at 375 for 12 to 15 minutes (time will vary depending on size and how cold your dough balls are) or until cookies appear set and light brown around the edges. Let cool on cookie sheet for 5 minutes, then carefully transfer to a rack and let cool completely.
Notes
These taste best when completely cooled and set. Recipe makes about 63 ounces of dough. Can be halved or quartered easily.

If you use 1/4 cup measure for the dough balls, you'll get about 24 large cookies.
If you use 2 tablespoons (or generously heaping) size mounds, you'll get about 48 cookies.

For mini size cookies, make 24 large balls using the 1/4 cup measure, then divide each of those balls into about 8 very small marble size balls. Bake the marble size balls at 300 degrees (low heat -- not the 375) for 18 to 22 minutes or until they are set. Let cool at room temperature. Store in the freezer.