There's an old and tired urban legend about a certain Neiman Marcus chocolate chip cookie recipe, but did you know there's a very good recipe for Neiman Marcus oatmeal cookies? I got it years ago from Katy G. who found it in a Neiman Marcus cookbook. We like it as much if not better than the chocolate chip cookie recipe.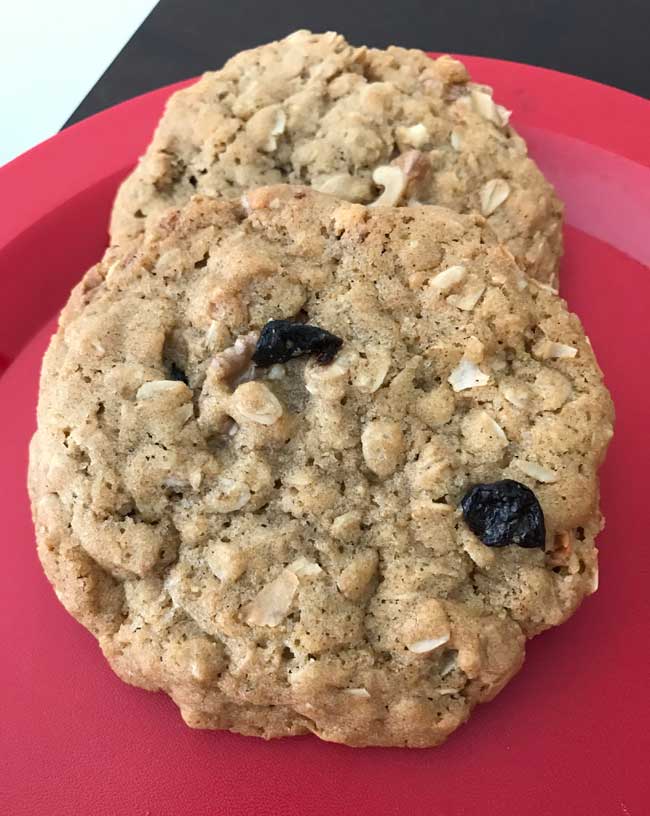 Like the Neiman Marcus Chocolate Chip Cookies (the real ones, not the urban legend ones), these are baked at 300 degrees for 20 minutes so they bake evenly and have a chewy texture. Without nuts, chocolate or dried fruit they're fairly basic, so I do recommend add-ins.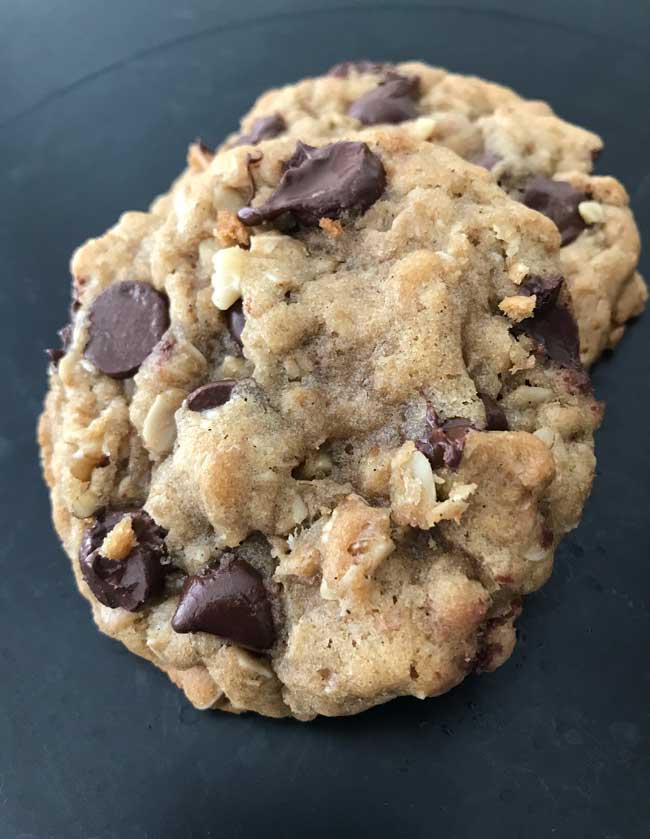 This week I made some with walnuts and chocolate chips, walnuts and raisins, a combo of prunes and coconut and another with apricots, walnuts and white chocolate. That's kind of the beauty of this particular cookie dough is that it's really easy to work with and can hold just about any combo of add-ins.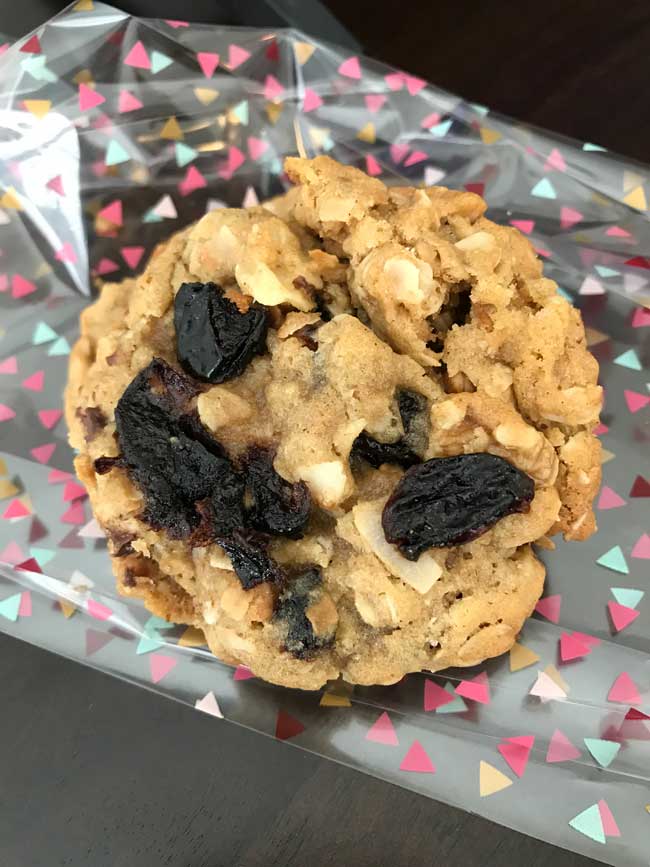 Another nice thing about this recipe is that it is made with melted butter and doesn't require an electric mixer. So hooray for that, and here's the recipe. I keep a big bag full of dough rounds in the freezer and bake as needed.
Update:  The original recipe calls for 1 cup (240 grams) brown sugar.  Brown sugar usually weighs closer to 210 grams per cups, but if it's really moist brown sugar it might be as much as 240.  A reader notified me that her cookies spread too much when she used the 240 grams measure without using volume.  I didn't have this issue, but to be safe I've changed the measurement to 1 cup (210 grams).  This is still 1 cup of of packed brown sugar, just a lower weight (210 instead of 240) to accommodate brown sugar with less moisture.
Recipe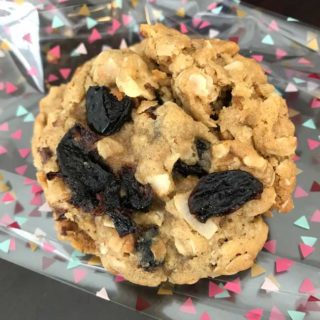 Neiman Marcus Oatmeal Cookies
Neiman Marcus Oatmeal Cookies are giant oatmeal cookies baked at 300 degrees.
Ingredients 
2

sticks

230 grams unsalted butter

2

cups

280 grams unbleached all-purpose flour (weigh)

1

teaspoon

baking soda

1

teaspoon

salt

1

teaspoon

cinnamon

optional

1

cup

light brown sugar

210 grams

1

cup

200 grams superfine or granulated sugar

2

eggs

cool room temp

1

teaspoon

pure almond extract or vanilla extract

3

cups

old fashioned rolled oats

1 ½

cups

raisins or any other chopped dried fruit

prunes, dates, dried cherries OR use chopped chocolate or chips

½

cup

walnuts

optional
Instructions 
Preheat oven to 300 degrees F. Have ready two ungreased baking sheets (or feel free to line with parchment).

Melt the butter and set it aside to cool.

Weigh the flour and stir together flour, baking soda and salt (and cinnamon,if using).Set aside.

Weigh out the brown sugar so that you get 210 grams. Add it to the mixing bowl along with the granulated sugar and the cool melted butter. Beat until well mixed, then beat in eggs and extract.

Add flour mixture to sugar mixture and stir until blended, then stir in oats, raisings and nuts (f using).

Scoop very large, golf ball sized rounds and arrange on trays, spacing 3 inches apart. You can leave them as balls or press down slightly so that the tops are flat.

Bake for about 20 minutes, until golden. A bit longer for crisper cookies.