Did you know that St. Louis's famous Gooey Butter Cake has another name?  I recently learned that in some circles it's called Neiman Marcus Bars.  Not to be confused with any of the other Neiman Marcus cookie recipes, the Neiman Marcus Bars are named for their rich, buttery, flavor and creamy texture. One bite makes you want another, and another.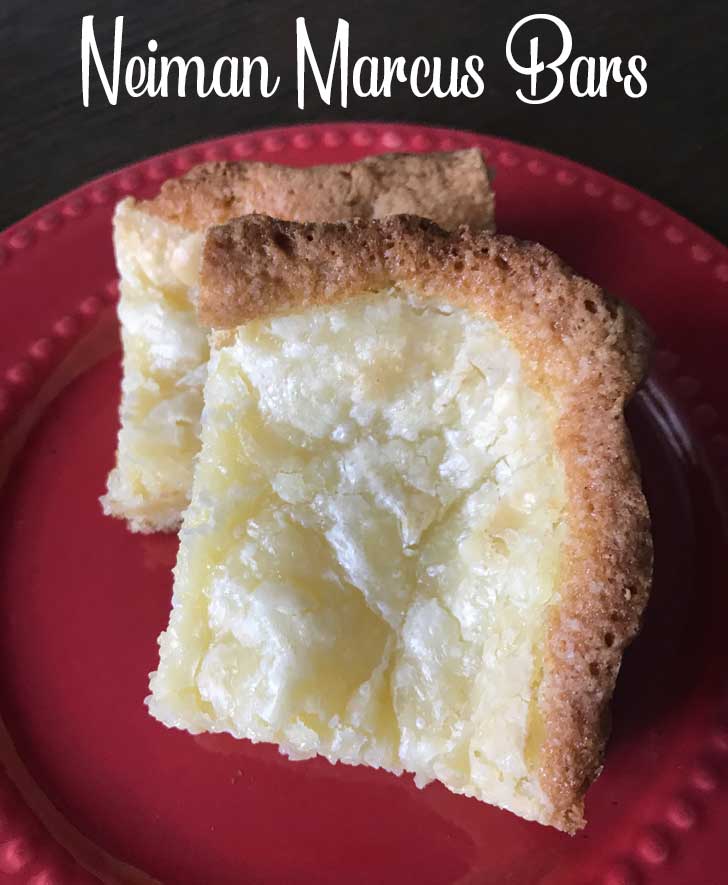 Starts With Cake Mix
Neiman Marcus Bars start with cake mix, so they are very easy to throw together. And luckily, the recipe hasn't changed even though the amount of cake mix in a box has. The old version calls for an 18.25 oz box of cake mix, but cake mix now comes in 15.25 oz boxes and that size works just fine.  For the cake mix, I've tested with Duncan Hines Butter Golden and Betty Crocker Yellow Butter. Both worked perfectly, though for some reason the Betty Crocker Yellow baked up with a thicker crust. The Betty Crocker also had a more pronounced flavor, while the Duncan Hines was a little more subtle. But both were good.
The Chewy Edges!
To me, the best part of the Neiman Marcus Bars are the chewy edges.  This recipe almost makes me want to buy one of those Edge Pans. One day I will, but for now I divide the batter between two 8 inch square pans to get more edges.  If you don't care about edges or don't want to mess up two pans, the 9x13 inch pan is the way to go.  Alternatively, if you want to make an 8 inch pan because you just don't need so many bars, you can halve all of the ingredients (just weigh out the cake mix) and make one 8 inch square pan of Neiman Marcus Bars.  Bake time will be around 28 minutes.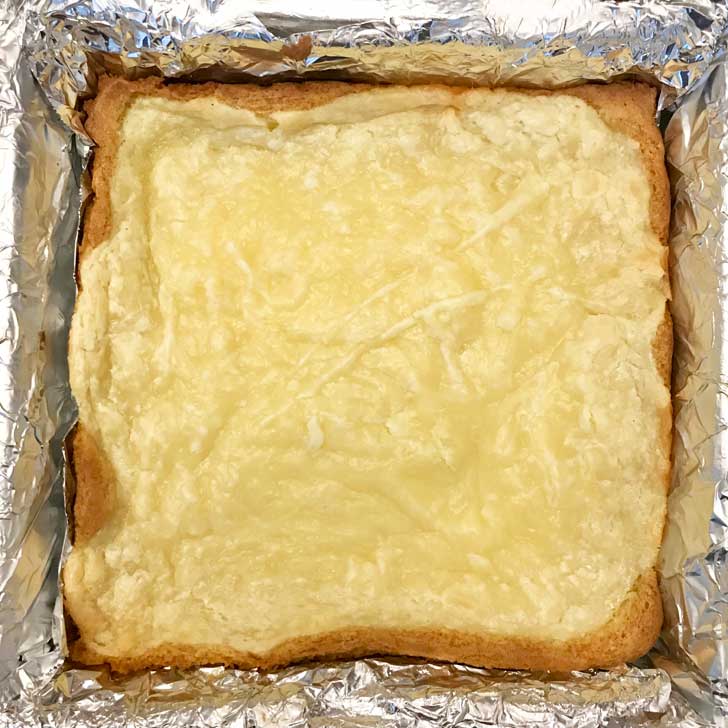 Scratch Neiman Marcus Bars & Lemon Bars
If you are reading this for entertainment and have absolutely no interest in anything made with cake mix, there's also a scratch version. The scratch version is actually Gooey Butter Cake Bars, and very similar in flavor. Or if cake mix doesn't bother you and you just prefer lemon, try the Cake Mix Lemon Cheese Bars. They're all in the same family.
Recipe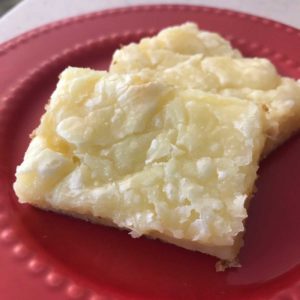 Neiman Marcus Bars
Super easy and always a crowd pleaser!
Ingredients 
1

15.25 oz

box of yellow or butter flavored cake mix

4

eggs

room temperature

½

cup

salted butter

softened and squishy (almost melted)

8

oz

cream cheese

softened

3 ⅔

cup

powdered sugar

a little less than a pound

¼

teaspoon

vanilla extract
Instructions 
Preheat oven to 350 degrees. Grease a 9x13 inch metal pan. If you want more edges, divide between two 8 inch square pans. I like to line the pan with foil and grease the foil, but that's completely optional.

In a mixing bowl, combine cake mix, 2 room temperature eggs and softened, mushy butter. Beat until smooth. Drop gobs of cake mix mixture into pan. Dampen your fingers with some water and press gently to cover pan evenly.

In the same bowl you used for the cake mix (and no need to wash it), beat softened cream cheese, powdered sugar, remaining room temperature eggs and vanilla until smooth. Spread on top of crust mixture.

Bake 32-38 minutes until edges are brown and center is set but still a little wobbly. If using two 8 inch square pans, check at 28 minutes.

Let cool at room temperature, then chill thoroughly before serving. Neiman Marcus Bars freeze well.