As popular as Whoopie Pies seem to be on the Internet, I hardly ever see them at school events or bake sales. We get a lot of cupcakes, brownies and chocolate chip cookies, but Whoopie Pies? Nope.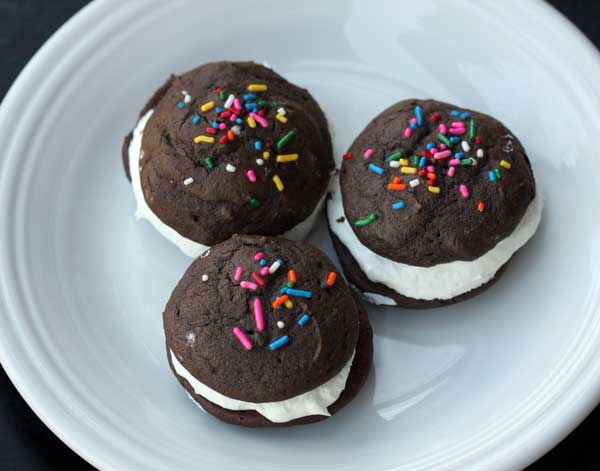 I guess people perceive them as too much work or forget about them altogether.  I usually fall into the latter category, but last week was an exception. I'd been testing a few different Whoopie Pie recipes and Fuzz needed to take goodies to school party.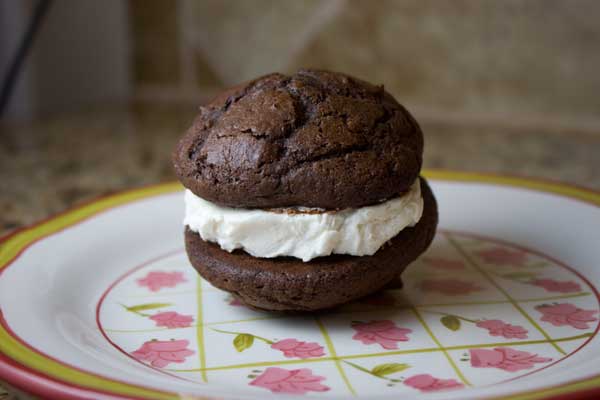 I'll never know if the kids liked them because about 10 minutes after Fuzz set down the bag, the whole thing disappeared (bag and all). But I liked them! This recipe gives you very puffy Chocolate Whoopie Pies with a high ratio of cake to filling. Also, this particular filling is made with 100% butter. Some recipes use shortening in the filling or  a mix of butter and shortening. I actually like the fillings with a little bit of both, but since shelf-life and stability weren't issues here, I went with the butter recipe.
High Ratio Shortening Optional
A little about shortening.  If you do need to make Whoopie Pies with a shortening based filling, go to a cake decorating store or order some high ratio shortening. It's the type professional cake decorators and bakers use, and the flavor and texture might remind you of the old school fluffy grocery store cupcake icing.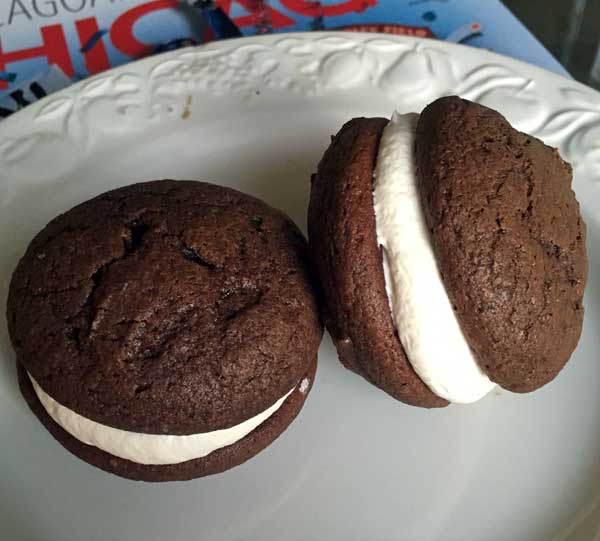 Update: I've added some additional photos along with an Irish Cream variation. Adding Irish Cream doesn't do much for the cake part of the cookie, but it tastes pretty good in the filling.
Also,  as much as I like the all-butter filling it seems swapping out about 1/4 cup of it for shortening gives the filling a better texture and shape.  I've added a note about that in the recipe.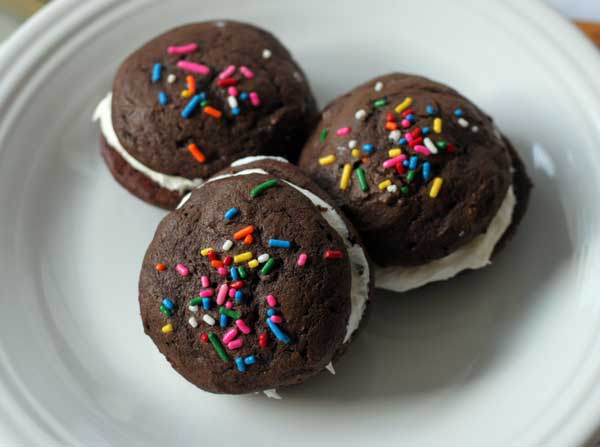 Some More Great Whoopie Pie Recipes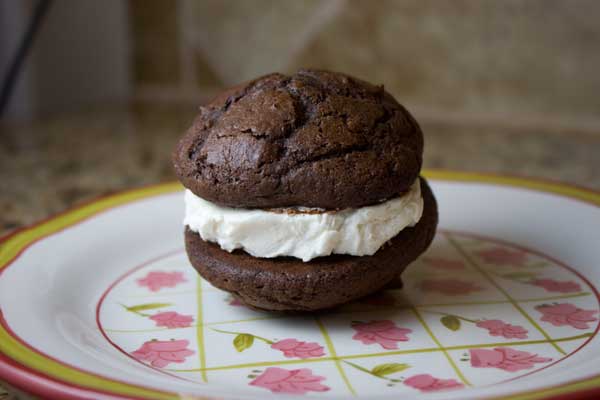 Chocolate Whoopie Pies
Chocolate Whoopie Pie recipe with a butter and marshmallow cream filling.
Ingredients 
1 3/4

cups

all-purpose flour

7.9 oz — or weigh out equivalent White Lily all-purpose

1 1/2

teaspoons

baking soda

1/2

teaspoon

baking powder

1/2

teaspoon

kosher salt

3/4

cup

unsweetened natural cocoa powder

4

tablespoons

unsalted butter

softened

4

tablespoons

shortening

or use butter

1

cup

light brown sugar

7 oz

1

teaspoon

vanilla

1

large egg at room temperature

1

cup

buttermilk

room temperature
Filling:
2

sticks

8 oz unsalted butter, softened**

2

cups

confectioners' sugar

1

7 oz container marshmallow cream

2

teaspoons

good quality vanilla extract
Instructions 
Preheat oven to 350 degrees F. Line two baking sheets with parchment. Don't use cooking spray or anything very slippery because it might cause the cookies to spread.

Thoroughly mix together flour through cocoa and set aside

Using an electric mixer, beat the butter and shortening until creamy, then add the sugar and beat until well mixed. Beat in the vanilla, then add the egg and beat until fluffy, scraping sides of bowl often.

Add the dry ingredients and the buttermilk alternately, stirring with a heavy duty scraper, until batter is smooth and thick.

Drop batter by generously heaping tablespoons onto baking sheets spacing about 2 inches apart (I usually can fit 12 per sheet on a 13×18 inch tray). Bake one sheet at a time for 12 to 15 minutes or until cookies are puffed, slightly cracked and set. Let cool on baking sheets for about five minutes, then carefully transfer to a wire rack.

FILLING: Beat the butter and sugar together until creamy. Beat in vanilla and confectioners' sugar. Stir in marshmallow cream and beat until fully mixed in. Spoon between cookies. Better yet, put in a piping bag and pipe onto the cookies (much neater results). A heavy duty zipper bag with the bottom corner snipped off will also work.

Wrap the cookies in plastic wrap.
Notes
I like the texture and stability of the filling when a little shortening is combined. All butter is fine, but doesn't hold up quite as well. If you are willing to add a little shortening, even as much as 1/4 cup (replacing 1/4 cup of the butter, of course) will help. A good ratio seems to be 3/4 cup (6 oz) butter and 1/4 cup shortening (1.7 oz) shortening. The "oz" is weight. Shortening weighs less water than butter and weighs less per volume amount.
For the Irish Cream variation, use the shortening version (3/4 cup butter, 1/4 cup shortening) and add about 2-3 tablespoons of Irish Cream to the filling.