For Teacher Appreciation week, I wanted big fat oatmeal raisin cookies to go along with the giant Levain Bakery chocolate chip copycats.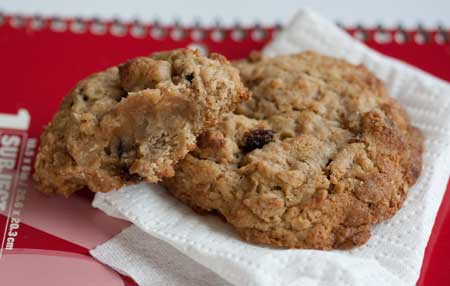 This recipe was the result. Like the chocolate chip variety, they are very thick and have a kind of a doughy and soft center. That type center plays well in chocolate chip, but in oatmeal it's different, so you'll have to be the judge. Of course if you don't like it you can just bake the cookies longer.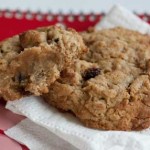 Print Recipe
Big Fat Oatmeal Raisin Cookies
Big fat oatmeal raisin cookies made with bread flour, European style butter and toasted nuts.
Ingredients
2

sticks

8 oz unsalted European style butter, cut into chunks (see note for substitutions)

1/3

cup

plus 2 teaspoons light brown sugar

1/2

cup

granulated sugar

3.5 oz

2

cups

King Arthur bread flour

9 oz

1

cup

old fashioned oats

3/4

teaspoon

fine sea salt or fine Kosher salt or salt

1/4

teaspoon

baking soda

1

teaspoon

baking powder

1/2

teaspoon

cinnamon

use more if desired

2

cold large eggs

lightly beaten in a separate bowl

1

teaspoon

vanilla extract

1

cup

raisins

I use assorted jumbo raisins

1

cup

walnuts

toasted and coarsely chopped
Instructions
In the bowl of a stand mixer fitted with a paddle, beat the cold butter until creamy. Add the sugar and continue to beat until it is mixed in. Gradually add the eggs and vanilla and continue beating with the paddle on medium until mixed, scraping sides of bowl once or twice. The coolness from the eggs may make little bits of butter firm up again so the creamy mixture may appear lumpy.

Meanwhile, in a separate bowl, mix the flour, salt, baking soda, baking powder and cinnamon. With the mixer on medium-low (or by hand with a heavy duty rubber scraper), gradually add the flour mixture stirring just until mixed. Stir in the oatmeal, then stir in the raisins and nuts.

Empty the batter onto a large flat surface and make sure all the ingredients are evenly incorporated. Divide into 10 or 12 raggedy pieces. Arrange the pieces on a foil lined baking sheets or a couple of plates and chill dough until it's firm enough to handle. Shape into tight balls, then continue to chill for several more hours or overnight if you have time.

Preheat oven to 375 degrees F. If you are using convection, preheat to 350 F convection. If you plan on chilling the dough, skip this step. Chilling the dough will help make the cookies thicker.

Arrange cookies (I recommend baking 1 or 2 first to nail down your time) on a heavy duty cookie sheet. Bake on center rack for 18 minutes at 375 or 16 minutes at 350F convection. Let cool for about 5 minutes on the cookie sheet, then remove and finish cooling on a rack. When cool, you can eat OR you can freeze the cookie and thaw them for a better texture.
Notes
My friends love these cookies, so this is one of my repeat recipes. For best results, use a really good brand of butter such as Plugra or another European style. These higher end butters seem to have less water in their formulation, so cookies spread less. Land o' Lakes will also work. If you only have grocery store brand butter, you can use 1 stick of butter and 1/2 cup shortening. Bread flour helps the cookie spread more uniformly and gives them a thicker shell and soft center. As for bake time, it will vary depending on your oven. I like to use the convection setting and bake at 350, but I've also been successful baking at 375. The cookies always seem to come out thicker and more uniformly textured when made with chilled dough, but if you are in a hurry you can use cool ingredients and bake the dough after a quick 30 minute chill. The cookies will just be thinner.