Some notes on Congo Bars.  The original recipe didn't have vanilla, so I added 1 teaspoon. It also didn't specify what type of butter to use, and since salted was all I had left, I used that. My bars were on the salty side of good, so I recommend using unsalted.  But minor issues aside, these were excellent.  What I like about this recipe is it's very simple, yet classy and easy to dress up.  Make them with very fresh brown sugar, fresh toasted nuts and the best chocolate you can afford and take them anywhere.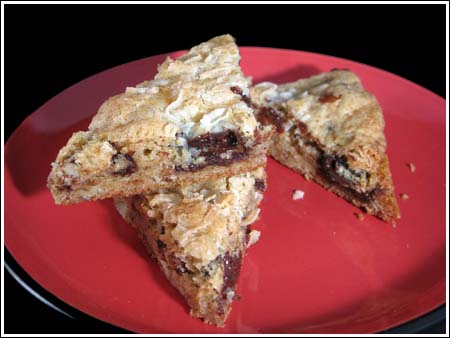 Congo Bars
11 tablespoons (154 grams) butter, melted and cooled (unsalted)
1 pound (456 grams) light brown sugar (2 cups, packed)
3 large eggs
1 teaspoon vanilla extract
2 3/4 cups (340 grams) all purpose flour
2 1/2 teaspoons Clabber Girl Baking powder
1/2 teaspoon salt
10 oz. (284 grams) bittersweet chocolate, cut in chunks
1 1/2 cups toasted pecans, chopped
1/2 cup coconut, optional
Preheat to 350 degrees F. Butter a 10×15 inch pan or line with parchment.
In a large bowl, whisk the melted butter, brown sugar, eggs and vanilla, breaking up any lumps in the sugar. In a separate bowl, sift together the flour, baking powder and salt. Mix the dry ingredients into the egg mixture, then stir in the chocolate and nuts.
Spread the batter as evenly as possible into the prepared pan, patting it out with hands if necessary.
Bake for about 20 to 25 minutes, until a deep golden brown or the coconut just begins to brown. Cool briefly, then score into triangle while still warm. When completely cool, pull apart.
Makes 1 15×10 inch pan (yield depends on how big you cut them).
Related posts: