Katy's Favorite Blondies are named after a great baker, Katy, who once stated that this is the only blondie recipe you will ever need.  Knowing Katy, I'm sure she has still tested hundreds of others since!  But these are really good blondies.  On the rare occasion that I choose Blondies over Brownies, these are the Blondies I make.  Just writing about them makes me want to go bake up a batch.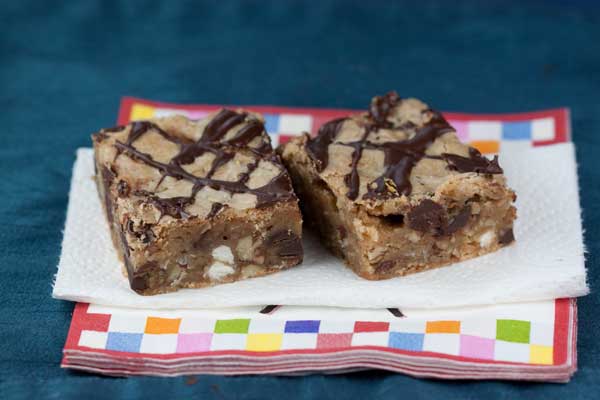 Blondies with Melted Butter
Katy's Favorite Blondies are made with melted butter, so their texture is dense and smooth and not at all cakey.  Not that cakey blondies are bad thing, but these are the rich textured ones that are perfect for packing with nuts and different kinds of chocolate chips.
Katy's Favorite Blondies Pan Size
The recipe for the blondies is designed for a 9x13 inch pan.  If you like really thick blondies you can squish the recipe into a 9 inch square baking pan.  If you just need a smaller batch, you can cut the recipe in half and bake in an 8 inch square pan.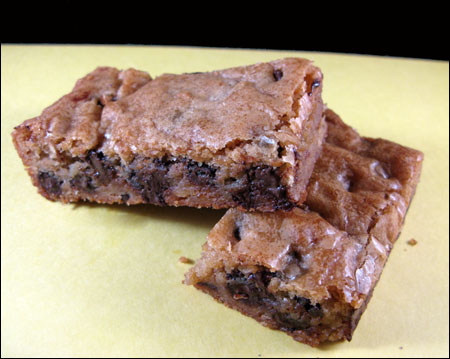 This is one of those desert island (or in this case, dessert island) recipes where if I had to take only one type of a recipe and the recipe were blondies it would be this one. The second one would probably be Betty Crocker Praline Bars which I've been making since I was a kid and which some people might call blondies even though they're not.
For the bourbon, I recommend Blanton's (in the blondies and with).
Mini Loaf Pan Blondies
This is one of my favorite Blondies recipes, so when we were remodeling our kitchen and I could only make small batch recipes in a toaster, I tried scaling this recipe down to fit a mini loaf pan. It worked! I've typed the recipe below for anyone interested. The full version is in the recipe card. Also, here's a cross- section picture of the Mini Loaf Pan Blondies. I packed as many chips and nuts in as possible so they turned out almost candy-like.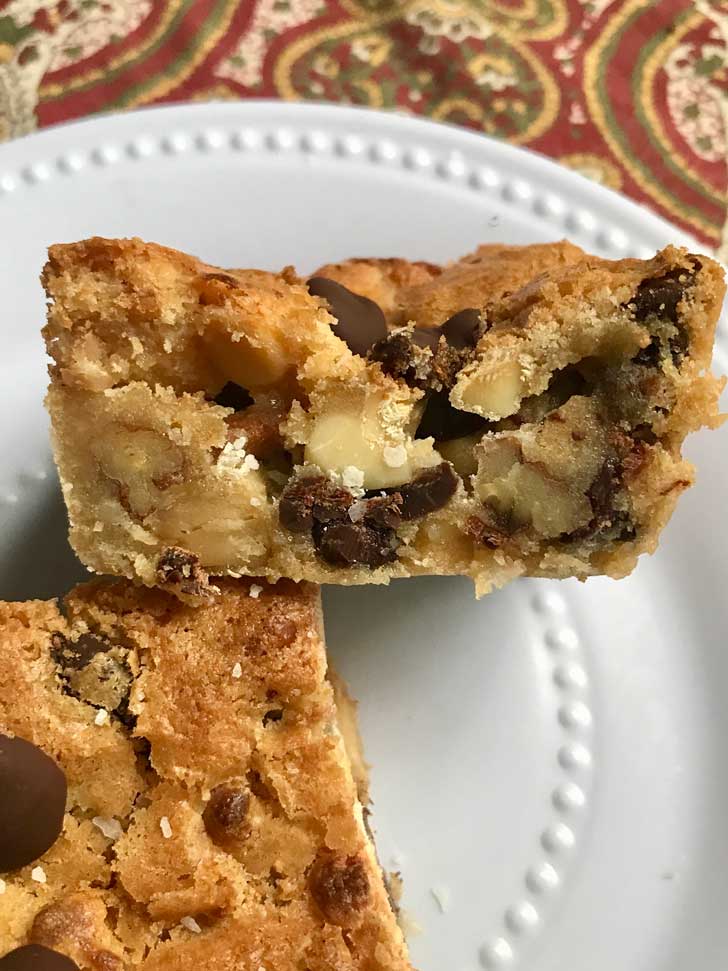 Ingredients for Very Small Batch Blondies
You can mix the whole recipe in a 2 cup measure (or small microwave-safe bowl). I omitted the bourbon from this version.
2 tablespoons unsalted butter (28 grams)
¼ cup light brown sugar (50 grams)
1 tablespoon lightly beaten egg (12 grams)
¼ teaspoon vanilla extract
⅛ teaspoon salt
3 tablespoons all-purpose flour or 1:1 blend (28 grams)
1/16 teaspoon baking powder (omit if using self-rising flour)
1/16 teaspoon salt (omit if using self-rising flour
2-4 tablespoons semisweet chocolate chips and/or white chips
2 tablespoons chopped walnuts or pecans
Optional: 1-2 teaspoons coconut
Preheat oven to 350 degrees F. Line a petite loaf pan (2 cup capacity, 5.3 inches) with non-stick aluminum foil or parchment paper. The Blondies are sticky, so if using parchment be sure to cover every surface or grease any exposed surfaces.
Put the butter in a 2 cup microwave-safe measuring cup or a bowl. Microwave on high for 30 seconds to melt.
Add the sugar to the butter and stir (it will be slightly grainy). Stir in the egg, vanilla and salt.
Add the baking powder and salt (omit if using self-rising flour, then add the flour and stir until blended. Make sure batter is cool, then stir in the chips and nuts.
Scrape into the prepared loaf pan.
Bake for about 20 minutes or until mixture is
Let cool at room temperature for about 30 minutes, then transfer to the freezer for another 45 minutes or so to completely cool and set.
Cut cold brownie into pieces and bring to room temperature before serving.
Recipe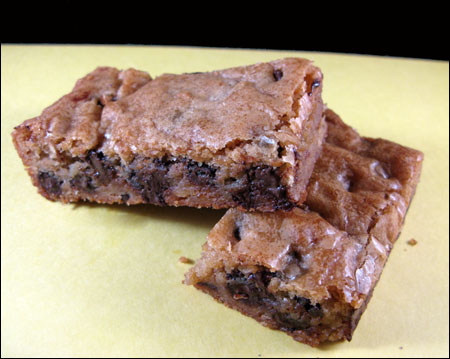 Katy's Favorite Blondies
Dense, chewy, not at all cakey.
Ingredients 
2

cups

280g/10 oz unbleached all purpose flour

1 ½

teaspoons

baking powder

½

teaspoon

salt

1

cup

230 grams melted, very warm, unsalted butter

2

cups

packed golden brown sugar

420 grams

2

whole eggs

2

teaspoons

vanilla

1

tablespoon

dark rum or bourbon

2

cups

bittersweet chocolate chips/ chunks

1

cup

toasted walnuts

optional – Katy leaves them out

⅓

cup

sweetened flaked coconut

optional or white chips or both
Instructions 
Preheat oven to 350 F degrees F. (176 C). Line a 13x9 inch pan with parchment paper or foil. I used foil and greased only the bottom.

Mix together the flour, baking powder and salt; set aside. Mix together butter and brown sugar. If you've used very hot butter, let the mixture cool for 5 minutes before beating in the egg. With a spoon or whisk, gently beat in the eggs, vanilla and rum. Stir dry ingredients into batter. Let the batter cool down if it is still warm, then stir in the chips and walnuts (optional) and coconut (if using).

Spread in pan and bake for about 35 minutes or until pale golden and edges start to pull away from the sides (glass pan at 325 will take about 45 minutes). Let cool completely, then lift from pan and cut into squares.
Notes
I almost always use a metal pan, but if you use a glass pan you might want to reduce the heat by 25 degrees.
For thicker blondies, multiply the batter by 1 ½ times, but bake in a 9x13 inch metal pan for 20 minutes at 350, then another 18-20 minutes at 325 degree F. For a chocolate drizzle, melt about 1 oz of chocolate with 1 teaspoon of butter and drizzle over top of cooled blondies. Chill thoroughly before slicing. You may also add white chips, milk chocolate, whatever!