I hope everyone is having a nice Saturday. It's dark and rainy here, which is okay by me since it's a perfect excuse for baking more blondies. This recipe is from Katy, who noted it's "the only blondie recipe you'll ever need".  These are made with melted butter, and based on all my recent trials, blondies made with melted butter are the best. The ones with creamed ingredients taste good but are more like Toll House chocolate chip bars than dense, smooth, packed-with-chunks blondies. Katy's Favorite Blondies are very sturdy and taste even better on Day 2.
Here's the old photo. For the newly updated photo (above), I made them slightly thicker by multiplying the recipe by 1 1/2.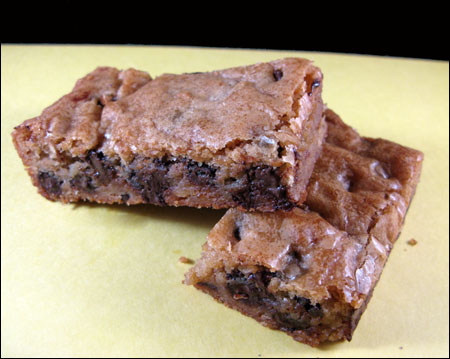 Print Recipe
Katy's Favorite Blondies
Dense, chewy, not at all cakey.
Ingredients
2

cups

280g/10 oz unbleached all purpose flour

1 1/2

teaspoons

baking powder

1/2

teaspoon

salt

1

cup

230 grams melted, very warm, unsalted butter

2

cups

packed golden brown sugar

420 grams

2

whole eggs

2

teaspoons

vanilla

1

tablespoon

dark rum or bourbon

2

cups

bittersweet chocolate chips/ chunks

1

cup

toasted walnuts

optional – Katy leaves them out

1/3

cup

sweetened flaked coconut

optional or white chips or both
Instructions
Preheat oven to 350 F degrees F. (176 C). Line a 13x9 inch pan with parchment paper or foil. I used foil and greased only the bottom.

Mix together the flour, baking powder and salt; set aside. Mix together butter and brown sugar. If you've used very hot butter, let the mixture cool for 5 minutes before beating in the egg. With a spoon or whisk, gently beat in the eggs, vanilla and rum. Stir dry ingredients into batter. Let the batter cool down if it is still warm, then stir in the chips and walnuts (optional) and coconut (if using).

Spread in pan and bake for about 35 minutes or until pale golden and edges start to pull away from the sides (glass pan at 325 will take about 45 minutes). Let cool completely, then lift from pan and cut into squares.
Notes
I almost always use a metal pan, but if you use a glass pan you might want to reduce the heat by 25 degrees.
For thicker blondies, multiply the batter by 1 1/2 times, but bake in a 9x13 inch metal pan for 20 minutes at 350, then another 18-20 minutes at 325 degree F. For a chocolate drizzle, melt about 1 oz of chocolate with 1 teaspoon of butter and drizzle over top of cooled blondies. Chill thoroughly before slicing. You may also add white chips, milk chocolate, whatever!