Here's the second biscotti recipe of the day. Like the previous biscotti, Cinnamon Butterscotch Biscotti doesn't have any oil or butter so it's hard, crunchy and well suited for dunking.   I love it this way and am glad I tried it, since I usually make versions with at least a couple of tablespoons oil.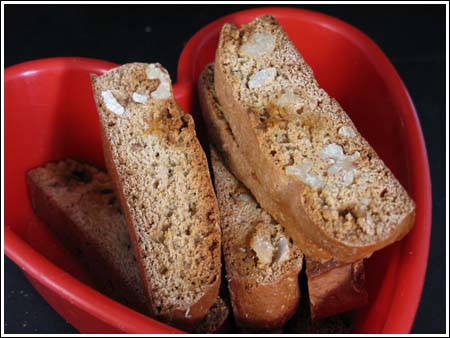 This is based on a recipe in the King Arthur Cookie Companion. Since it was my first time making it, I only made a half batch. KA suggests spritzing the log of baked dough with water 5 minutes before slicing. I don't have a spray bottle, so I just skipped this step and cut the biscotti while it was still very warm.
This was a good small batch recipe and a great way to use up the small amount of butterscotch chips and nuts I had on hand. You could also use cinnamon chips, which is what KA uses.
Small Batch Cinnamon Butterscotch Biscotti
1 large egg
⅓ cup brown sugar, lightly packed
½ teaspoon vanilla extract
¼ teaspoon baking powder
¼ teaspoon salt
¾ teaspoon cinnamon
1 cup all-purpose unbleached flour
⅓ cup toasted walnuts
⅓ cup butterscotch chips or cinnamon chips
Preheat the oven to 350 degrees F.
In a medium (2 qt) mixing bowl, using an electric mixer or wire whisk, beat the egg and sugar until fluffy and light Add the vanilla, baking powder, salt and cinnamon and beat well. Stir in flour. When flour is incorporated, stir in walnuts and butterscotch chips.
Transfer the dough to a baking sheet lined with parchment and shape into a log about 7 inches by 2 ½ inches. Smooth the top and bake at 350 for 25 minutes. Remove from oven and let cool for about 5 minutes or until it's cool enough to handle.
Reduce oven heat to 325 degrees F.
Cut the logs crosswise on the diagonal into ½-inch thick to ¾ inch thick (will vary depending on where nuts are) slices. Stand the biscotti on the cookie sheet and bake for 20-25 minutes. Transfer to a rack to cool.
This makes about 16 biscotti