6/16/2021 -- I saw some really thin sugar cookies and Wegman's that reminded me of these Short Stack Cookies I made back in 2008. Sometimes I question why I have this blog, but being able to pull up old recipes is a good reason.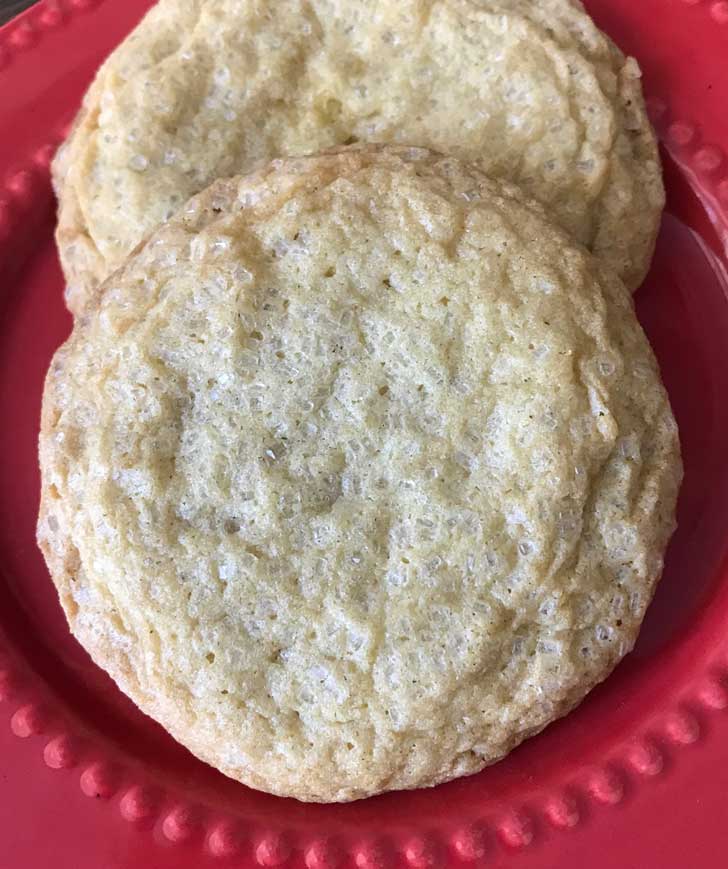 At the time, I thought the cookies baked up too flat (which they did), so recently I re-worked the recipe a little bit to make the cookies slightly thicker. Now they are thin but not super thin. They're also chewy, and they do not have much maple flavor at all. You can easily make them maple flavored by adding a little maple syrup, but Short Stack cookies just taste like plain sugar cookies. For some reason the flavor reminds me of the old Pillsbury Slice and Bake Sugar Cookies.
Here's the old post from way back....
Short Stack Cookies Post from 2008
Today's recipe was sent to me by Brooke. Brooke is a fan of Joanne Fluke, who writes stories about Hannah Swenson, a woman who runs a bakery called "The Cookie Jar" and helps solve mysteries. To date, I have not read a Hannah Swenson book, but I like books with recipes and am sure I'd enjoy the series. For this post, I went ahead and used a version of the recipe posted on-line. It's called "Short Stack Cookies" -- all the flavor of buttery pancakes with maple syrup, tied into a cookie.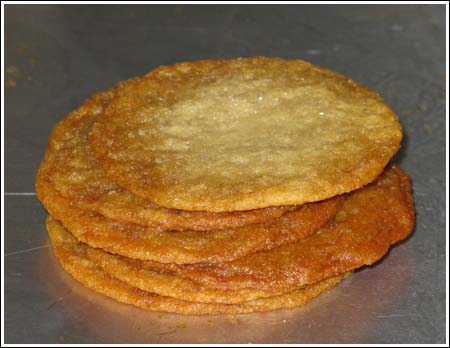 Yup, that's a short stack, all right. My cookies turned out a little thin for some reason. Maybe Hannah Swenson scoops her flour? I'm not sure, but I had to let these cool on the sheet then peel them off. Once peeled off, they were sturdy, but something's strange here.....it's a mystery!
The Short Stack Cookies did have a good flavor, so if you are not intimidated by super-thin and chewy cookies, then I recommend this recipe. Or maybe you could make it and prove that I did something wrong.
Recipe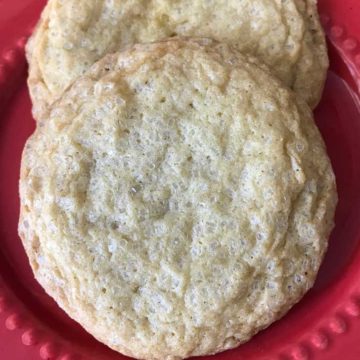 Short Stack Cookies
Very thin sugar cookies made with maple syrup.
Ingredients 
¾

cup

salted butter

180 grams

1

cup

sugar

200 grams

1

large

large beaten egg

bring to room temperature

¼

cup

maple syrup

1

teaspoons

baking soda

½

teaspoon

salt

½

teaspoon

vanilla extract

2

cups

all-purpose flour, bleached**

(280 grams)

¼

cup

coarse (or white) sugar for coating the dough balls
Instructions 
Melt the butter and allow it to cool for 10 minutes.

Add the sugar to the melted butter, then add the beaten egg. Add maple syrup, soda, salt and vanilla and stir well, then add the flour and blend thoroughly.

Chill the dough for at least 1 hour (overnight is fine too).

Shape dough into 1 inch balls (or make them slightly smaller or larger, depending on your mood). Roll in coarse or sparkly sugar, then flatten down to a little less than ½ inch. Place on parchment linked baking pans. Give each dough circle plenty of room to spread.

Bake at 350 degrees F for 10 to 12 minutes or until nicely browned. Cool on the cookie sheets for no more than 1 minute, then remove to the rack to finish cooling (If you leave them on the cookie sheets for too long, they'll stick).
Notes
Back when I first posted the recipe,  a reader named Derek shared some changes he made to the full batch.  Since this is a half version of the original, I've halved Derek's additions.
-- Added ½ C flour,
-- ¼ C brown sugar,
-- ½ tsp baking powder and ¾ tsp baking soda.
-- added 1 tsp maple extract. topped them with a quick buttermilk-maple glaze cause I wanted a buttermilk flavor in the pancake as well.   Glaze: 2 tablespoons buttermilk, ½ tsp maple extract, powdered sugar to consistency desired. drizzled on baked cookies over cooling rack.