Today's recipe was sent to me by Brooke. Brooke is a fan of Joanne Fluke, who writes stories about Hannah Swenson, a woman who runs a bakery called "The Cookie Jar" and helps solve mysteries. To date, I have not read a Hannah Swenson book, but I like books with recipes and am sure I'd enjoy the series. For this post, I went ahead and used a version of the recipe posted on-line. It's called "Short Stack Cookies" — all the flavor of buttery pancakes with maple syrup, tied into a cookie.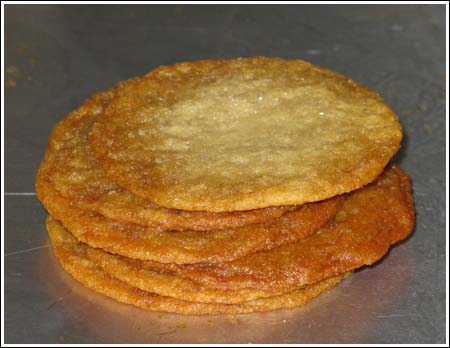 Yup, that's a short stack, all right. My cookies turned out a little thin for some reason. Maybe Hannah Swenson scoops her flour? I'm not sure, but I had to let these cool on the sheet then peel them off. Once peeled off, they were sturdy, but something's strange here…..it's a mystery!
The cookies did have a good flavor, so if you are not intimidated by super-thin and chewy cookies, then I recommend this recipe. Or maybe you could make it and prove that I did something wrong.
UPDATE: DEREK'S UPDATED SHORT STACK COOKIES (from comments)
— Added 1 C flour,
— 1/2 C brown sugar,
— 1 tsp baking powder and 1.5 tsp baking soda.
— added 2 tsp maple extract. topped them with a quick buttermilk-maple glaze cause I wanted a buttermilk flavor in the pancake as well.
1/4 C buttermilk, 1 tsp maple extract, powdered sugar to consistency desired. drizzled on baked cookies over cooling rack. Yummm