The Maya believed that the end of the world as we know it will occur December 21, 2012. With the state of the things today, I think about this a lot. And usually out loud to Todd because I know he'll say something like "If the Mayas were so smart, then how come you don't see them around today?" That's somewhat consoling, but deep down I know the Maya were smart and probably on to something.
So the end of the world was on my mind again today and being in that state, I started thinking about all my loser recipes. Most specifically, this one – Maya Gold Chocolate Crackle Tops, a recipe I entered it into a contest sponsored by Green & Black's chocolate. It was a one entry contest and I wasn't that surprised to lose, but I was a disappointed. Mainly because a) the cookies were delicious and 2) I will now never get to meet Curtis Stone, who was part of the prize package. But life goes on. At least until 2012, right?
With our remaining life cycle being so limited, I usually abandon loser recipes -- kick em' to the curb and move on. But today I've decided to share my loser with you because maybe you might like it and maybe this really maybe be the dawning of the Age of Aquarius. And if you are not really a fan of Mayan flavors (chocolate mixed with orange, nutmeg and other stuff) you can make the cookie with any flavor Green & Black's bar you wish. What you should end up with is an intense chocolate cookie reminiscent of a miniature chocolate souffle.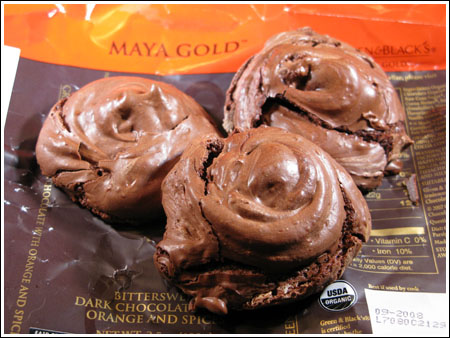 Maya Gold Chocolate Crackle Tops
7 ounces Green & Black's Organic Maya Gold Dark Chocolate, chopped
2 large egg whites, room temperature
⅛ teaspoon cream of tartar
½ teaspoon vanilla
¼ cup granulated sugar or evaporated cane juice crystals
Preheat to 350 degrees F. Line a large cookie sheet with parchment paper or a Silpat
Melt chocolate in top of a double boiler or in a metal bowl set over (but not touching) a saucepan of simmering water.
In a mixing bowl, using high speed of electric mixer, beat egg whites and cream of tartar until soft peaks form. Add vanilla, then add sugar a few teaspoons at a time, beating all the while until egg whites are stiff but not dry. Fold the warm melted chocolate into the egg white mixture.
Using a tablespoon measure, drop 12 neat rounds of egg/chocolate onto cookie sheet, spacing about 2 inches apart. Bake on center rack for 8-10 minutes – tops will appear set and slightly cracked.
Slide parchment or mat off the tray and allow cookies to cool. Slide a metal spatula underneath the cookies and scoop them off the sheet when cool.
Makes 12