Key Lime Tart is an unusual and slightly healthier tart in which pureed cottage cheese stands in for cream cheese in the filling. If you have a food processor or blender, it's a pretty simple recipes.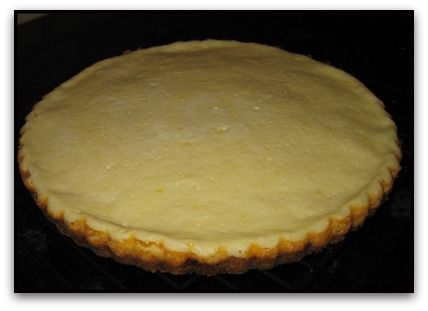 This recipe calls for an 11 inch tart pan. If you have a 9 inch tart pan or would prefer to use a 9 inch round spring form pan, you can follow the directions below and discard a little of the crust and filling. If you don't have any of the pans listed above, you can line a 9 or 10 inch round cake pan with foil, grease the foil, and make the tart in the foil lined pan. When ready to serve, just lift from pan and peel away foil.
Key Lime Tart with Raspberry Sauce
Crust:
6 tablespoons unsalted butter, softened
6 tablespoons brown sugar
¼ teaspoon salt
1 ½ cups all purpose flour
Filling:
1 ½ cup lowfat cottage cheese
1 ½ cup granulated sugar
3 tablespoons all purpose flour
1 ½ tablespoon grated lime zest
6 tablespoons fresh lime juice
¼ teaspoon baking powder
1 large egg
2 large egg whites
Garnish: whipped cream/topping, fresh fruit or raspberry sauce (directions below)
Preheat oven to 350°. Spray an 11 inch tart pan with cooking spray.
Beat the butter, brown sugar and salt until creamy. Add flour and stir until moist. Press crust into prepared pan; bake for 15 minutes or until edges are lightly browned.
Process cottage cheese for two minutes in bowl of food process, scraping sides of bowl halfway through; When smooth, add sugar, flour, lime zest, lime juice, baking powder, egg, and egg whites. Process until mixed.
Pour filling over crust. Bake at 350° for 25 minutes or until set around edges (center will be jiggly). Cool on a wire rack.
Chill for 2 hours or until set. Remove from tart pan (this is easy if you have a removable bottom tart pan). Cut into slices and garnish with light whipped topping and fresh fruit or with raspberry sauce (below)
Optional Sauce:
Raspberry Sauce
1 (10 oz) bag frozen raspberries
¼ cup sugar
¼ water
2 teaspoons cornstarch
Heat raspberries in a small to medium size saucepan until they are thawed. Skip this step if you are using fresh raspberries. Add sugar to saucepan and turn heat to medium. In a separate bowl, stir together water and cornstarch. Pour over raspberries and stir mixture until it beings to boil, thicken and clear. Remove from heat. Place a sieve over a bowl and pour berry mixture through sieve, pressing so that the sauce goes into the bowl and the seeds stay behind. Stir lemon juice intro strained raspberry sauce.