Yesterday's kitchen activity was pretty much a series of disasters – the main one being a runny peach pie I made using a recipe out of an old cookbook. Not wanting to be brought down by a simple pie, I called on the expertise of the Good Housekeeping test kitchen and gave it another go with this Dutch Peach Pie. Using a custard recipe of theirs plus some flavorings and toppings from other sources, I built what I thought was a really great pie!
Here's the photo. Notes at bottom.  Will post a better picture soon.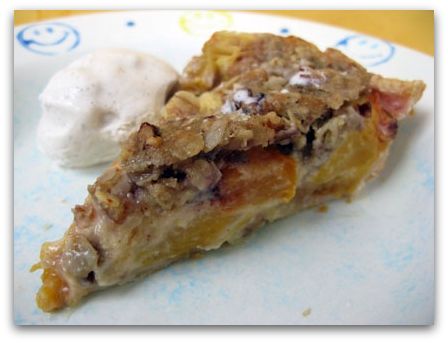 Dutch Peach Pie
1 (9-inch) unbaked pie shell (Pillsbury ready to bake or homemade)
6 large peaches, peeled, pitted and sliced
3 egg yolks
1 cup sour cream
1 cup granulated sugar
1/2 teaspoon vanilla extract
1/2 teaspoon cinnamon
1/8 teaspoon freshly ground nutmeg
4 tablespoons all purpose flour
Topping:
1/2 cup all purpose flour
1/2 cup light brown sugar
4 tablespoons cold butter, cut up (salted)
1/4 cup oats
1/2 cup chopped toasted pecans
Preheat oven to 425 degrees F.
Arrange peaches in unbaked pastry shell prepared as directed on package in a 9 inch glass pie dish. Whisk together egg yolks, sour cream, sugar, vanilla, cinnamon, nutmeg and flour. Pour over the peaches.
Place a cookie sheet on lower rack of cookie sheet for catching drips, then place pie on the middle rack. Cook for 30 minutes. Meanwhile, prepare topping.
Combine flour and brown sugar and stir well. Cut in the butter until mixture resembles coarse crumbs (can use food processor for this). Stir in the oats and pecans.
After the pie has baked for 30 minutes, sprinkle the topping over the pie. Bake for another 15 minutes. Let cool completely. Serve warm or chill the pie. You'll be able to get a cleaner cut if you chill the pie overnight, but you don't have to.
Notes:
The topping recipe makes quite a lot. You could use half if you don't like streusel that much. I love streusel so I used all of it.
The pie can be served warm or at room temperature
I toasted the pecans by microwaving them for a little over 2 minutes in the microwave.
If you use unsalted butter in the streusel, add a pinch of salt
Use as many peaches as you want