Earlier this week, Judy from Judy's Kitchen challenged me to a peanut butter cookie taste test. She wanted to put her candy filled peanut butter cookies up against my (not so) humble criss-cross cookies. Fine, I said. Then I looked at her recipe. Frankly, it's an apples-to-oranges situation and won't work in throw down. Criss-cross cookies should go up against criss-cross cookies and candy filled cookies should go up against "other" peanut butter cookies. Or at least that's what I told myself. Gulp. I don't want to put my criss-crosses up against these monsters!
So Judy, if you want to 86 the candy chunks and put some criss-crosses on your cookies, then I say bring it on! I'll take your challenge. Otherwise, we'll have to agree that criss-cross cookies and candy chunk filled peanut butter cookies are different types of cookies.
Of course, none of the above stopped me from baking Judy's cookies today. Judy mentioned hers were on the sweet side and that it might be good to reduce the sugar, so I did. The recipe also called for either a tablespoon of crème de cocoa or hot coffee. Those two things aren't anything alike and since crème de cocoa is expensive, I went with coffee. Judy's cookies are winners! The cinnamon adds a whole new dimension which combined with chocolate chunks and honey roasted peanuts is out of this world. Thanks for a great recipe, Judy.
Considering all the adjustments you made to the original, I found it appropriate to name the cookies in your honor.
These are going to be perfect post-Halloween when the mini Reese's come rolling in. I suspect chunks of milk chocolate would be good here too.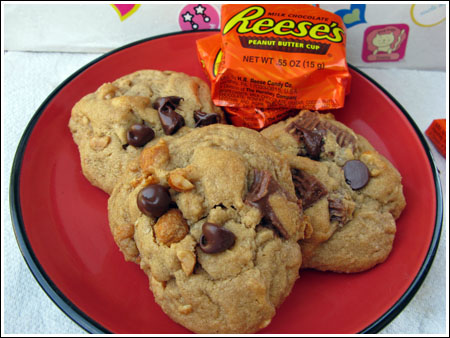 Judy's Kitchen Peanut Butter Cookies
1 stick unsalted butter (4 ounces), softened
½ cup light brown sugar **
¾ cup smooth peanut butter
1 large egg plus 1 egg yolk
1 tablespoons strong coffee**
½ tsp. pure vanilla extract
½ tsp. cream of tartar
¼ tsp. salt (generous)
½ tsp. baking soda
¾ tsp. cinnamon
1 cup + 2 Tbsp. all-purpose flour (5 oz)
¼ cup dark or semi-sweet chocolate chips
½ cup honey roasted peanuts. chopped
8 Reese's peanut butter cups cut into quarters (freeze before adding to dough)**
Mix together butter, brown sugar and peanut butter – don't over-mix. Just stir enough to combine (I did this with a mixing spoon – Anna).
Add eggs, coffee and vanilla; stir well. Add the cream of tartar, salt, baking soda, and cinnamon and stir until well distributed. Add the flour and stir just until mixed. Stir in the chocolate chips, peanuts and Reese'.
Cover and refrigerate 2 hours or more – overnight is best.
When ready to bake, preheat oven to 350F. Line baking sheets with parchment paper. Scoop about 2 Tbsp. dough onto cookie sheets, leaving 3-4 inches between cookies. Dough should be like a golf ball, but don't make it smooth.
Bake for 12-14 minutes, or till edges start to brown. These cookies are really good when just slightly underbaked. Let cookies cool on baking sheet for 5 minutes before transferring them to a wire rack to finish cooling. They are very soft when they first come out of the oven, so don't try to move them until they've cooled 5 minutes.
Makes about 14 cookies