These cookies were inspired by Wegmans Chocolate Indulgence Cookies. The gluten-free cookies are soft on the inside and slightly flaky on the outside. They have a deep chocolate and espresso flavor, plus a tiny hint of oat and are really good. I think what makes them special is the texture feels heavy and light at the same time. It's hard to explain, but these copycat cookies are easy, so give them a try! This is a relatively small batch recipe so there's not much to lose.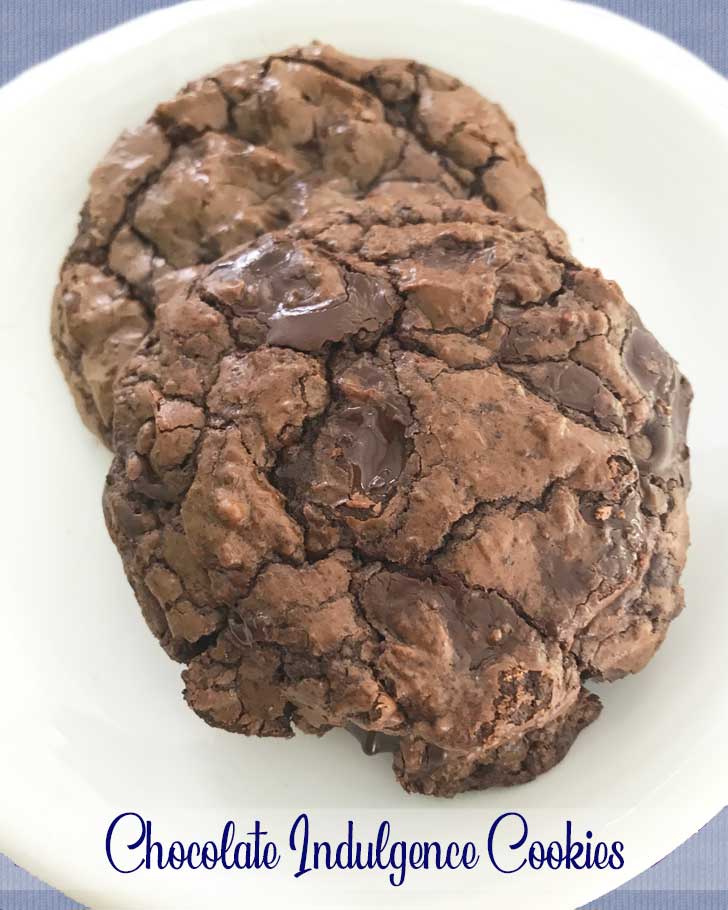 Wegmans Chocolate Indulgence
Before making my own Chocolate Indulgence Cookies clone, I bought a pack from Wegmans so I could go over the ingredient list. It includes cocoa butter, cacao and ground oats. At first I thought maybe they were using actual cocoa butter, cacao powder and oat powder, but now I'm thinking they are just listing the individual ingredients that make up unsweetened chocolate (cocoa butter, cacao, etc.).
Cocoa Butter Version
But just for experiment's sake, I bought some Navitas cocoa butter and came up with a version based on the ingredient list. If you want to try that version, the amounts are in the notes. But since cocoa butter and cacao are both a little pricey, I made a version that calls for dark chocolate and unsweetened chocolate, so there's no need to purchase cocoa butter.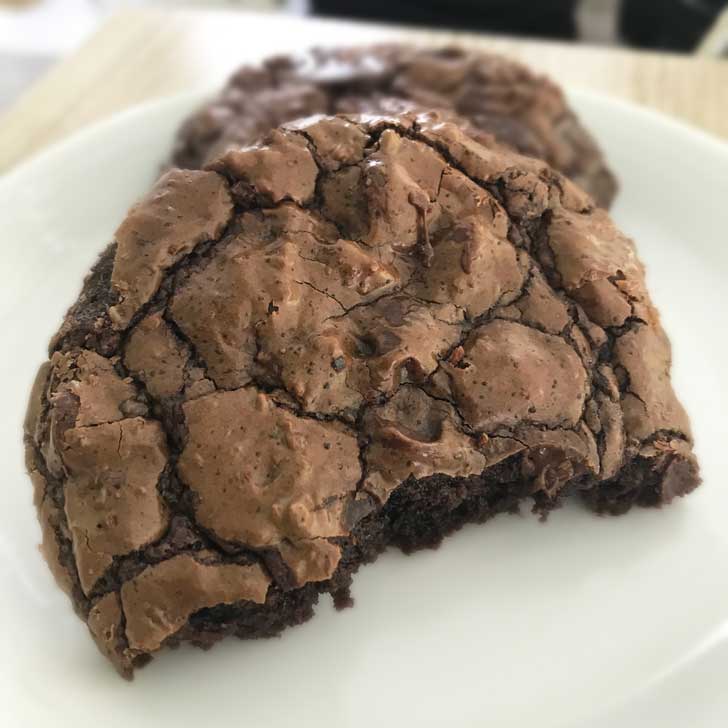 Substituting Cocoa Powder for Unsweetened Chocolate
If you want to make a batch of copycats but don't have any unsweetened chocolate, you can use 1 tablespoon (12 grams) melted shortening (I used Nutiva) and 3 tablespoons (15-18 grams) good quality unsweetened cocoa powder. Just melt the shortening with the butter and chocolate, then stir the cocoa powder into the melted chocolate mixture.
Oat Flour Tip
To make your cookies more like the original Chocolate Indulgence cookies, be sure to use very finely ground oats. If your oats are coarse, the cookies will still taste great, but the texture will not be as smooth and you'll be able to see tiny bits of oats.
Recipe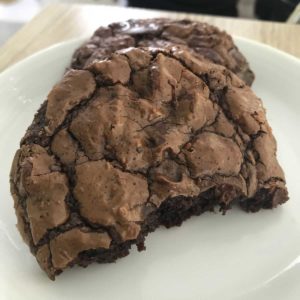 Chocolate Indulgence Cookies Copycat
Double chocolate cookies made with gluten-free ingredients.
Ingredients 
84

grams

dark chocolate, chopped

(Trader Joe's, Dove, any brand)

28

grams

unsweetened chocolate, chopped

(Trader Joe's unsweetened cacao chips)

3

tablespoons

unsalted butter

(42 grams)

1

large

egg

room temperature

1/2

tablespoon

instant espresso powder

1/2

teaspoon

pure vanilla extract

6

tablespoons

granulated sugar

(75 grams)

1/3

cup

oat flour

Grind oats in a spice grinder or Nutribullet

1/2

teaspoon

baking powder

1/8

teaspoon

salt

1/2

cup

bittersweet chocolate chips

can use more or less chips to taste
Instructions 
Preheat the oven to 325 degrees.

In a small microwave safe bowl, melt the dark chocolate, unsweetened chocolate and butter together by heating on high and stirring every 30 seconds. Set aside to cool.

With an electric mixer, beat the egg, espresso and vanilla in mixing bowl. Add sugar and beat for about two minutes or until mixture thickens slightly and becomes a little paler. Stir in the cooled melted chocolate mixture.

Mix together the oat flour, baking powder and salt and stir until smooth. Stir into the chocolate mixture.

At this point the mixture should be cool. If it is still at all warm, wait before folding in the chocolate chips. Also, mixture will thicken slightly as it stands and cools, so if you feel it's too thin to scoop cover it and let it sit at room temperature for about 10 more minutes.

Using a large cookie scoop or a little less than a 1/4 cup measure, scoop out 6 mounds of dough onto the parchment lined baking sheet.

Bake at 325 for 10-12 minutes. Do not overbake. Allow the cookies to cool on the baking sheet for about 5 minutes, then transfer to a wire rack.
Notes
Cocoa Butter Version:  I've only made this one twice, and I'm not sure it's worth buying extra cocoa butter for, but the cookies are good. 80 grams Navitas cocoa butter, 28 grams of unsalted butter, 5 grams cacao powder (About 2 teaspoons), 1 large egg, 1/2 tablespoon instant espresso powder, 1/2 teaspoon vanilla, 75 grams sugar, 1/3 cup oat flour, 1/2 teaspoon cornstarch, 1/2 teaspoon baking powder, 1/4 teaspoon salt, 1/2 cup bittersweet chocolate chips.  Technique is same as above, but you melt together cocoa butter and butter and stir in cacao to make the chocolate mixture.  From there you beat the eggs etc.