Melissa's Granola is originally from a blog called Artisan Bread In Five.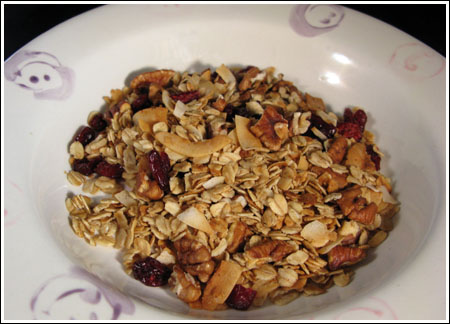 The recipe is here.
The granola gets all its sweetness from maple syrup and honey and doesn't call for any brown sugar, which typically yields a more candy-like granola. So if you like less-sweet granola, this recipe is for you. One warning. The granola is baked at 350F which is a pretty high temp for granola. If you are diligent about checking every 8-10 minutes, you won't burn it. I made a half batch and it was done in 22 minutes.
I had to leave out the sunflower and sesame seeds, but I did have some shaved unsweetened coconut (aka coconut chips) from Whole Foods that worked very well. I think I'm going to put coconut chips in all my granola…it's much better than the shredded sweetened type.
Summary: Good granola, less sweet, less sticky, a bit more wholesome. Next time I will add the sesame and sunflower seeds.