Today's been busy, but I managed to fit in two new cookies including these Cranberry-Oatmeal Bars from Cooking Light. I love the combination of cranberries and sour cream, so when I saw this recipe last night in the November issue, I knew right away it would be today's cookie. After running to the store for Craisins and an orange, I was able to make these in less than 10 minutes.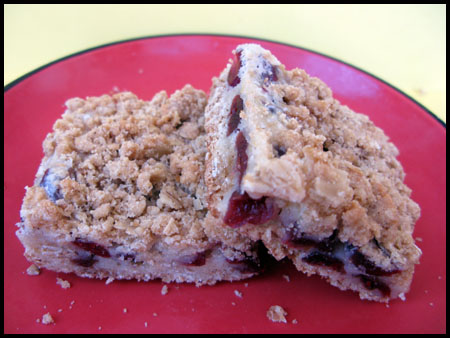 So the big question, do they taste light? Well, not really. They're awfully sweet and the ratio of cranberries to sour cream is pretty high, but hey – they're cranberry bars so I can't complain. In fact, I think I like them enough to serve at Teacher's Appreciation tomorrow, but I'm going to label them "Cooking Light Oatmeal-Cranberry Bars" so people will know they're light.
I followed the recipe as written, but used my new Smart Balance Butter Blend Sticks (excellent, btw!) and white whole wheat flour.
If you'd like a quicker recipe and aren't worried about it being light, here's another one.