On Sunday I posted Pat's recipe for chocolate chip cookie bars — a recipe she recommended to me when I asked her for a recipe that keeps well. For this post I'm doing a fresh test to see just how long the chocolate chip bars stay fresh.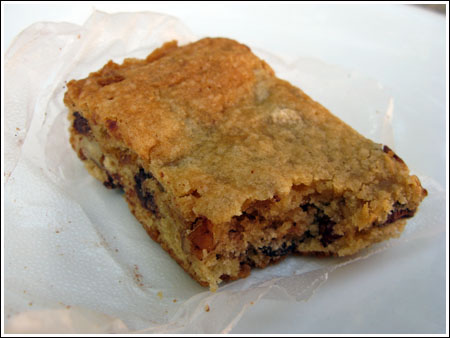 The bar cookies taste great on day one, but just to be sure, I am wrapping them in plastic wrap and putting the individually wrapped bars in an air-tight freezer bag (but not in the freezer).
4 1/2 Days Later Fresh Test
Today, I took one out to see what it would taste like 4 1/2 days later. It was very good. So if you are looking for something to ship, I recommend Pat's bars. Also, don't skimp on the chocolate and nuts because one reason they still taste fresh is because there's such a high proportion of chocolate and chocolate doesn't spoil quickly. So even if the dough were terrible (which it's not) it still acts as a good vehicle for chocolate. So use good chocolate, pack these with nuts, and you're set.