Turkey Poblano Soup is a recipe from my stepmother, Pat -- same source as the Cranberry Jalapeno Bread. I've recently updated the soup with an Ace Blender version.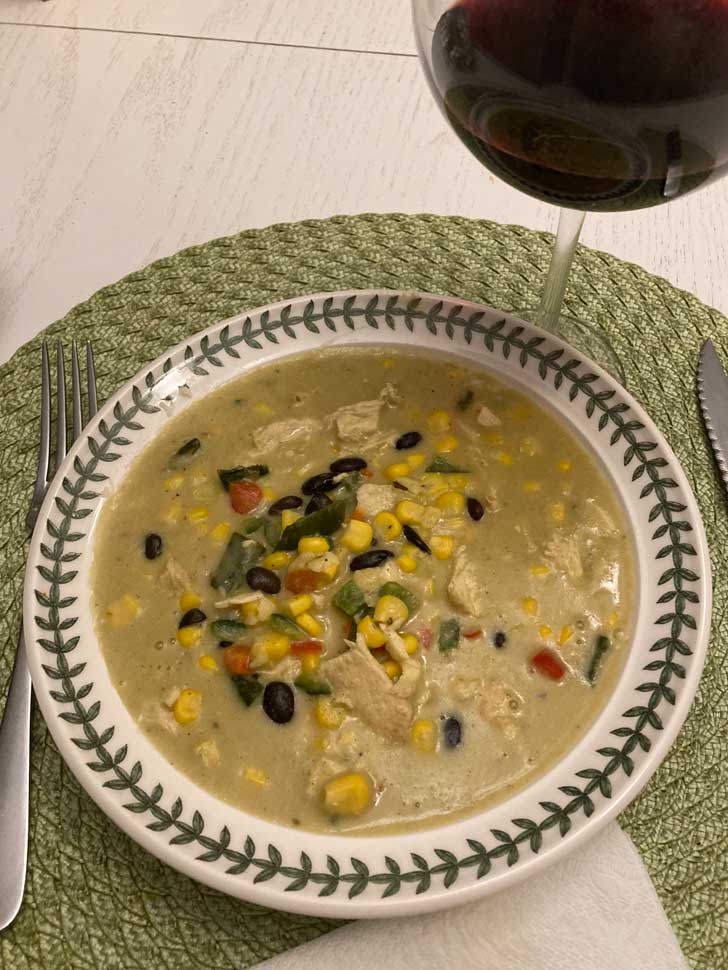 Turkey Poblano Soup Notes
This is a day-after-Thanksgiving soup because it's made with turkey, but I don't know why you couldn't use chicken and make it any time of the year. I just associate it with Thanksgiving.
The soup is creamy and rich (but not overly so -- it only has ¼ cup half & half) and not spicy at all. Poblano peppers are mild. For a spicy version, you could up the heat by adding some red pepper or a splash of your favorite hot sauce.
Ace Blender Chicken or Turkey Poblano Soup
Ace Blender version added! With the blender version, you broil the pepper as usual. Rather than sauté the onions and tortillas, you combine the roughly chopped onions, tortillas, spices and butter and just microwave to soften. You then put everything (except half & half and turkey) in the blender, set the soup button and wait. Half & Half is added last. Pour over turkey to serve.
More Recipes From People Named Pat
Recipe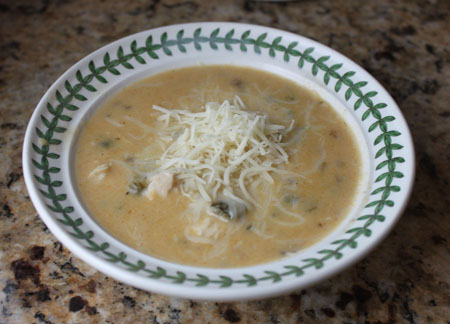 Turkey Poblano Soup
Turkey Poblano Soup is a great way to use leftover turkey from Thanksgiving. I recently made it in the Ace Blender and have added the technique to the notes section.
Ingredients 
1

poblano pepper

4

5 inch

corn tortillas, chopped

2

tablespoons

flour

½

teaspoon

chili powder

¾

teaspoon

ground cumin

⅛ to ½

teaspoon

salt**

½

teaspoon

pepper

2

tablespoons

vegetable oil

½

cup

chopped onions

1

clove

garlic

2

tablespoons

butter

3

cups

chicken broth, reduced sodium or regular

¼ to ½

cup

half-and-half or cream

1-2

cups

chopped cooked turkey or chicken

Shredded Monterey jack or shredded Mexican style cheese
Instructions 
Wash the poblano and remove stems and seeds. Broil about 5 inches from heat or until blistered and soft. Quickly put in a zipper bag then seal and let cool. Remove from bag, peel of the skin and chop to make ½ cup.

Combine chopped tortillas, flour, chili powder, cumin, ⅛ teaspoon salt, and pepper in bowl of a food processor and process until mixture is the consistency of very coarse cornmeal. Set aside.

Saute onion and the ½ cup poblano in a large pot until onions are tender. Add garlic and sauté for another minute. Add butter and let it melt. Add tortilla-flour mixture to the pot and mix to form a roux. Slowly add the broth (about 1 cup at a time), stirring to make a thick soup. Cook 4-5 minutes stirring constantly. At this point, taste and adjust salt if necessary. Add half and half (or milk & cream) and bring to a slow simmer. Cook over low heat until soup is hot. Do not let it boil. Remove from heat and add the turkey. Spoon into bowls and top each serving with cheese. Update: If you like corn, throw in some fresh or frozen (thawed) corn or corn and pepper mix.
Notes
I didn't put the exact amount of salt because this varies with the broth. If you use low sodium broth, you may need up to ½ teaspoon. If your broth is salted, you'll only need a pinch. Start with ⅛ teaspoon and adjust salt as necessary.
Ace Blender Method -- For this version, you won't be using the oil or the flour.
Broil the pepper using the technique in the above recipe. You should have at least 35 grams skinned, chopped, cooked poblano.
In a microwave-safe bowl, combine 100 grams coarsely chopped corn tortillas (about 1 cup), ¼ to ½ teaspoon chili powder, ¾ teaspoon cumin, ⅛ teaspoon salt, 50 grams onions, 1 clove garlic and two tablespoons unsalted butter.  Cover bowl and microwave for 1 minute.  Stop and stir (butter should be melted now), then cover and heat for another 2 minutes or until onions and tortillas are softened.
Put the 3 cups of broth, cooked tortilla mixture and chopped cooked poblano (35-50 grams) in the blender.
Press the "Soup" setting and use setting "2" for creamy soups. Press start.  The temperature on the blender will start to climb to 212 and the machine will pulse occasionally.  When temperature hits 212, a 12 minute countdown will begin.
After 11 minutes, when soup is about 1 minute from being finished, hit pause and add ¼ cup half & half or cream.  Note:  You can use up to ½ cup, but I recommend starting with ¼ cup. Resume for the last 1 minute.  Adjust salt to taste and pour over shredded turkey or chicken to serve.  Alternatively, you can keep it warm until ready to serve.
The Ace's setting 2 will give you a very smooth soup.  If you find it too smooth, add a whole corn tortilla (or 2) at the end and blend for about 30 seconds.  You can also add more poblano at the end if the soup needs more heat.