As much as I love San Diego, it would be hard to move because I'd have to say goodbye to H.E.B. grocery store.  Trader Joe's is great, but I've grown attached to H.E.B.. And I'm not the only one — The Scabs wrote a song about it. I read somewhere Bob Schneider lost his voice yelling "H.E.B.!"
Anyway, this cookie is from H.E.B.'s corporate website where you'll find a good collection of easy to prepare recipes using both store brand plus featured sponsor ingredients. The sponsor here is Pompeian brand olive oil. I'll be honest, I usually buy more robust Greek olive oil, but I cut it with a little vegetable oil using straight Greek olive oil.
H.E.B.'s recipes are designed to use few ingredients, so I'm guessing that's why they left out vanilla extract. They also left out salt. If you don't miss added salt, you can leave it out, but I like it and adjusted the recipe accordingly. I also used white whole wheat flour (Eagle Mills Ultragrain) and cut the recipe in half.
The cookies are very good, but different. I thought they would be cakey, but they're kind of dense, stiff in the center and have extremely crispy (almost hard) edges. They don't brown much, given the lack of baking soda, but they are chock full of chocolate chunks, cranberry and nuts so they still look pretty and taste great. Make sure you use really good chocolate and unless you hate them, add the nuts. I left out the coconut, but it probably would have been good too. The cookies are definitely not overly sweet.
Vegans — let me know if you figure out a good substitute for the eggs. I think it's do-able, but it might be tricky since the eggs capture a lot of air.
Here's my half batch version. Full H.E.B. version is here.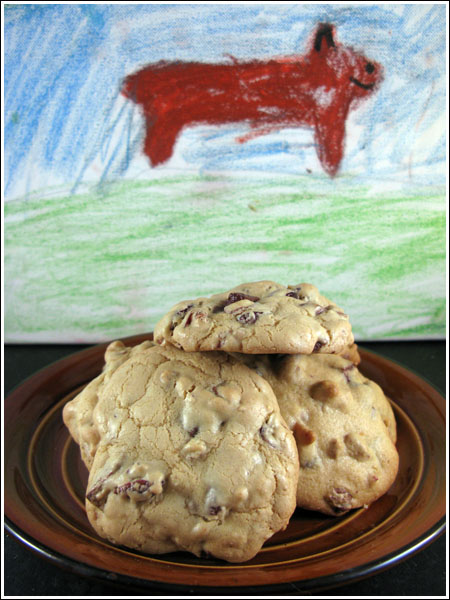 Holiday Cranberry Chocolate Chip Cookies (from H.E.B.)
1 1/2 cups white whole wheat flour (Ultra Grain) or all purpose
1/2 teaspoon baking powder
1/2 scant teaspoon salt
6 tablespoons olive oil
1 cup brown sugar, packed
2 large eggs
1/2 teaspoon vanilla extract
3/4 cup EACH dried cranberries, chocolate chips or chunks (good ones)
1/2 cup toasted pecan pieces
1/2 cup shredded coconut (optional)
Preheat oven to 350 degrees. Line 2 cookie sheets with parchment.
Sift together the flour and baking powder and set aside. Stir in the salt (it doesn't always go through the sifter).
Beat olive oil and brown sugar using an electric mixer on high speed for 3 minutes. Beat in the eggs and vanilla on medium speed (about 1 minute). Add the sifted flour 1/2 cup at a time and stir by hand until mixed. Stir in chocolate chips, cranberries and nuts.
Drop dough by rounded tablespoonfuls onto prepared cookie sheets. Bake the cookies for 15 minutes or until golden brown (at least around edges).
Makes about 2 ½ dozen cookies