I posted this Slow Cooker Stuffing recipe over a decade ago, and to date (November 2022) it is still the recipe I use. It's a traditional Southern stuffing made with a combination of cornbread, baguette (because I like it a little chewy), celery, onions, poultry seasoning, egg and lots of butter. Our Thanksgivings have gotten smaller over the year, so I've often had to scale down the recipe somewhat. This year I made a quarter batch and used the Instant Pot, which worked perfectly for the smaller batch since the surface area is smaller.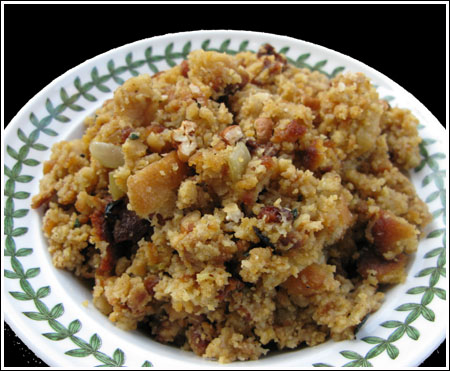 Crockpot or Slow Cooker Stuffing
Whether you call it Crockpot Stuffing or Slow Cooker Stuffing, it's a useful recipe because it leaves extra room in the oven on Thanksgiving. It actually tastes great and the cubes of bread near the sides of the slow cooker get chewy and brown. You can start this early in the day, let it do its thing, and add a little broth or give it a stir here and there when needed.
Instant Pot Version
You can also make this using the slow cooker function of the Instant Pot. Instead of using a separate skillet to cook the onion and celery, just use the sauté function of the Instant Pot. Once the vegetables are done, you can mix the bread, seasonings, egg and broth all in the Instant Pot and use the low setting to cook the stuffing for four hours. If using this method, let the mixture cool down a bit before adding the egg, otherwise you'll have cooked egg in your stuffing.
Crockpot aka Slow Cooker Stuffing
1 1/2 cup onions
1 cup celery
1-2 sticks butter, I used salted (divided use)
8 inch square pan of cornbread, crumbled (10 oz)
10 ounces chewy baguette type bread or ciabatta, cut into cubes
1 1/2 teaspoons poultry seasoning
2 large eggs
1 1/2 cup chicken broth to start, then add as needed (33% reduced sodium)
plenty of fresh ground pepper
1 teaspoon chopped fresh sage or to taste
1/3 cup toasted pecans, chopped
Melt 1 stick of the butter in a large skillet. Saute onions and celery for about 4 minutes or until soft. Turn off the heat.
In large bowl, mix bread and crumbled corn bread. Toss with poultry seasoning. Pour onion/celery mixture into bread mixture and stir until moist. Add eggs and stir well. Pour in 1 ½ cups broth.
Empty mixture into slow cooker and cook for four hours, stopping to stir once or twice. After 4 hours, you should have a good base stuffing, but it will need some more flavorings. At this point, add fresh pepper to taste (about ¼ to ½ teaspoon), sage and toss with pecans. You can also add the remaining stick of butter, but if you like your stuffing on the lighter side, you can leave out the second stick of butter and moisten with broth only. If you are feeding a group of people who like traditional rich stuffing, it's probably best to use all of the butter.
Total cook time should be 4 hours on low give or take a few minutes.
Serves 6 to 8