This is one of my favorite pecan pie recipes. The pecans are toasted, the butter is slightly browned, the pie uses both types of corn syrup and it's not overly sweet. Plus I think the small bit of cream tames the sugar somewhat.  Since I've made so many pecan pies over the years and this one was for Thanksgiving 2008, I'm calling it 2008 Thanksgiving Pecan Pie.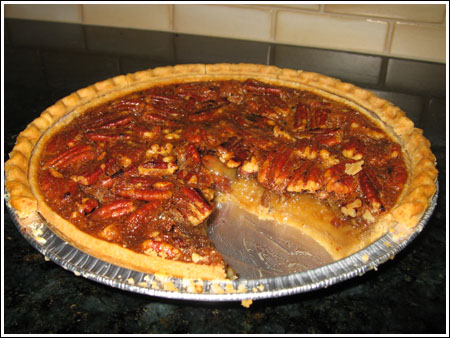 For the crust, I used a very basic recipe from Crisco. Use your favorite or go with one of the ready-to-bake crusts recommended by Epicurious.
I'll be putting Vodka in my pie dough this year.
Thanksgiving Pecan Pie
1 9 inch deep dish unbaked pie shell
1 ⅔ cups pecan halves
4 tablespoons unsalted butter
3 large eggs
1 cup corn syrup, half light and half dark
¾ cup packed dark brown sugar
2 tablespoons whipping cream
1 ½ teaspoons vanilla extract
⅛ teaspoon salt
Preheat oven to 350 F.
Remove a large handful of whole pecans and set aside. These will be the decorative ones.
Chop the rest of the pecans and place them in a large dry skillet. Turn heat to medium-high and cook pecans, stirring often, for two minutes. Place pecans in a large skillet and turn heat to medium high. Cook pecans for 2 minutes, stirring often. Reduce heat slightly, add butter to skillet with pecans, and "stir-fry" butter and pecans until butter melts and browns - take care not to burn. This should only take about 2-3 minutes. Remove from heat.
In medium bowl, stir together eggs, corn syrup, brown sugar, cream, vanilla and salt. Stir in melted butter/pecan mixture then pour filling into unbaked crust. Line the perimeter with the whole pecans.
Bake for 45-50 minutes or until top is golden brown and appears set. The pie should still be slightly jiggly in very center. Let cool completely at room temperature. Transfer to refrigerator to store, but serve at room temp.
This pie also freezes quite well.