Chocolate Caramel Turtle Cookies are themed after one of my grandfather's favorite candies, turtles. They are blobs of caramel topped with chocolate and studded with 4 whole pecans which jut out of the sides like turtle legs. Turtles are so popular they've become the namesake for many desserts with a combo of caramel, pecans and chocolate. This is one of them, and it's from my friend Jannine who calls them Turtle Treasures.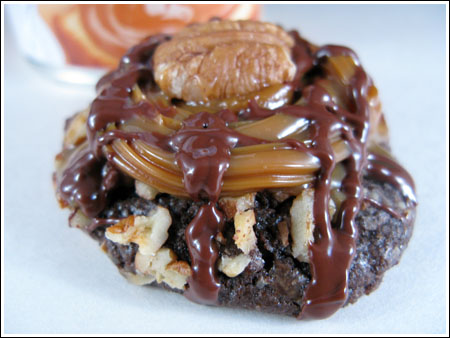 To make these cookies stand out from other turtle cookies, Jannine made a few neat changes including using dulce de leche instead of plain caramel and piping it out through a star tip. She also topped the cookies with a pecan then drizzled them with milk chocolate.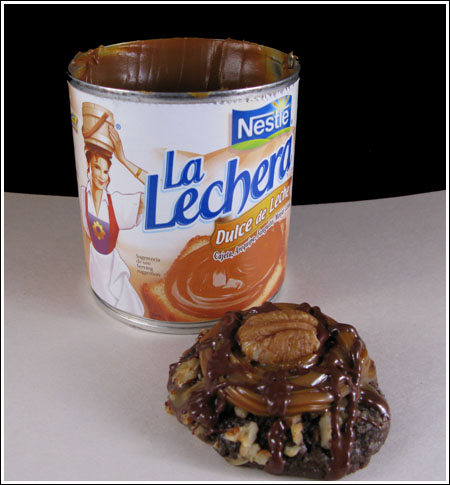 The end result looked something like this. Jannine's are prettier, but all versions tasted great.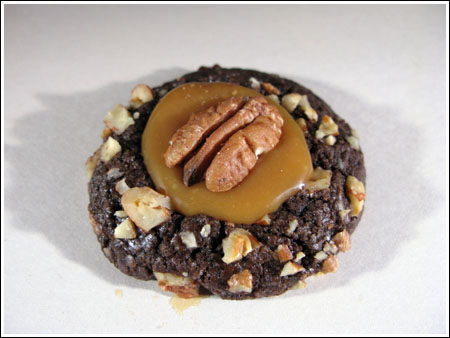 Here's my version of Jannine's recipe. I didn't use the star tip and they were still very pretty.
Chocolate Caramel Turtle Cookies
½ cup softened butter (salted)
⅔ cup sugar
1 large egg
2 Tbsp. milk
1 tsp. vanilla
1 cup flour
⅓ cup Dutch process cocoa
¼ tsp. salt
1 cup very finely chopped pecans
1 can (13.4 oz.) Dulce de leche milk caramel (such as Nestle's LaLechera)
16 toasted pecan halves
4 ounces milk chocolate
2 Tbsp. light cream
Cream the butter and sugar in a large bowl until light and fluffy.
Separate egg. Reserve the white, then add yolk, milk and vanilla to the butter and sugar mixture. Beat well.
Combine the flour, cocoa and salt. Add to the wet mixture and mix until combined. Cover and refrigerate dough for 1 hour.
Preheat oven to 350 degrees F. Remove dough from refrigerator and shape into 1 – inch balls. Dip each ball in the reserved egg white, then roll in the finely chopped pecans. Place on greased baking sheets. Using your thumb, make a deep indentation in the center of each ball. Bake for 10 – 12 minutes or until set.
Place the Dulce de leche milk caramel in a pastry bag with a star tip and fill the center of each cookie. Place a toasted pecan half on top of each cookie and move to a wire rack to cool. In a small microwave safe bowl, microwave the milk chocolate and light cream on high for 30 – 60 seconds or until melted. Drizzle over the top of each cookie and let rest until chocolate is set.
Makes 18 cookies.